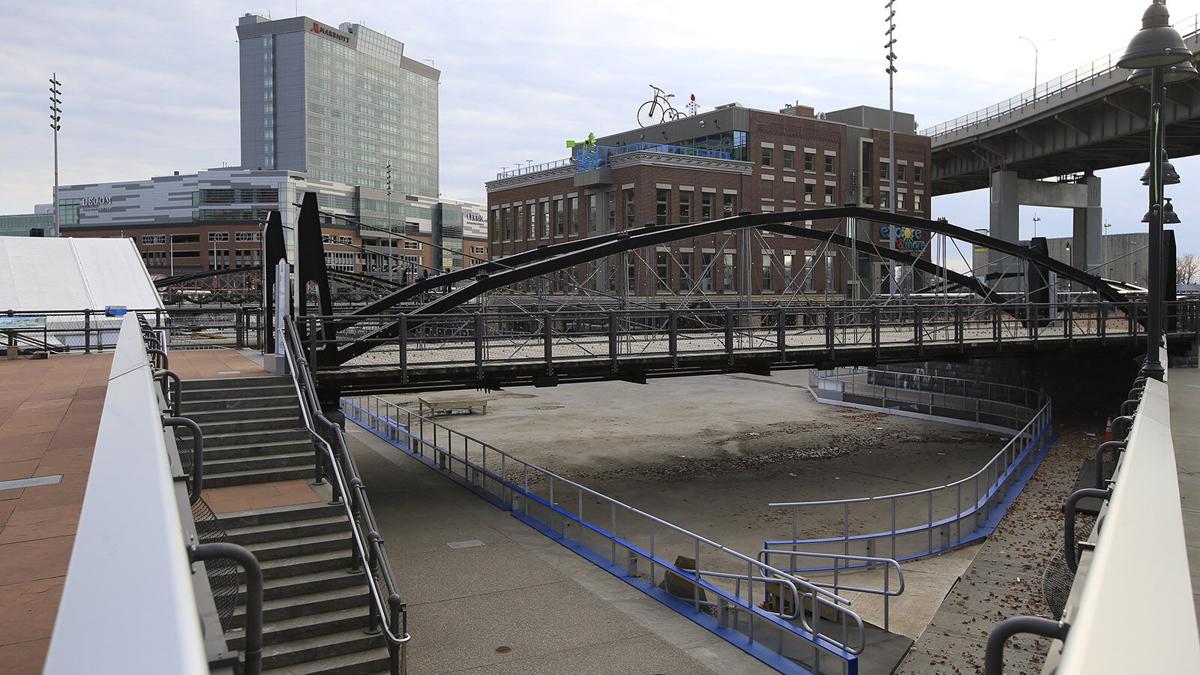 There will be no ice skating this winter at Canalside.
North Park Theatre's screen has gone dark again.
Spot Coffee's Buffalo-area shops closed temporarily.
Libraries in the City of Buffalo went curbside-only.
St. Mark Catholic Church in Buffalo is switching back to livestreaming services, as have many Episcopal churches in the area.
None of them had to. At least not yet.
But with much of Erie County facing new restrictions on schools and businesses and infection numbers rapidly rising, they are going ahead with plans to close or curtail business out of an abundance of caution and a desire to help stop the spread of Covid-19.
"It's a very painful decision," said Ray Barker, owner of the North Park Theatre, which had been preparing to celebrate its 100th anniversary on Saturday with special showings of "Cinema Paradiso," "Babette's Feast" and "Dr. No," a memorial tribute to Sean Connery.
"The numbers are not headed in the right direction," Barker said Friday, as his Hertel Avenue movie theater closed down again, just three weeks after reopening. "We thought it was the right call." 
With unprecedented numbers of new Covid-19 cases in the region, Gov. Andrew M. Cuomo has designated most of Erie County an "orange zone" and the rest of the county, along with North Tonawanda in Niagara County, in the precautionary "yellow zone."
In the "orange zone," schools must go fully remote starting Monday. Indoor dining at restaurants is prohibited as of Friday. Businesses deemed "high-risk" – gyms, barbershops, hair salons and spas – closed Friday, too.
It's not a total shutdown of essential businesses as would be the case if the region was designated a "red zone," which based on state metrics looms as a possibility.
Yet some businesses and institutions here are closing down preemptively.
Friday afternoon, the Erie Canal Harbor Development Corporation announced on its website that it had "made the difficult decision to cancel winter activities at Canalside this year due to COVID-19."
Spot Coffee said Thursday on social media that five Buffalo-area cafes were closing as a safety precaution.
"We thank you for your support in ensuring the health and safety of our staff and guests," the company wrote while acknowledging "these actions are unprecedented."
Mary Jean Jakubowski, library director of the Buffalo & Erie County Public Library, said the board voted Thursday night to move forward with plans to stop in-person entry into Buffalo branches. Instead, they will switch to curbside pickup and walk-up pickup of books and other media. They will also offer virtual services including downloadable books and music, telephone reference calls and Wi-Fi which can be accessed from outside, Jakubowski said.
"We have to look out sincerely for the members of our community as well as our staff," she said. "We always say that we want to be a part of the solution and not contribute to the problem."
Western New York broke its one-day record for coronavirus cases on Thursday, surpassing its previous high by more than 150.
The record-breaking margin of 153 cases shows how the virus has spread exponentially through the region in recent weeks.
Western New York's five counties reported a total of 852 cases on Thursday. The region's previous high was one week earlier: 699 on Nov. 12.
The record-breaking margin of 153 shows how the virus has spread exponentially through the region in recent weeks. From June through much of October, the daily combined total for the counties of Erie, Niagara, Chautauqua, Cattaraugus and Allegany never reached 150.
Gov. Andrew Cuomo pointed out, as he has done all week, that Western New York has the worst rate of new positive cases in the state.
"Highest rate of infection, 4.8% – Western New York," Cuomo said during a teleconference briefing from Albany with reporters Friday.
Erie County surpassed 20,000 coronavirus cases on Friday. More than a third of Erie County's cases during the pandemic have come in November.
While Erie County's larger population drives much of Western New York's numbers, the other four counties reported totals Thursday that were well above their averages.
The region's hospitalization total continued to increase, rising by 13 to 233 and approaching the region's peak of 263 on April 28.
Hospitals prepare as numbers rise
At Buffalo General Medical Center, there were more than 40 Covid-19 patients admitted as of Friday morning with 20 more awaiting test results, said Dr. Jamie Nadler, a critical care physician and medical director for quality and patient safety at the hospital.
"You kind of felt it happening in the last four weeks and certainly, in the last two weeks, we've seen the numbers exponentially rise."
As other hospitals have observed during the second wave of the pandemic hitting Western New York, there are fewer people in intensive care units and requiring ventilators.
He believes a big difference since the worst wave is that many patients come to the hospital already having been testing and knowing they have Covid-19.
"It's made it easier for us to know right off the bat so we can tailor the treatment to Covid early on," Nadler said. Medical staff also know a lot more about the disease and have more therapies to treat patients.
Hospitals are also much better prepared for any influx, he said. Buffalo General staff meet weekly to fine tune plans on everything from access to hospitals to keeping patients and to helping employees with children whose schools have closed.
"So far, it's manageable," Nadler said. "We will see how the numbers go."
The North Park Theatre had reopened only three weeks ago, after New York movie theaters finally got the green light from the governor.
North Park Theatre restoration
The historic North Park Theatre, which has been undergoing extensive restoration for years, marks the completion of the final phase of the project. It includes the newly restored grand lobby, which reveals a stained glass window that had been hidden by a drop ceiling for years.
"So we're down seven months," Barker said Friday. "Now we're down again. ... I hope this time around it's not going to be anywhere of that kind of scale."
This spring and summer, the refurbished movie house on Hertel Avenue did what it could to keep things going. They offered a selection of their favorite independent films on their website for fans to view at home and they sold T-shirts, stickers and pins. On their marquee, they displayed a quote from a Monty Python movie: "Always look at the bright side of life."
Now, Barker said, he is willing to hunker down again. He hopes politicians keep in mind the impact of shutting down.
"I understand they want to protect the public but there is also an economic cost to the decisions that they make. We want to have jobs for people to return to," Barker said.
In the meantime, Saturday's anniversary screenings will have to be delayed.
But the theater has survived so much over the years, Barker said, including the Depression and World War II.