To borrow a phrase from baseball, the Covid-19 vaccination effort has entered an era of small ball.
Unless there's a demand for booster shots for those already vaccinated, large-scale vaccination clinics will probably not be seen again, officials said.
Instead, the effort to increase vaccinations is likely to proceed one person at a time, in hopes those who have held out so far decide to get on the inoculation bandwagon. That bandwagon no longer rolls past arenas, university halls and convention centers.
"This worked very well when demand outstripped supply," said Dr. Nancy Nielsen, former president of the American Medical Association and senior associate dean for health policy at the University at Buffalo's Jacobs School of Medicine and Biomedical Sciences.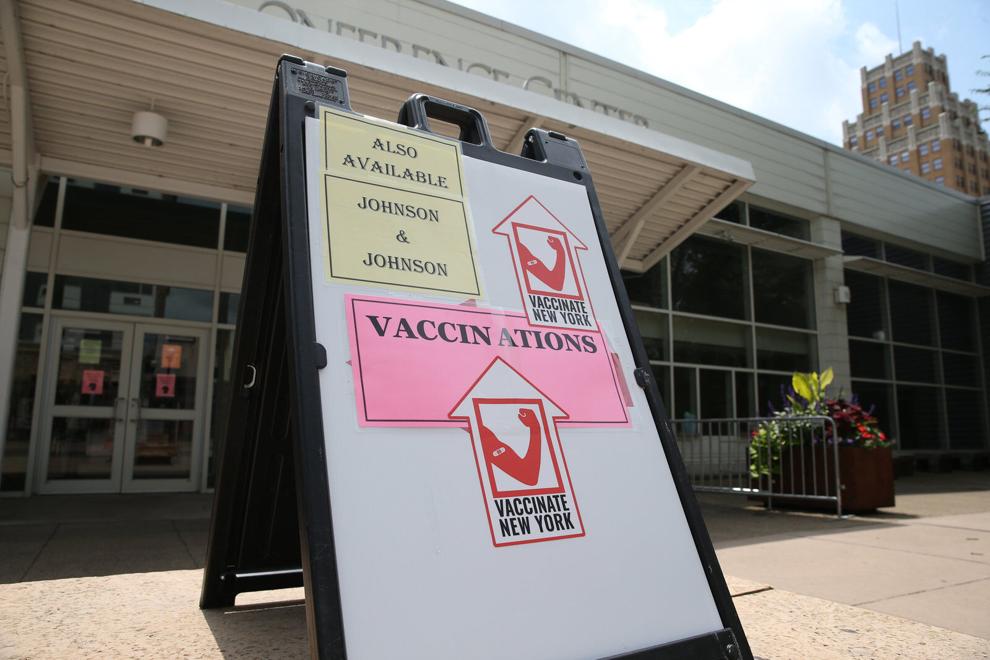 "Now that supply is plentiful and we've vaccinated most of the people who really wanted to be vaccinated, we're now trying to do the hard-to-reach people or the people who are reluctant or opposed," Nielsen said.
The Conference Center Niagara Falls, which has been used as a vaccination site since March 19, will mark its four-month anniversary Monday by closing.
That will leave the South Campus of the University at Buffalo as the only state-run vaccination site still in business in Western New York. It still offers online appointments for Pfizer vaccine, but generally no more than two days in advance.
"Frankly, I'm surprised it's gone on as long as it has," Nielsen said, who suspects the UB site probably will close soon.
"The traffic there has markedly slowed down, so it wouldn't surprise me at all. Most of the people who were coming were second shots. From what I heard, on one day there were 17 new shots. It's just not worth keeping a mass vacc open. I think everybody understands that we've moved to smaller, more targeted approaches," said Nielsen, whose former regional vaccine distribution committee has closed down.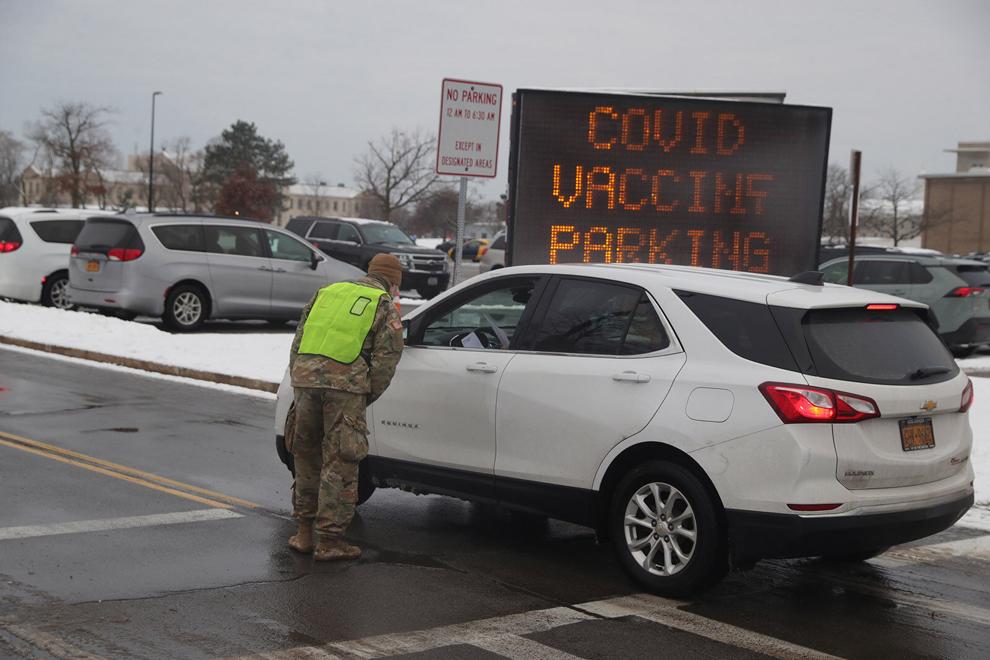 "We continue to fight Covid-19 statewide by getting shots in arms, targeting ZIP codes where the vaccination rate remains lower than the statewide average, including those in Western New York," state Health Department spokeswoman Samantha Fuld said.
"To reach eligible New Yorkers through the most effective means possible, we are utilizing community-based pop-up sites, including in areas with low vaccination rates, in-home vaccinations, creative vaccine incentive programs, and a vast network of providers statewide," Fuld said.
Erie County still offers some clinics at Erie Community College's South Campus, with dates Friday and Monday.
But practical issues may prevent individual doctors from taking up much of the slack. One of those issues is the six-to-eight-hour shelf life of a Covid-19 vaccine, said Dr. Thomas Madejski of Medina, a member of the General Physicians group.
Madejski said his group no longer offers vaccinations because there wasn't enough demand to keep from wasting vaccine.
"After we did 600 to 800 doses in our practice, the number of patients left who hadn't gotten it from us or one of the mass vaccination sites or the pharmacy got lower and lower, and we started wasting doses, which you don't want to do," said Madejski, a former president of the Medical Society of the State of New York.
"There's enough vaccine now that if you waste a little here and there it's probably not a big deal, but we'd have a vial of six or 10 and we'd probably use five, because we had most of our practice vaccinated," the Medina doctor said. "So we've stopped offering vaccines at our office and we're directing them to the pharmacies, and we're trying to get enough volume so they don't waste vaccine."
With singles instead of home runs the order of the day, manufacturers need to respond, Madejski said.
"That could be addressed on the manufacturing end by going to single-dose vials," he said. "We've had batch vials that made sense when we were doing a couple hundred in a day, but if you're going to do five in a day and there's 10 doses in the vial, you're wasting five with the storage requirements as they are right now."
Erie County Health Department spokeswoman Kara Kane said Commissioner Dr. Gale Burstein "is working closely with pediatricians and other community providers to facilitate distribution to their offices, assisting with storage and allowing them to take vials as needed, specifically of Pfizer vaccine."
Community physician groups and OB/GYNs also are being asked to help, Kane said.
"Our goal is to have as many eligible people receive the Covid-19 vaccine, and we realize that will require having multiple paths to access," Kane said. "Physicians are a trusted source of medical information and are very familiar with responding to questions about vaccines with factual, credible answers; our department will work with any medical practice that needs support for a vaccination program."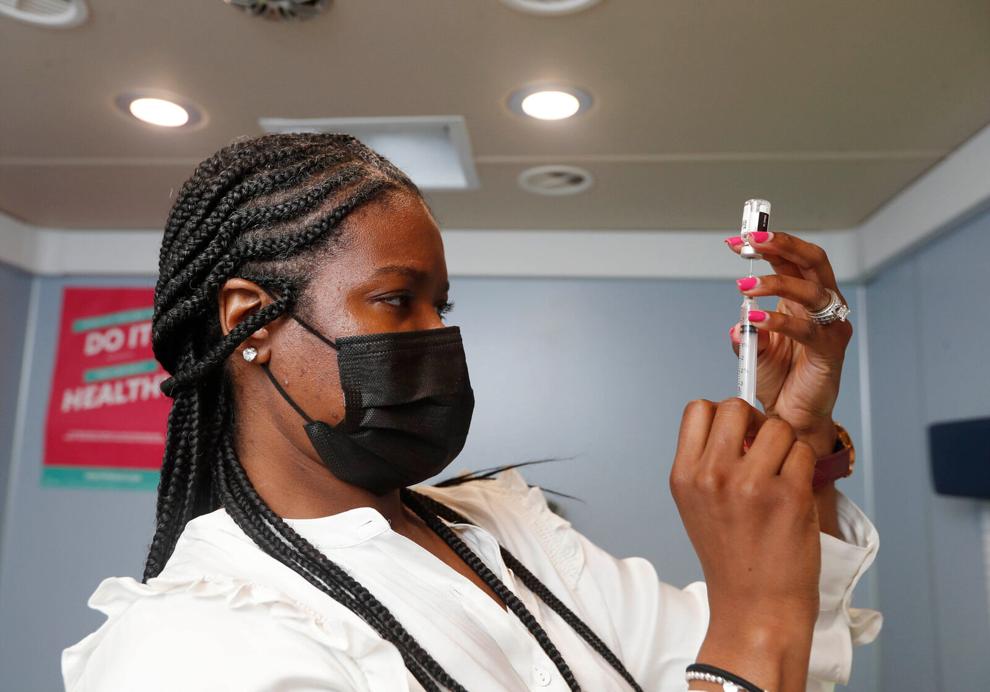 And increasingly, Erie County offers shots at other groups' events, such as Williamsville Old Home Days Wednesday and Friday; community markets Saturday morning in Alden and Hamburg; the Taking Back the Streets event on Genesee Street in Buffalo Tuesday; and offerings July 24 at the Buffalo Science Museum and July 25 at Canalside.
Niagara County has a prescheduled clinic Monday at the Niagara Falls Boys and Girls Club, and that may mark the end of its sizable organized clinics.
"We'll be doing very targeted clinics. The only reason we would do large clinics is if we have to do boosters," Stapleton said.
His department will staff a vaccination booth at the Niagara County Fair Aug. 4-8, and Stapleton said he's talking to Niagara County Community College and Niagara University about vaccination offerings on campus.
NCCC is part of the SUNY system, which is mandating vaccinations for students and staff. NU is not mandating vaccinations but wants to make them available, Stapleton said.
"We need clinics that are going to be well attended. The fair, NCCC and NU would be good places," Stapleton said.
Niagara County lacks the personnel to have workers sit around at poorly attended clinics, he said.
"Most communities have a pharmacy," Stapleton said. "Rather than me putting together a clinic for 12 or 15 people, which I've had, we need to make sure we're doing it more efficiently. The area around the Conference Center Niagara Falls, I think it's a tenth of a mile, there's 11 or 12 different opportunities to get vaccine."
Home delivery of vaccines
A check of the national vaccines.gov website Tuesday disclosed 40 possible vaccine providers within 5 miles of downtown Buffalo – almost all of them being pharmacies.
Erie County offers the Vax Visit program of in-home vaccinations, which can be booked by calling 858-2929.
"Through our department's partnership with Buffalo Home Care, 1,223 residents have received at least one dose of Covid-19 vaccine," Kane said. "The Vax Visit program offers Pfizer for ages 12 to 17. Johnson & Johnson is offered for people ages 18 and older, as it is a single dose. Individuals age 18 or over may request Pfizer or Moderna, and it will be provided as available."
Niagara County has allocated vaccines to home care agencies for use by homebound seniors, but is not booking shots for individual home delivery.
Vaccination rates are slowly inching upward in Erie County. The county Health Department said Tuesday that all Buffalo city ZIP codes finally reached the 50% mark or higher for adults ages 20 and older.
Erie County's overall vaccination rate for adults stands at 70.6%, up from 70% last week. But the county data also shows that the most persistently low vaccination rates among adults – as low as 33% – exist in rural areas, particularly in the southern stretches of the county.
Last week saw a decline in reported Covid-19 cases in Erie County. That was good news for health officials who had feared that the previous two-week rise in cases was part of a larger upward trend. The 68 cases reported last week were still more than in late June, but down from 75 cases the week before.
Moreover, county hospitalizations have remained flat in recent days and show an overall decline from late June.
News Staff Reporter Sandra Tan contributed to this report.