WASHINGTON – One week before the scheduled expiration of the latest monthlong extension of the U.S.-Canadian border shutdown, the rationale for continuing it appears to be crumbling.
Covid-19 infection rates on both sides of the border have plummeted to lows not seen since early last year. Meanwhile, Canada's once-lagging vaccination program has nearly caught up with the effort in the United States. And Canadian public opinion – which previously stood strongly against a reopened border – is starting to shift in the opposite direction.
That being the case, the border should open soon to vaccinated travelers, said Dr. Isaac Bogoch, an infectious disease specialist at the University of Toronto and a member of a Canadian government panel that issued recommendations earlier this year on managing the border amid the pandemic.
"I think it's a matter of time that the border opens initially to fully vaccinated individuals – and when I say just a matter of time I imagine it's not going to be a long time, because there's very few reasons to have that border closed to fully vaccinated individuals," Bogoch said on Tuesday.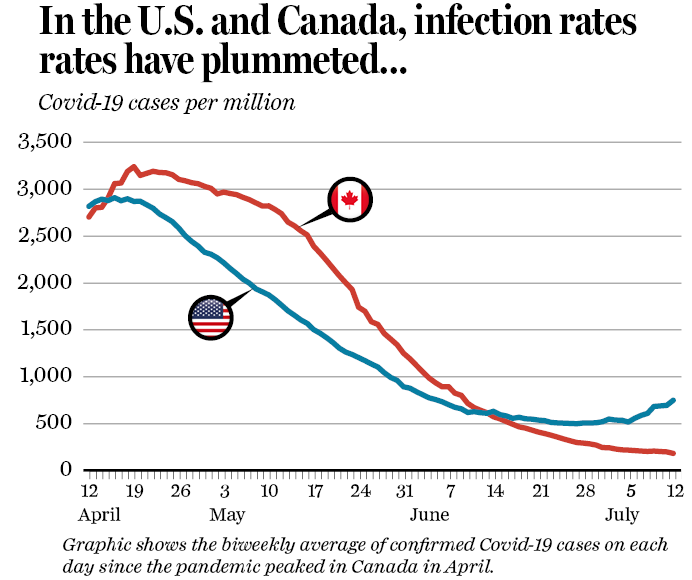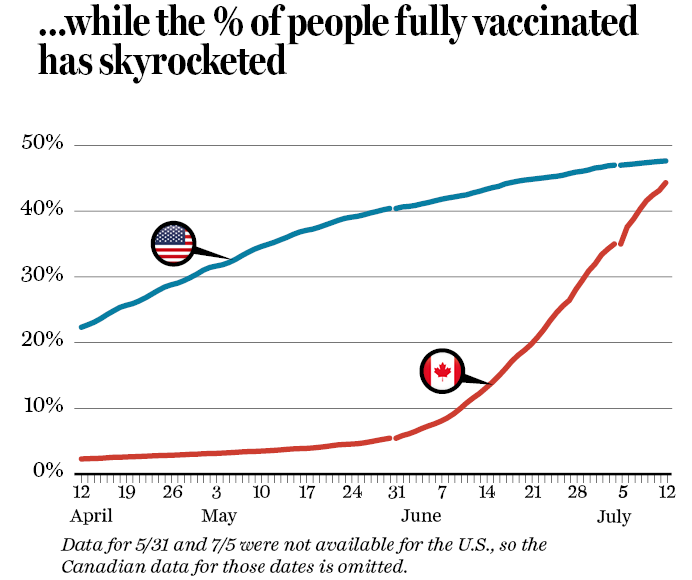 The border closed to nonessential travel on March 21, 2020, and the U.S. and Canadian governments have extended that shutdown a month at a time ever since. That means a decision about what happens next will be announced within the next week.
Neither side has said much about what might happen, but Canadian Prime Minister Justin Trudeau – who had been adamant about keeping the border closed – struck a slightly different tone at a press conference last Friday.
"The next step will be looking at what measures we can allow for international travelers who are fully vaccinated," he said. "That will be our first focus, and we will have more to say in the coming weeks."
Unvaccinated travelers will continue to be barred from Canada for quite some time, he added.
Trudeau made those comments amid a remarkable turnaround in Canada's fight against Covid.
In April, as new variants of the virus swept the nation, Canada suffered through a third wave of the pandemic that pushed its Covid-19 infection rate to its highest level ever – 13% higher than that of its neighbor to the south. Canada then entered a shutdown so draconian that borders were shut between its provinces, not just with other nations.
"That was really, really tough, but it did a lot of the heavy lifting to get us out of the third wave," Bogoch said.
Data indicates that the lockdown worked. According to the Our World in Data Covid-19 Data Explorer, Canada's infection rate peaked on April 19 at 3,245 per million residents. As of Monday, that rate had plummeted to 178 per million.
The U.S. infection rate hasn't fallen as much as Canada's has, and it's even moved upward recently thanks to the fast-spreading Delta variant and stalling vaccination rates. But the U.S. infection rate remains at about a quarter of what it was in the spring.
And while the U.S. got a strong head start on its vaccination effort – and Canada lagged because of a lack of vaccine manufacturing facilities – Canada has now nearly caught up with the U.S. Our World in Data reports that as of Tuesday, 44.38% of eligible Canadians had been fully vaccinated, which is just shy of the 47.69% rate in the U.S.
Those figures add up to an argument to reopen the border soon, said Rep. Brian Higgins, a Buffalo Democrat.
"I just think it's very hard for the Canadian government and the U.S. government to continue this nonsense, insisting on a border closure, when increasing percentages of both populations are fully vaccinated," said Higgins, who has been pushing for months to open the border.
Canada received large shipments of vaccines it had preordered from several manufacturers in recent months, and the U.S. has helped out by shipping millions of excess doses north. Now Canada is so flush with Covid-19 vaccines that it announced Monday that it will donate 17.7 million doses to countries that need them.
Meanwhile, Canadians continue to flock to vaccination sites across the country, further driving down the infection rate.
"We're seeing record numbers of uptake of vaccinations, we're seeing a serious and sustained decline in cases," Trudeau told reporters on Tuesday.
And perhaps as a result, Canada is also seeing a shift in public opinion. For months, polls showed that a large percentage of Canadians wanted the border to remain closed indefinitely. But in a Nanos Research poll conducted for the Toronto Globe and Mail and released last week, 63% of those surveyed said the border should open either this summer or this fall.
"As vaccinations spread, people are becoming more confident and more comfortable with the border reopening," said Edward Alden, senior fellow at the Council on Foreign Relations and a visiting professor of U.S.-Canada economic relations at Western Washington University in Bellingham, Wash.
It's unclear, though, how clear comfortable Trudeau is with opening the border anytime soon. Alden noted that over time, the Canadian prime minister "keeps moving the goalposts" regarding what it will take to open the border. 
Earlier this year, Trudeau indicated that 75% of Canadians would have to have at least one dose of Covid-19 vaccine and 20% would have to be fully vaccinated before the border could reopen. But on July 2, Trudeau revised his goal.
"We have to get up over 75% fully vaccinated, up into the 80% range fully vaccinated perhaps ... if we're going to be safe," he said.
U.S. politicians who have been pressing for a border reopening don't appear particularly impressed with Trudeau's logic.
"President Biden and Prime Minister Trudeau have completely failed on this issue, and every day they wait to implement a clear and transparent plan for full reopening prolongs that failure," said Rep. Chris Jacobs, an Orchard Park Republican.
Senate Majority Leader Charles E. Schumer didn't name names like Jacobs did, but he appeared equally frustrated with the continued shutdown.
"The border should've been opened for vaccinated travelers yesterday and we've already lost invaluable time to illogical dithering and delay," Schumer, a New York Democrat, said. "Canadian and American officials must now work overtime and heed my call to develop a safe reopening plan based on science and data, to reunite families, energize businesses and the economy and let New York communities finally begin to recover."