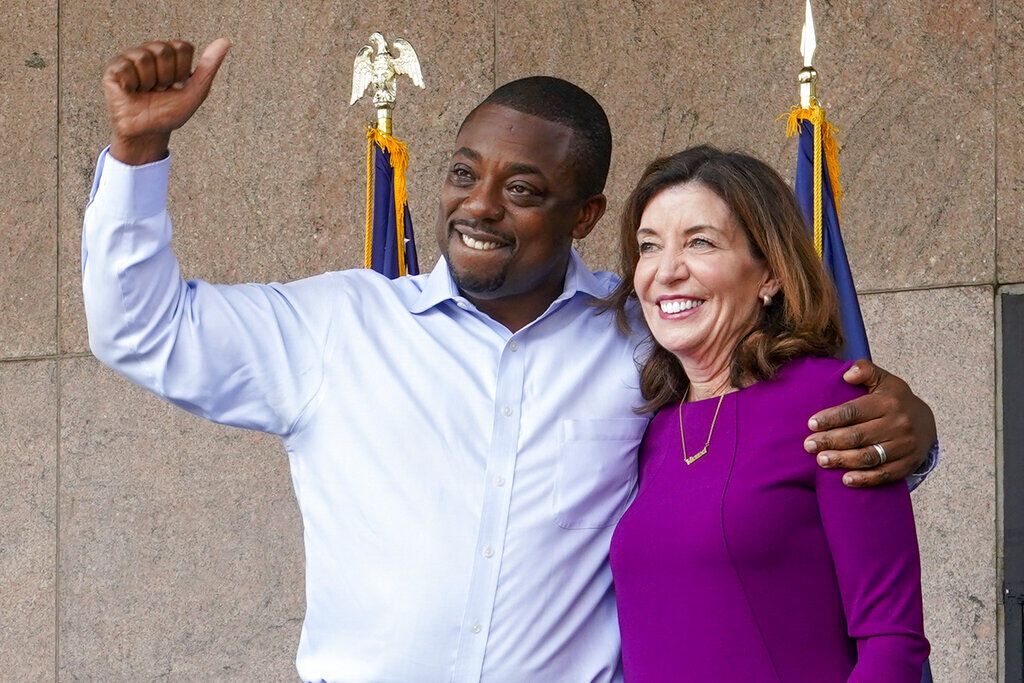 ALBANY – Lt. Gov. Brian Benjamin becomes, constitutionally speaking, the acting governor later today when Gov. Kathy Hochul leaves the state to attend an annual, post-election gathering in Puerto Rico, which is attended by a who's who of Democratic Party leaders, union officials, lawmakers and lobbyists.
Will Hochul, who can vividly recall the limited legal powers of the lieutenant governor's office, actually leave anything official-sounding for Benjamin to do?
If history is a guide, Benjamin's duties will be of the light variety.
Hochul herself took note of the supreme powers temporarily handed her way in 2015 when then-Gov. Andrew M. Cuomo, who resigned in August in disgrace under the weight of various scandals, came up with a list of things she would do in her short stint that early April as acting governor.
Some of the short-lived legacies of her temporary leadership: declaring Buffalo chicken wings the official state food for just a few days, anyway, and making Buffalo's Dyngus Day parade the state's official state parade. They were, at the time, considered "acting governor" jokes, the kinds lieutenant governors are allowed to make.
But Hochul, in office since late August, has made point after point of highlighting that Benjamin, a Harlem Democrat, will be a full partner in her administration – something that she could not say was afforded her by Cuomo during his administration.
The "acting" governor title, from a practical standpoint, is largely meaningless when it kicks in for Benjamin after Hochul flies away from the state's borders given the means of communication a traveling governor has compared with her predecessors.
But, Article IV of the state constitution does still exist in all its full, legal glory: It states that if the governor is impeached or unable to discharge his or her powers of the office or "is absent from the state" then the lieutenant governor "shall act as governor."
Hochul's schedule did not say when she departs for San Juan, but her office said she will speak at 6 p.m. in Puerto Rico at an reception hosted by Eleanor's Legacy, a New York group that recruits and supports women for offices in the state.
Among New York Democrats already in Puerto Rico for the SOMOS event, or plan to be later today or tomorrow, are Attorney General Letitia James, who is running for governor against Hochul, and New York Mayor Bill de Blasio, who has formed an exploratory committee to consider a Hochul challenge.
The state Legislature's top Democrats are already there, as well as Comptroller Thomas DiNapoli. Sen. Charles Schumer is expected on Friday.