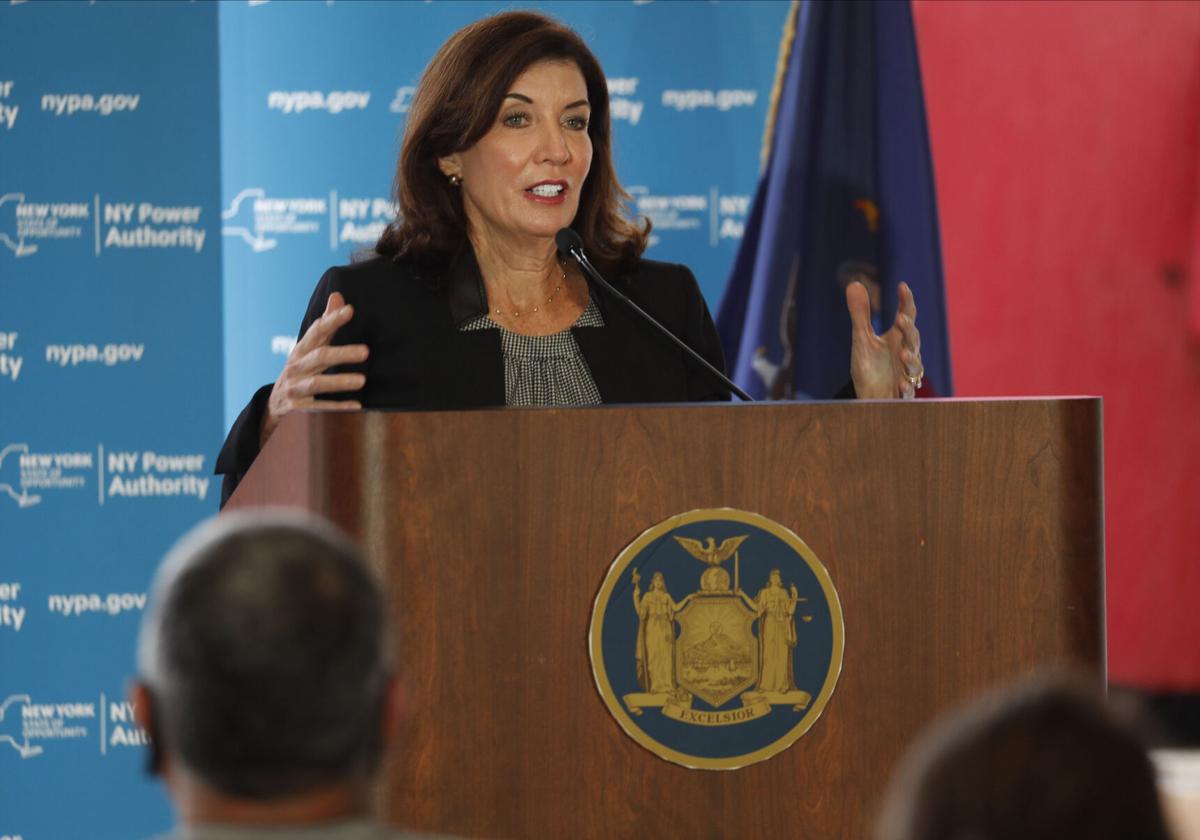 ALBANY – With Covid-19 cases, hospitalizations and deaths rising, Gov. Kathy Hochul on Thursday tried a new approach to get New Yorkers to get vaccinated and mask up: anger.
A frustrated Hochul on Thursday slammed "outliers" who won't wear masks in public places and those businesses that won't help enforce the new mandate.
Dutchess County Executive Marc Molinaro, a Republican, said a top Hochul official told him and other county executives on a phone call Friday that counties were not even expected to enforce the order during the first two weeks. The state has not said that publicly.
"This is a crisis. This is a health care crisis and people are going to die. If people had gotten vaccinated when we asked them to, and got the booster shots, I wouldn't have had to put in place a mask mandate," Hochul said in a news conference at the State Capitol after a remote meeting with her state agencies directors.
Across New York Wednesday, 53 people died from Covid-19 in hospitals and nursing homes.
Dr. Mary Bassett, the state health commissioner, showed projections for how fast the Omicron variant can spread in the near future. She said that while preliminary data from other countries suggest people do not get as seriously ill with Omicron as the Delta variant, some will still need hospitalization – especially those not vaccinated or those who have, so far, skipped a booster shot – and that facilities could be overrun with cases.
Amid worsening Covid-19 case numbers, Erie County Executive Mark Poloncarz on Tuesday defended his mask mandate, suggested a vaccination mandate for restaurants may not be necessary and noted a few positive developments.
"Please don't take a chance. Please don't take a chance," Hochul said.
She said the winter surge, which has already begun post-Thanksgiving, is going to grow increasingly serious.
"We are in for a rough ride," Hochul said.
Hochul again said she has a full arsenal of possible responses, but that she wanted to start with a less draconian one – the indoor mask mandate that kicked in Monday – while urging people to get vaccinated. Bassett said vaccination rates have recently begun to level off, another worrisome sign for public health officials.
Hochul warned that if numbers don't get better, at some point she will have to consider such things as mandating that businesses permit only vaccinated patrons to enter their establishments. The new mask mandate allows businesses to do that in return for consumers and workers then being free from having to wear a mask.
Real-time research is showing that Covid-19 vaccines, which afforded strong protection when they were first given, become less effective protecting you over time. The CDC is now recommending everyone 16 and over get a booster shot. 
The state is also considering changing the definition of "fully vaccinated," which is now 14 days after the final shot in a series. It could be amended to consider fully vaccinated only those people who have gotten their initial vaccine series and a booster.
Hochul also said that insurance companies now have to cover the costs of at-home Covid-19 test kits. That is not in effect yet, but is expected to happen sometime in January, as President Biden recently announced.
Hochul also said the at-home test kits are widely available on store shelves. In the Albany area today at two major pharmacies, the kits were sold out as more people try to purchase them in advance of Christmas gatherings.
In New York City, one official posted video of long lines of people waiting for Covid-19 tests – a worrisome throwback to the early 2021 days of the pandemic.
State officials have been urging people to get regularly tested now for Covid-19. But, unlike last year, the tests can be expensive, both for the gold standard PCR tests and the rapid, at-home kits, which can be more than $12 apiece and aren't as accurate as the PCR tests.
Erie County's Covid-19 numbers fell by more than 1,000 new cases week over week, down from a high of 5,537 cases the week after Thanksgiving.
In the Buffalo area, there are free PCR testing facilities, such as those at pharmacies. Some, however, say it can now be five days before results are known – a timetable largely unworkable for families looking to gather for the upcoming Christmas and New Year's holidays.
Some insurance companies will cover Covid-19 tests, but not for travel-related reasons or without a doctor's prescription.
The rising Covid-19 numbers are altering some workings of state government, as well. Hochul is to give her State of the State address on Jan. 5. It will be held for the first time since the days of Gov. David Paterson in the state Assembly, but Hochul said it is going to be scaled-back because of Covid-19. Officials did not provide more details Thursday.
Hochul said her first address to the Legislature will include a comprehensive plan to get more health workers into strained hospital and nursing home systems.
The daily Covid-19 numbers released Thursday showed that 18,276 people tested positive for the virus statewide, a 6.6 percent rate out of the 278,000 people who got tests. In all, federal data shows 61,152 people have died from Covid-19 in New York since March of 2020.
Western New York continues to have the highest Covid-19 positivity rates, but when factored on a seven-day average per 100,000 population, the region trails the Southern Tier, Finger Lakes, Mohawk Valley, Central New York and Long Island.