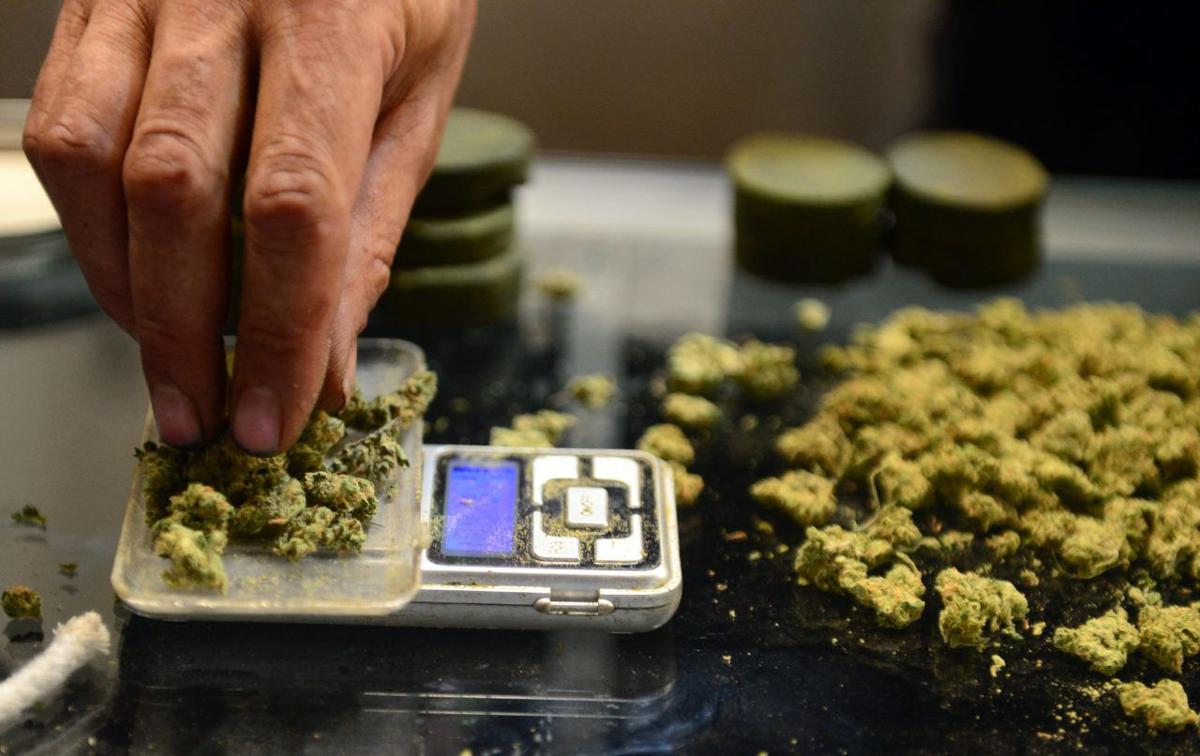 ALBANY – Talks to legalize marijuana in New York State have come down to the wire, with major issues still to be resolved by negotiators at the Capitol if a tentative deal is to be presented to lawmakers when they return to Albany on Monday.
A number of snags have hit the negotiating table, however. Some legalization advocates say those could severely water down the end product – or doom the measure's chances.
On Monday morning, a source at the Capitol said talks blew up overnight in a dispute over how marijuana tax revenues would be distributed; frustrated lawmakers, at least for the time being, are said to be trying to get a two-way deal with the Senate and Assembly not involving the Cuomo administration, but there were new signs a more scaled-down approach to marijuana might be on the table now. But another source close to the talks said Assembly Speaker Carl Heastie, a Bronx Democrat, wants to see the Senate act first on whatever might happen on the marijuana issue -- if anything.
The 2019 legislative session is scheduled to end Wednesday.
On a separate issue, Senate sources said Sunday the chamber plans this week to take up a bill -- passed already by the Assembly -- to permit individuals who are in the country illegally to apply for driver's licenses in New York State. Supporters say it will make roads safer by having such migrants take written and road driving tests, while critics say it will inappropriately give people in the country illegally with a key identification document.
Another looming deal, at least between the houses: permitting localities to decide if they want to let electric scooters and electric bikes on their streets.
Three-way staff-level talks were held until late Saturday by officials from the Cuomo administration and the Democratic-run Senate and Assembly.
According to four sources with knowledge of the talks, all of whom spoke Sunday on condition of anonymity, Senate officials are saying they do not have enough votes to pass the bill unless there is a special "opt-in" provision that would require localities to affirmatively state that they will allow retail marijuana sales within their borders.
Gov. Andrew M. Cuomo earlier this year proposed an opt-out provision, which would permit retail sales in communities unless they voted to block such operations. A number of marijuana legalization advocates believe the opt-in language is too burdensome, raising questions Sunday whether an opt-in requirement represents a poison pill in the talks. A number of localities in recent weeks and months have said they would not permit retail marijuana sales within their jurisdictions.
As is typical during end-of-session negotiations on sensitive issues, two things were true Sunday morning: People did not want to be identified if they discussed the status of the marijuana discussions and, secondly, the situation is highly fluid and can change back and forth over the hours – and potentially days – to come.
Also unresolved: how the hundreds of millions of dollars in anticipated annual revenues from marijuana taxes would be distributed.
In a sign of just how much trouble the legalization bill is in at the Capitol, a Plan B emerged early Monday morning: legislation was introduced in both houses to cut in half financial penalties for possession of a larger amount of marijuana -- one ounce. It also would require the state criminal justice services agency to seal most arrests for marijuana possession and the court system must devise ways to ensure marijuana arrests do not show up in criminal history background checks by the state's legal system. People with marijuana arrests would also have a pathway to get the records expunged. The state's public health law, according to its final provision, would be expanded to include the definition of products that can be legally smoked -- now set at cigarettes, cigars, pipes or other products that contain tobacco -- to include marijuana.
There was also a push in negotiations Saturday night, according to sources, to eject an effort to let New Yorkers grow their own marijuana plants at home. Border states like Vermont and Massachusetts allow home-growing, as does Michigan and others. Washington state forbids it. Illinois, the most recent state to legalize marijuana, will allow it for medical marijuana patients only.
Would it be up to the governor – whose administration would run all aspects of a new marijuana regulatory agency – to decide how to budget the revenues? How much would go to low-income, urban, minority communities that have been disproportionately hit by marijuana arrests compared with white communities? And how much would go to law enforcement for traffic safety efforts and to public health campaigns to dissuade young people from using marijuana?
"I'd say it's 50-50," one official said on the chances of marijuana being legalized in the coming week at the Capitol.
A Cuomo administration official, also speaking on condition of anonymity, on Sunday described the discussions on marijuana as "productive" and ongoing.
On Saturday, Assembly Majority Leader Crystal Peoples-Stokes, a Buffalo Democrat who is the Assembly sponsor of the marijuana bill, told The Buffalo News that there is "overwhelming" support for marijuana legalization among her fellow Democrats who run the 150-member chamber. That was clear, she said, during a closed-door conference among the Democrats several days ago; she said negotiators were trying to see about adopting some further refinements to the bill that were raised by lawmakers in the meeting.
The overall proposal calls for creating a regulatory system that would be responsible for every facet of the marijuana industry: who grows it; who distributes it; who owns the retail shops; how potent the pot sold to consumers would be; and where marijuana "lounges" would be located, among other details.
Marijuana legalization advocates scheduled a noontime rally Sunday outside Cuomo's midtown Manhattan offices. Cuomo's schedule has him 150 miles up the Hudson River in Albany.
The marijuana issue is just one of many still being negotiated, including climate change-related environmental standards, whether people living in the country illegally should be able to get New York State driver's licenses, how laws governing workplace sexual harassment should be strengthened, and whether online sports betting will be legalized. (Sources Sunday said the Senate is looking to put the online sports betting measure onto the floor this week for a vote; a number of Assembly Democrats are not keen to the idea and Cuomo has raised constitutional concerns about permitting such wagering to occur over the internet.)
Assembly Democrats and Senate Democrats are scheduled to meet separately in private party conferences Monday morning, where they are expected to be told about specific developments over the weekend on an array of policy issues that were discussed in a marathon, all-night session Saturday and again on Sunday.
On separate issues, there were deals made over the weekend to raise the current, five-year statute of limitations for victims to report cases of second- and third-degree rape crimes – which are those in which a victim was physically or mentally incapable, or too young, to give consent.
A union-backed measure that would, among other things, provide for higher wages of workers on private projects involving some level of public funding, which critics say would discourage economic development across the state, stalled during staff talks Saturday night, sources said.
As with most thorny, end-of-session issues, measures stalled at the staff level can suddenly get back on track if Cuomo and legislative leaders amend positions and instruct staff negotiators to resume efforts to reach deals.
"The governor has spoken to the leaders multiple times and staff has been working around the clock on our legislative priorities. We're making progress on all issues,'' said Richard Azzopardi, a senior adviser to Cuomo.