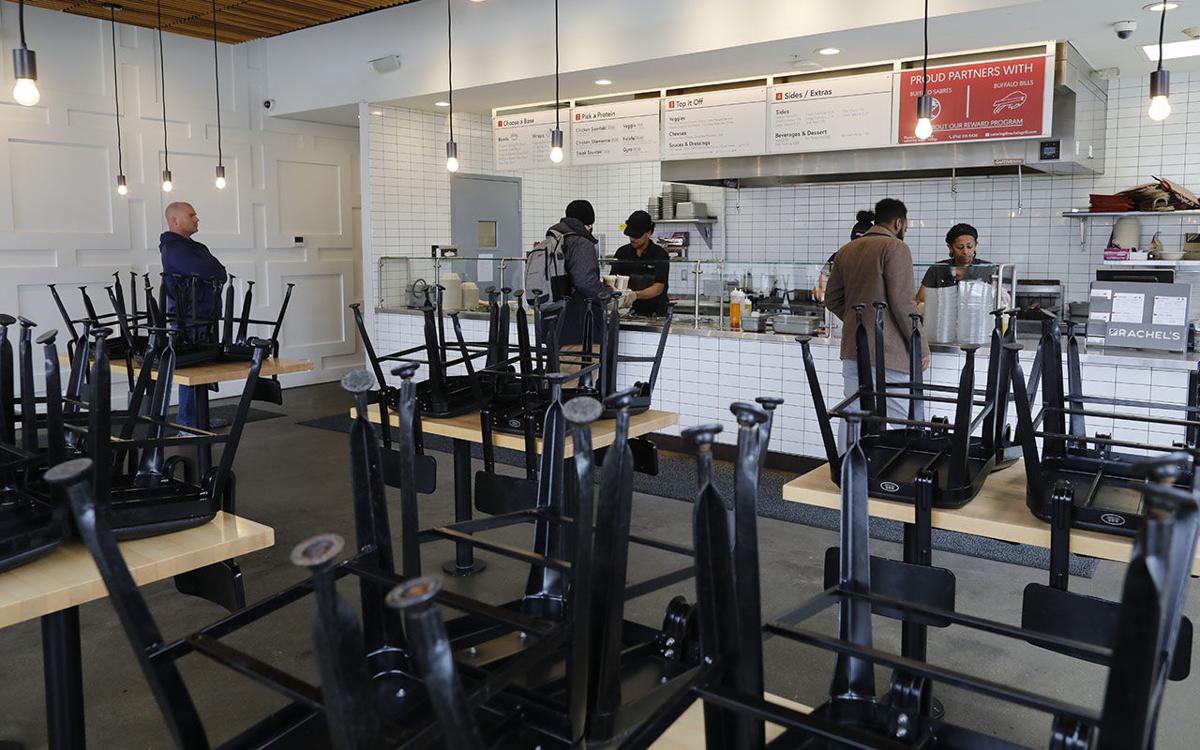 Erie County has the lowest average Covid-19 positive rate among the five counties in Western New York, but is the only one subject to "orange zone" restrictions.
The Mohawk Valley has the state's highest regional average test rate, but none of its counties operates under an orange zone.
And a portion of Chemung County has remained under an orange zone since October, even though its Southern Tier region has the lowest such rate in the state.
Those are some examples why, according to local officials, it is hard to make sense of New York's color-coded program of Covid-19 microcluster zones.
It is meant to better limit the spread of the coronavirus through targeted restrictions on the size of gatherings and the types of business activities allowed.
But Gov. Andrew M. Cuomo and state officials haven't made any changes to the zones since mid-December – even as virus cases have surged and patients have filled hospital beds.
It is a point of frustration for Erie County Executive Mark Poloncarz and leaders in other communities who feel singled out by the state.
"I'm hopeful we can go back to yellow," he told reporters this week. "I do think it's unfair that Erie County has a lower percentage of people testing positive, as well as hospitalizations, than some other counties in parts of New York state that do not have the cluster zones."
The state's microcluster initiative, announced in the fall, targets specific areas with high coronavirus rates. Red zones are areas with the most severe spread of the virus, orange zones are areas next to or just short of red zones and yellow zones are places in danger of becoming orange or red zones.
Orange zones restrict the size of gatherings everywhere, including in private homes, and ban indoor dining, a point of contention for restaurant owners and others. Red zones close all nonessential businesses, ban nonessential gatherings and limit school to remote-only instruction.
There are no red zones in New York, according to the state's microcluster map, though some communities downstate were placed in one in the early fall.
There are half a dozen orange zones in the state covering portions of Chemung, Erie, Monroe, Onondaga and Westchester counties and part of Staten Island. The state's 28 yellow zones include those that surround the six orange zones.
Buffalo and the suburbs that immediately surround the city were placed in a yellow zone on Nov. 9, a time when Erie County's rolling seven-day positive test rate was 4.8%. Yellow zones also were imposed on greater Rochester and Syracuse at the same time.
Cuomo on Nov. 18 announced he was placing most of Erie County in an orange zone and moving the rest of the less-populated areas of the county into a yellow zone. By that day, Erie County's average positive test rate had risen to 5.5%.
At that point, Western New York had the highest regional positive test rate, with Cuomo calling it "the worst situation in the state" and openly wondering if people here were taking the virus seriously enough.
During the period between Thanksgiving and Christmas, however, the five-county Western New York region saw modest improvement in its Covid-19-positive test rate and in the level of patients hospitalized with the virus.
At the same time, other regions of the state saw Covid-19 cases soar. The Finger Lakes region, for example, has a rolling average test rate as of Thursday of 10.1%, the second-highest rate in the state behind only Mohawk Valley's 10.4% for the same date.
But only the greater Rochester area is in an orange zone within the Finger Lakes, and there are no orange zones in the Mohawk Valley, though the Rome and Utica areas of Oneida County are in yellow.
There are no yellow or orange zones in the Capital Region, even though it has a rolling average test rate of 10%, well above Western New York's 8.5%.
Monroe County, which includes Rochester, and Erie County actually have the lowest average rates of any county within their region, yet they are home to the only orange zones within their respective regions. Erie County averages 7.6%, while Allegany, Cattaraugus, Chautauqua and Niagara counties all are 9.5% or above.
The Finger Lakes' Wyoming County, at 15.6%, has the highest average rate of any county in the state, but has no microcluster zone in place. Genesee County, also in the Finger Lakes, is tied for fourth-highest in the state, but has only a yellow zone centered on Batavia.
When the state unveiled the color-coded zone program in November, it set different thresholds for the imposition of a zone based on county population, with a lower bar for Erie and the state's other most populous counties and a higher bar for rural, less populated counties.
Poloncarz said Erie County deserved its status at the time that the zone was put in place, but things have changed since.
"Based on the statistics, we are not as bad as we were. There are other parts of New York state that are much worse than we are. And we do not deserve to be penalized if we are doing a better job," he said earlier in the week.
Chemung County is chafing at the restrictions, too.
A portion of Chemung County in the Southern Tier went into an orange zone on Oct. 23. County officials since November have lobbied the state to remove the label, arguing the measurements used to determine such zones show Chemung's should be lifted.
The county late last month filed a challenge against Cuomo and the state Health Department in state Supreme Court, arguing that the designation is at worst unconstitutional and at best applied arbitrarily.
Chemung County also complained that its zone status is supposed to be reviewed every 14 days, but the state has not done so. The county's average test rate is 7.8%, while the Southern Tier's is the lowest in the state at 5.5%.
"Western New York, where we've been focused on for quite some time, we've seen a flattening ... and that's good news," Cuomo said Friday.
The initial decisions on zone placement largely centered on positive test rate, but the state on Dec. 10 released new guidelines focused on hospital capacity.
A community is eligible to be placed in an orange zone, for example, if it has a 4% average positive test rate for the previous 10 days – which is true for nearly all of the state – and if 85% or more of its hospital beds are full.
No regions have reached that hospital capacity threshold, although Central New York is at 79% and the Long Island and Mohawk Valley regions are at 77%, according to state data released Thursday. It is not clear whether the new metrics apply equally to counties of all population levels.
Dr. Thomas Russo, chief of infectious diseases at the University at Buffalo's Jacobs School of Medicine and Biomedical Sciences, said he understands the frustration of local officials and statewide Covid-19 data show an inconsistency in the application of the microcluster program.
But he said he would not argue to ease restrictions in Erie County, given that hospitalizations and positive test rates are higher now than they were when the orange zone was imposed.
Rather, he would call for imposing tougher restrictions in communities where cases are soaring and would urge people to do their best to stay safe until there is wider distribution of the Covid-19 vaccine.
"Everyone should be held to the same standard," Russo said.
The state Health Department this week did not directly address why New York hasn't imposed additional orange zones in communities that have seen their average positive rate surge past Erie County's rate.
A spokeswoman instead referred a reporter to Cuomo's remarks on a conference call with reporters on Monday when he and gubernatorial aide Gareth Rhodes said the state won't change Erie County's status until it sees steady improvement in the Covid-19 caseload here.
"The point about the zones is put the restrictions in place to control the virus. If we see a decline and a continuing decline, we can relax the restrictions," Cuomo said.
Two dozen Buffalo area restaurants submitted court affidavits this week detailing more than $10 million in financial losses for 2020 and 856 job cuts since March. 
Lt. Gov. Kathy Hochul said in a radio interview Tuesday morning that she had hoped to see the orange zone lifted based on the trend line through much of December. But a recent uptick in case rate and hospitalizations quashed any chance of that for now, she said, a particular disappointment for restaurateurs.
"They want people to help them drive that infection rate down and we can do it starting this second," Hochul said. "If anyone has not been following the protocols, then you're part of the problem. Let's all work together to get them reopened."