WASHINGTON – To the Canadian government, it's not enough that people arriving from the United States must show that they're fully vaccinated and recently tested to prove that they don't have Covid-19.
Just to be sure those people are healthy, Canadian border agents are randomly handing take-home testing kits to people arriving at border crossings and airports – and requiring that they take that Covid test on video with a nurse on the other end of a computer connection.
To Canadian officials, it's one more step to keep the Canadian public safe. But to many travelers, it's one more hassle standing in the way of a return to an open border.
"It's very intimidating when when you get this thing," said one Snyder resident, who recently traveled to his Canadian cottage and who, like several other border-crossers contacted for this story, did not want his name used for fear of retribution from Canadian customs officers. "You literally have to do it on camera in front of somebody, and we're in a cold shut-down cottage with no internet. Fortunately, we went next door because our neighbors are still up there and we were able to do it there."
A Niagara-on-the-Lake resident, who crosses the border frequently because her fiancé lives in southern Erie County, said she was tested four times in one week. She lamented the online testing company that provides the test, which is called Switch Health.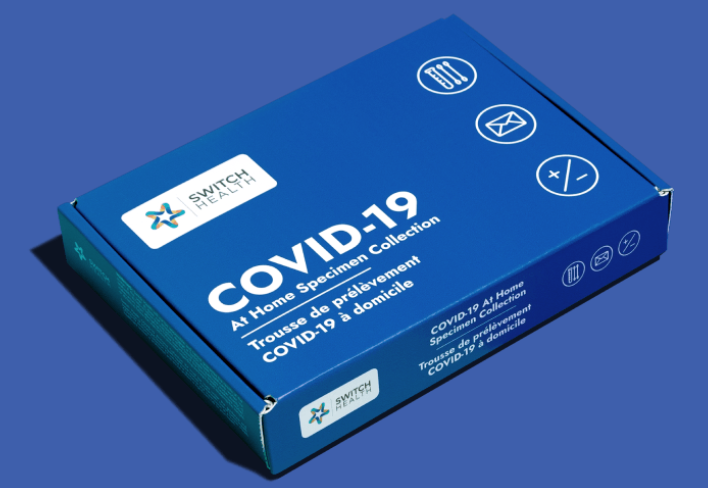 "It's a portal to hell, in my opinion," she said. "In the beginning, the wait time to see an online Switch nurse was around six to seven hours. My last wait time was around an hour. So they have improved."
A Switch Health spokesman said the current wait time to see a nurse online was about 15 minutes.
The question, of course, is: Why are Canadian officials requiring this random extra test when people crossing the border already have to prove they are fully vaccinated and that they have taken a PCR test for Covid-19 – and tested negative – within 72 hours prior to their arrival in Canada?
Officials at the Canadian Border Services Agency and the Public Health Agency of Canada failed to provide a full explanation.
"What I can tell you is that fully vaccinated travelers who are eligible to enter Canada are also subject to random mandatory on-arrival testing," said Rebecca Purdy, a spokeswoman for the Canadian Border Services Agency. "This is implemented at select airports and land border crossings."
Meanwhile, the media relations office at the Public Health Agency of Canada ignored a set of emailed questions and instead pointed to a website that noted that people who refuse to take that at-home test would violate Canada's Quarantine Act, which calls for prison terms of up to six months and/or fines of up to $750,000 in Canadian currency (about $592,200 in U.S. dollars) for those convicted of breaking the law.
While it's unclear how many people, if any, are skipping out on the tests, it's clear that plenty of people are taking them. The Canadian health agency said on its website that 65,723 tests had been completed between Sept. 10 and Nov. 6, and that 0.15% of them came back positive.
People who have crossed the border since the Canadian side reopened on Aug. 9 said those who crossed at the Peace Bridge at first were randomly sent to a tent at the Fort Erie Racetrack to have a Covid test performed there. 
But at some point in the fall, Canadian officials closed that testing site. Now, customs officers instead randomly give people crossing the border a blue box that includes a testing kit and instructions for completing the test and sending it back via Purolator.
One Amherst man, who knows about 20 people who crossed the border on the weekend of Nov. 12-14 to attend a Buffalo Canoe Club meeting in Ridgeway, Ont., said more than half were given those take-home tests. 
That man complained about the inconvenience of being forced to take another Covid test, especially one that requires a computer connection so that a nurse can watch as a visitor sticks a swab up each nostril and then places it in a test tube. He said some visitors are making day trips to Canada, meaning they don't have time to wait for a nurse to appear online or for Purolator to pick up the test kit. He said he knows of one man who drove from Fort Erie to Niagara-on-the-Lake just so that he could drop off his test at a Purolator dropbox there.
The Amherst man said he can understand why Canadian officials may want to test people arriving in large groups by air from overseas. 
"But what is the point at the border when everybody who comes across is fully vaccinated and has to prove it and has just been tested and had to prove it?" asked the man, who never even received his test results. "There is no point to this. This is a complete and utter waste of resources."
He and several other travelers said the random tests make them wary of traveling north again. A woman from Washington state, who crossed into Canada at Aldergrove, British Columbia, said on Facebook: "I'm pretty much refusing to go again because of the hassle of it all."
Local members of Congress aren't thrilled about the random tests, either.
"It's an unnecessary mandate," said Rep. Brian Higgins, a Buffalo Democrat. "And it is detrimental to getting back to economic and life quality normalcy between the United States and the Canadian border."
Rep. Chris Jacobs, an Orchard Park Republican, agreed.
"While we have made progress on reopening our shared border, the Canadian government continues to impose burdensome, invasive and redundant testing requirements on travelers," he said. "We need the same policies for both nations at our shared border, and better yet, a plan to fully reopen it without onerous mandates. Canada must drop their testing requirement and their punitive random testing program for Americans already jumping through so many hoops."