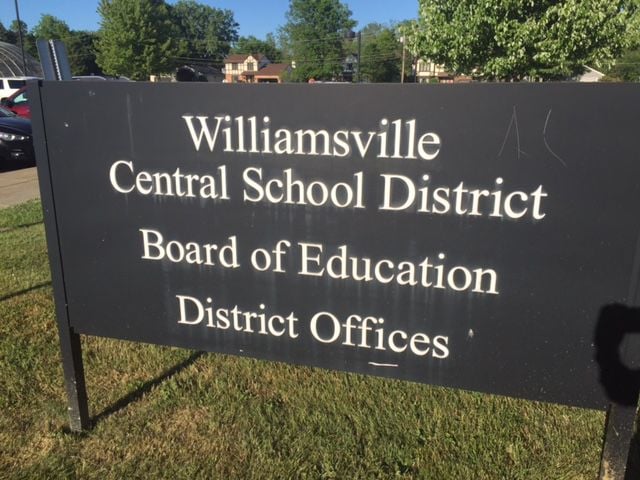 An Amherst teen is trying to sue the Williamsville Central School District after she says she was badly injured during a class science lesson.
Darya L. Mansouri said she hurt her right knee when she tripped and fell after her science teacher at Williamsville South High School directed her to run up a set of stairs.
She said in court papers that she remains in physical therapy and is "frustrated" at how her rehabilitation is going.
However, the incident took place in January 2020 and Mansouri, who was then 16, didn't file a notice of claim, preserving her right to bring a lawsuit, within the required 90 days. Instead, she didn't hire a lawyer until March. 
"There's a significant injury she's still suffering," her attorney, Brittanylee Penberthy, told The Buffalo News.
That's why her attorney has asked a State Supreme Court justice for permission to file a late claim, while the school district argues Mansouri missed her chance and wants the judge to deny her request.
Mansouri's affidavit and petition say she was hurt in class on Jan. 10, 2020, during a science class led by teacher Timothy Hughes when she was a junior at Williamsville South.
Mansouri claims Hughes told her to swiftly run up a flight of stairs as part of an experiment on horsepower. She said she asked Hughes if she could get out of participating in this experiment, but he said Mansouri had to do it.
Mansouri tripped and fell, injuring her right knee, according to her petition. She said her leg hurt, and it started to swell.
She said she was treated at Excelsior Orthopaedics and referred to physical therapy.
Mansouri said restrictions put in place because of the Covid-19 pandemic made it harder for her to keep up with therapy, but she expected to be back sometime in March.
However, Mansouri didn't take any legal action over her injuries until March 1, when she retained Penberthy.
The attorney said Mansouri hasn't been able to take part in school sports since the injury. Penberthy said her client was an energetic teenager before the injury and her inability to resume a full range of activities has depressed her.
"It's life-changing," Penberthy said.
In New York, anyone who wants to sue a public entity such as a school district over a personal injury or similar claim, or who wants to keep open the option of suing, must file a notice of claim within 90 days of the incident. Anyone who misses that deadline must convince a judge to grant an exception allowing the late claim.
Penberthy has sought this permission from State Supreme Court Justice Diane Y. Devlin because, she said, Mansouri didn't turn 18 until just over a year after the incident and she didn't become aware of her legal options until around that same time.
Penberthy also argues district employees did know about the injury and, further, allowing the late claim won't substantially harm the district's defense in the case.
She notes Hughes was there when the accident happened and Mansouri twice turned in doctor's notes last year stating she couldn't fully take part in gym class because of her injury.
However, the district's outside counsel, Nicholas John Heintzman, said Hughes didn't know the severity of the injury because Mansouri didn't report it to him or to the school nurse, who filed an affidavit with the court stating Mansouri never sought treatment from her. And the notes from Excelsior Orthopaedics, included in the court filings, don't indicate the cause of her injuries.
Heintzman also argued that, according to the relevant case law, Mansouri's youth and lack of legal knowledge don't justify extending the notice of claim deadline.
"Four hundred and seventeen days after the accident, respondents' opportunity for investigation is limited and claimant's late notice of claim will result in irreparable prejudice," wrote Heintzman, who also represents Hughes.
Devlin has yet to rule on Mansouri's petition. 
Nick Filipowski, a spokesman for the district, said he couldn't comment on pending litigation.