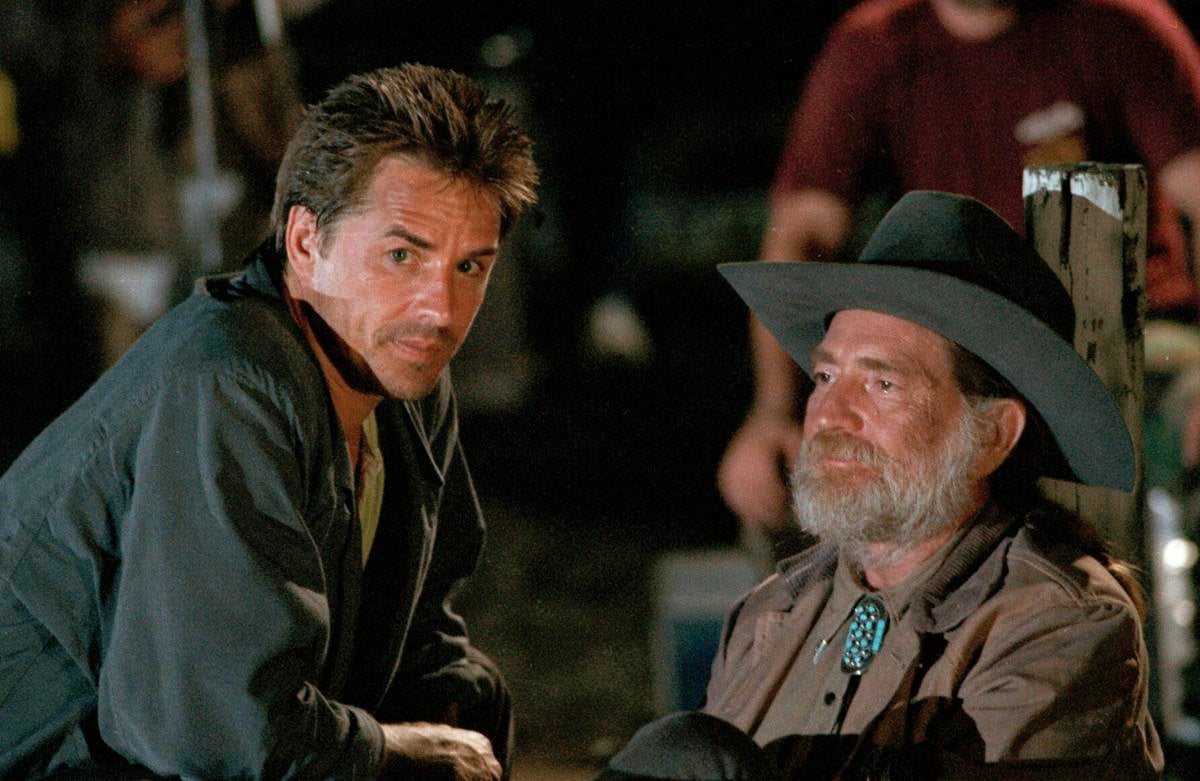 It's high time that I got around to thanking Don Johnson.
He's four years younger than I am and still out there plugging away. (He plays Kenan Thompson's father-in-law on "Kenan.") I'll always be eternally grateful to the fellow for being the original TV model for the male fashion I've found to be infinitely useful in my semi-retired maturity.
She performed in one event – the balance beam – where she won a bronze medal Tuesday. That's baby stuff for a fabled medal collector like Biles. But what she accomplished was much bigger.
Johnson let America in on the secret that a star of a TV cop show could get away – as one writer put it – with simultaneously wearing designer jackets costing thousands and T-shirts costing $6.50.
It's hardly the designer sports jackets I cherish from "Miami Vice"; it's the $6.50 T-shirts. Actually, my favorite T-shirts cost a little bit more than that when they were still available from Travelsmith – made from cotton-silk blends and the most comfortable article of clothing I've ever worn. But they didn't cost that much more.
I realized how much I owe Johnson and his boss, producer/director Michael Mann, this past weekend, which was the 52nd anniversary of the Woodstock Festival in Bethel, N.Y.
For many decades, Larry Block has been considered one of the great living masters of crime and mystery fiction. 
I covered the epochal event for this newspaper. I was, literally, the last-second choice to go from editor Murray Light at 8:30 a.m. to somehow cover an event in Sullivan County that began with Richie Havens' first song at 5:07 p.m.
The fact that I actually made it is all I'm giving myself credit for all these years later. And I'm sharing that credit with Jeanne Ray, the amazing executive secretary to Light who made all the travel arrangements. (Jeanne's death in June at the age of 89 reminded many of us of the everyday miracles she could pull off with aplomb and implacable good cheer.)
The trouble with our insanely hasty and faulty game plan for covering the Festival is that none of us really knew what to expect. So I arrived at the event wearing a green glen-plaid suit and a tie, perfectly befitting a young journalist making an early major effort to give respectability a try. I was dressed for a "concert," which was what we all thought I'd be covering.
As I walked those final uphill miles on Max Yasgur's farm, I realized how utterly ridiculous I had always thought ties were.
If I hadn't seen or heard him do it, I'd never have believed that a jazz bass player could hold an audience's attention for an hourlong solo recital.
As a student of Nichols School – all-boys at the time – I had been wearing coats and ties from sixth grade through senior year. Please understand, I liked the way ties looked: striped, patterned, whatever.
It's just that I always thought they were ridiculous articles of clothing. When Z.Z. Top years later got around to toting up the wardrobe for a "Sharp-Dressed Man" (which, courtesy of their beards, they'd never be) the ties that made their list were black.
But Z.Z. Top hadn't hit big yet as I made my sweaty pilgrimage to the Woodstock Festival bowl. Wearing that suit and tie at the time, I felt perfectly equipped to be eternity's comic anachronism.
I am now, in my contemplative senior years, trying to figure out if I'll ever need to wear anything but black T-shirts for the rest of my life – or maybe, when festive occasions call for it, blue, grey, yellow, white, green or red. It seems to me a black T-shirt and a dark sportcoat ought to suffice for any and all respectability, even at funerals.
My father wouldn't have thought that, of course. He was in the men's and boy's wear business. The only idea of his I ever heard that could pass for a life credo was the imprecation that males should "dress right" because "it's good for you."
"The Kominsky Method" was a beacon of truth in a TV world of pervasive juvenilia.
The idea of a T-shirt being anything resembling formal wear would have horrified the poor man even more than most of my wardrobe choices. But I think even he'd have to admit that if done right, it could have a clean, crisp, "respectful" finish.
And even he would have to admit that T-shirts were oh-so-comfortable. However many thousands of years it took the male gender to get to a smirking Don Johnson and his boss Michael Mann, respectability had been achieved against all possible odds.
Color a T-shirt black and its utility is near infinite, I say. And make it roomy enough to contain a pandemic weight gain and its 2021 comfort is total. (Also make sure that the T-shirt is not "fitted." As the wise Fran Lebowitz once said, clothing was never intended to be tightly "fitted.")
There was considerable genius to the fashions of the '80s. Especially for men, the industry forgave the way real men actually tended to look. It insisted they be comfortable whatever they were doing, whether pushups or signing multi-billion dollar legislative bills.
So I just want to say to Johnson and Mann, the '80s style-maestro of "Miami Vice," that you can keep your pastel lollipop colors, thank you, but when it comes down to the black T-shirt as the basic item in any male wardrobe, I'm all-in. It's everything women's "little black dress" is, multiplied by 10. And that much more comfy.
It is one of the great 20th century gifts to all of male humanity. And it is a perfect time – a perfect post-pandemic era – to be eternally grateful for it.