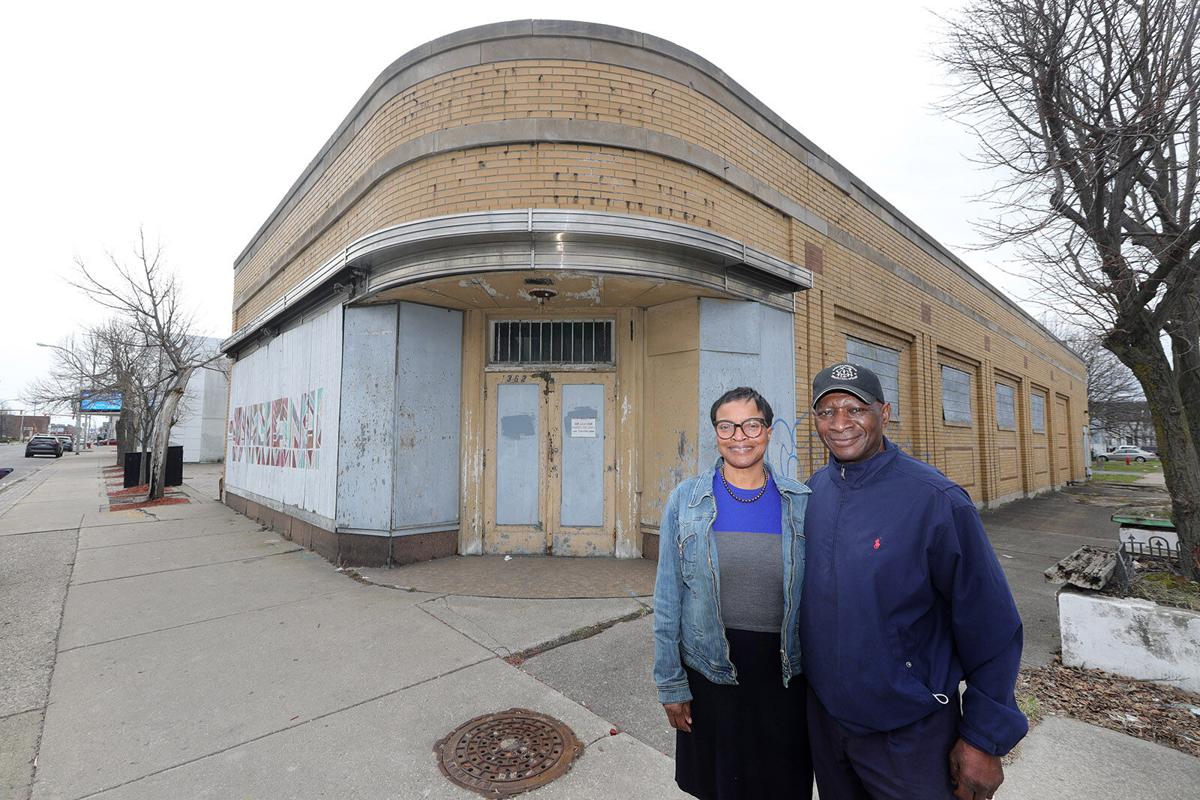 The stylish Art Moderne building in the Masten Park neighborhood has sat vacant for several years, in need of a little love.
Thanks to a state program to boost the East Side, it is about to get some.
Owners Lawrence Stitts and Jacqueline Stover-Stitts are receiving a $79,800 grant to replace the collapsed roof and install a new floor in the building at 1362 Jefferson Ave., allowing them to move their Golden Cup Coffee Co. into the building.
It is one of nine at-risk buildings thrown a lifeline through a state fund intended to breathe new life into buildings important to their neighborhoods and spark redevelopment.
"This is a win-win for Buffalo and for the community, and it's huge for us, especially at this time of our development," said Larry Stitts, who owns and operates the coffee business with Jacqueline, his wife. "We're beginning to grow and we need that building now to get in there to extend our operations."
The $65 million plan from the Buffalo Billion program targets parts of East Side commercial districts to be catalysts for community
"This gives us a healthy head start," Jacqueline Stover-Stitts said.
The idea to stabilize these buildings came from Preservation Buffalo Niagara in conjunction with East Side Avenues, a group of private and philanthropic organizations that have raised $8 million to support the state's East Side initiative.
What makes the building fund program unusual, according to Jessie Fisher, Preservation Buffalo Niagara's executive director, is that the funds are going to degraded buildings that don't have an historic designation.
"This state initiative says buildings are important because communities say they are important," Fisher said.
To be considered, Fisher said, the buildings had to be older than 50 years and considered part of the community fabric by the people who live there. 
"That sense of place, that sense of character, that sense of home is so critical for these communities' ability to rebound from decades of disinvestment," Fisher said.
The selected nine buildings came from 64 qualified applicants. Future grant recipients will be selected annually for the next four years.
The grants come from a five-year, $5 million fund set up by Empire State Development. It is part of a $65 million East Side Corridor Economic Development Fund announced by Gov. Andrew Cuomo in March 2019 as part of the state's Buffalo Billion II revitalization plan.
The plan focuses on nine areas along the north-south commercial corridors of Michigan, Jefferson, Fillmore and Bailey avenues. Portions of those streets will also get new streetlights, sidewalks, bike lanes and traffic-calming measures. The makeover, known as "complete streets," will promote walkability.
Another coffee vendor with a local flavor will perk its roasted beans on the Buffalo Niagara Medical Campus soon. Golden Cup Coffee Co. will be the exclusive coffee offered in the cafe of University at Buffalo's Jacobs School of Medicine and Biomedical Sciences building when it opens in January to students, the university confirmed. The university also serves Golden
For Larry Stitts and Jacqueline Stover-Stitts, the move into their building will expand their roasting operation from about 500 square feet to 3,500 square feet. Their coffee recently went from being in one Wegmans store to 10, and their goal is to become a major coffee wholesaler in the area. When the work paid for by the grant is complete, the couple will finish the rest, including the installation of windows and a HVAC system.
The couple plan on moving in by the end of the year and expect to hire additional employees for coffee production.
Stover-Stitts called the program's attention to businesses and infrastructure along the East Side thoroughfares huge for Buffalo.
"There are buildings that are deteriorating that are beautiful architectural structures that will potentially be again," she said. "I think it will make a tremendous difference to have some places with history come back, as well as the beautification of the neighborhood."
Another recipient became overcome with emotion when he learned that the Broadway Theatre at 512 Broadway Ave. would receive a $132,000 grant for a new roof.
Carl Paladino and an African-American media group form alliance to resurrect 100-year-old Sattler Theatre on
"I cried when they told me," said Michael Quinniey, chairman of the Western New York Minority Media Professionals, which owns the building in the Pratt-Willert neighborhood.
The group plans on restoring it as a performing arts center with an emphasis on local youth.
"People don't know the struggle to bring this building back," Quinniey said.
A private donation is paying for masonry work and an evaluation of the exterior terra cotta now underway.  
"This roof had to go on," Quinniey said. "This will now give us the ability to move the project forward."
Also in the Masten Park neighborhood, a small building at 1380 Jefferson Ave. will receive $35,000 to make repairs to the roof, gutters, masonry and siding. Valeria Cray-Dihaan, the building's owner, hopes to rent space to a small business.
"It's a blessing, really," Cray-Dihaan said. "When you invest in something, other people notice and come in and invest. It's way overdue to get Jefferson back up and running again."
The amounts for the other grants are:  
• $50,000 for roof replacement and masonry repairs at the Criterion Building, 625 William St., in the Broadway-Fillmore neighborhood. The site of the former 1909 Savoy Theatre has been owned by the Merriweather family and has been the home of the Buffalo Criterion newspaper for over half a century. After structural repairs are completed, plans are to renovate the commercial space and add a residential component.
• $50,000 for roofing and façade repairs at 339 Genesee St., also in the Pratt-Willert neighborhood, allowing owner Glenn Belton to pursue a mixed-use development plan for a building that retains a number of historic details. 
• $40,000 for repairs to the roof, masonry and front façade bay windows at 694-696 Genesee St., a circa-1923 building owned by Chris Augspurger in the Broadway-Fillmore neighborhood that was featured in the movie "Lackawanna Blues."
• $38,000 for roof and masonry repairs to a brick-factory building complex at 343-345 Broadway, in the Pratt-Willert neighborhood. After stabilization, owner Uzo Ihenko plans to rent the storefront and use the complex as warehouse space.
• $25,000 for roof and masonry repairs at 349 Broadway, on the same block as 343-345 Broadway, allowing owner Ramona Griffin to stabilize the mothballed building.
• $50,000 to repair deteriorating canopy roofs at the Niagara Frontier Food Terminal, 1500 Clinton St., in the Seneca-Babcock neighborhood. 
Mark Sommer covers preservation, development, the waterfront, culture and more. He's also a former arts editor at The News.