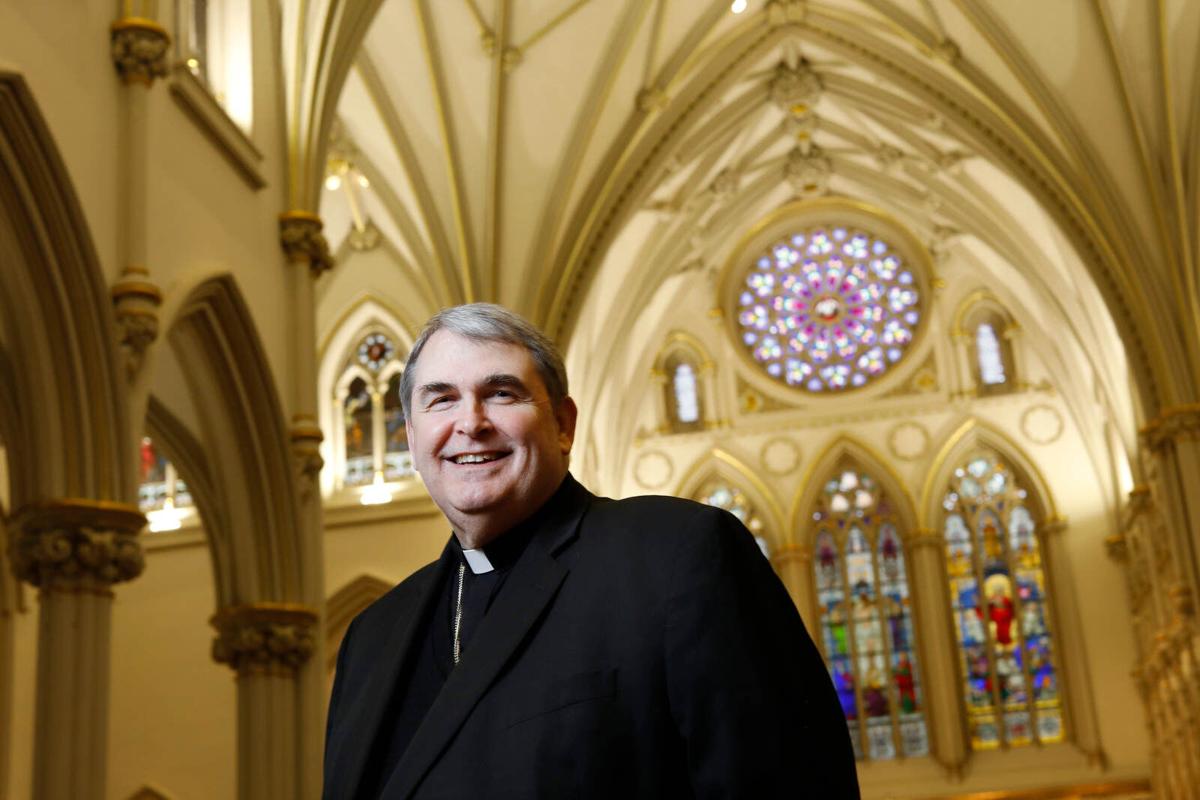 The numbers tell a stark story about the extent of decline within the Buffalo Diocese over the past decade or so.
Average weekend Mass attendance fell by 41% – from 158,300 people in 2011 to 93,134 people in 2019, before the Covid-19 pandemic hit. Enrollment in Catholic elementary and high schools dipped from 16,716 students to 12,643 students during the same time. And 62 fewer priests were working in the diocese in 2019, compared to 2011.
As they try to restore the diocese's battered reputation and finances, Bishop Michael W. Fisher and other church leaders are also asking Western New York Catholics to re-imagine the traditional parish structure that has marked the practice of the faith since their births into it.
Fisher hopes to spark more robust Catholic ministries across Western New York, while also shoring up the finances of area churches and planning for a continuing decrease in the number of priests available for celebrating Masses and presiding at weddings and funerals.
To help accomplish those goals, a diocese task force charged with leading an effort known as the "Road to Renewal" released a draft proposal that would group 161 parishes into 36 "families."
The groupings, based mostly on geographic proximity, are just recommendations and may change as church leaders seek more input, Fisher said in a recent interview with The News.
"Nothing is in concrete at this point," said Fisher.
Fisher said he has not prescribed any church or school closings.
Ultimately, though, he wants Catholics to think beyond the boundaries of their own parishes in figuring out how to best operate.
"This can't be this sort of top-down, 'We're telling you to do this,' " he said. "It needs to come up from the life of our parishes and the communities. They have their own traditions, they have their cultures, they have their history. We need to respect that and yet we need to take a very hard look at what are our resources and how can we better use them in the education of our children and making sure there are places for our people to worship and come together in the sacraments."
A contentious process called the "Journey in Faith & Grace" resulted in the merger of nearly 100 parishes and closing of dozens of churches in 2007 through 2009.
It also left plenty of Catholics angry about what they perceived as a predetermined outcome, even though many acknowledged that the downsizing was necessary because of area population losses.
Under the current draft recommendations, one family of parishes would include Fourteen Holy Helpers, Queen of Heaven and St. John XXIII parishes in West Seneca, St. Gabriel in Elma and St. John Vianney in Orchard Park.
"These parishes are financially stable and positioned to maximize their outreach and mission under the family model," the recommendation said.
It also noted that "future collaboration for survival of schools may be necessary." Queen of Heaven and St. John Vianney both operate schools.
The document also noted several other parishes in Western New York that operate schools struggling with finances over the past few years.
In Amherst, St. Leo the Great, St. Benedict, Christ the King and SS. Peter & Paul were included in one family. Three of those parishes have schools, and the document said that the family model can help them "develop a plan for Catholic education to encompass the three schools."
The document noted that in the Town of Tonawanda, St. Andrew, Blessed Sacrament, St. John the Baptist, St. Paul and St. Timothy parishes "would benefit from being early adopters" of the family model. About 4,000 people attend weekend Masses at those sites.
"The close distance and similarities of the congregations are underpinnings for development of shared services and missions," according to the draft recommendations. "The finances of these previously robust parishes are troubled, and they will need to work with the diocese to resolve outstanding debt to the diocese."
Six parishes located near the Buffalo-Cheektowaga border – St. Katharine Drexel, St. Josaphat, St. Andrew, St. Casimir, St. Bernard and Our Lady of Czestochowa – now have modest congregations that "are unable to support the parishes" and the diocese needs to support financial planning "as the opportunities to share costs would not be sufficient to enable sound financial footing for the long term," the draft document noted.
The "family of parishes" model has been used successfully in the Diocese of London, Ont., the Archdiocese of Detroit and other dioceses, said the Rev. Bryan Zielenieski, pastor of St. Mary Church in Swormville, who is leading the "Road to Renewal" effort that was launched in 2020 under Bishop Edward B. Scharfenberger. Scharfenberger served as apostolic administrator of the Buffalo Diocese prior to Fisher's appointment.
Zielenieski acknowledged that the draft plan has made some people very nervous, but he said there is a lot of positive feedback, as well. Some areas of the diocese already have been using a family model, including sharing a pastor, other staff and some programs, he said.
Catholics in the United States historically formed a tight bond with their parishes, but their place as the main gathering and social center in the lives of most Catholics today has changed.
The Vatican's Congregation for the Clergy addressed the changes last year in a document acknowledging that due to increased mobility and a "digital culture," the traditional parish "finds itself in a context whereby the territorial affiliation is increasingly less evident, where places of association are multiplied and where interpersonal relationships risk being dissolved into a virtual world without any commitment or responsibility toward one's neighbor."
The Vatican document encouraged dioceses to establish "new structures that will incite all those who make up the Christian community to fulfill their vocation to evangelize, with a view to a more effective pastoral care of the People of God, they key factor of which is proximity."
"My sense is we have very beautiful churches, but more importantly, they're beautiful parishes. The people that are in those parishes love their churches, they love their priests," said Fisher. "There's even a stronger connection to their faith and to their churches here than I've seen in anywhere I've lived."