The region's newest recreation spot will officially open Thursday to all bicyclists, joggers and anyone else looking for a motor-free workout or commute.
Here are 10 interesting things to know about the new $2.5 million multi-use path:
1. The rails carried passenger and freight trains for about 100 years
The 66-foot-wide right of way last saw train traffic in the early 1980s and railroad tracks and ties were removed in 2003. But those rails for about a century carried passenger and freight traffic between Buffalo and Niagara Falls.
"The railroad corridor was operated for both freight and for passenger service dating back to the 1880s," according to historical accounts.
2. Planning for Tonawanda Rails to Trails goes back to 2001
When the ribbon is cut Thursday morning at Kenney Field, it will be the culmination of at least 15 years of planning.
The Tonawanda Rails-to-Trails was added in 2001 by the county and state DOT to the region's Transportation Improvement Plan, although the concept of a multi-use trail on the land goes back many years earlier. The project was also included on a September 2002 list of projects approved under the federal Congestion Mitigation and Air Quality Improvement Program with an estimated construction date of 2005.
But the plans were put on hold for years as a series of obstacles conspired to derail the project. The biggest hurdle was working out a lease with the NFTA, which wanted to retain ownership of the property for a potential light rail extension or other public transit. In October 2011, the logjam broke when the NFTA made an informal agreement to lease the land for 10 years to the county at no cost. The lease began July 1, 2014.
3. The trail connects with a City of Tonawanda extension project and the new North Buffalo Rails-to-Trails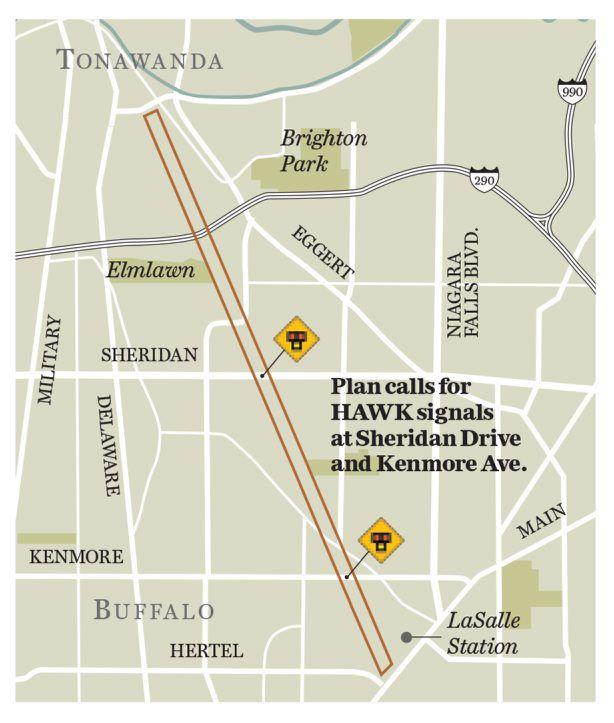 The shorter North Buffalo trail also has connections to Shoshone Park and reconnects the University Heights and North Park neighborhoods via Taunton Place.
Further north, a separate Erie County project will take Tonawanda Rails to Trails from its current terminus at State Street in the City of Tonawanda to the Canalway Trail at East Niagara Street.
The 0.85-mile project consists of 0.43 miles of separate paved trail between State Street and Fillmore Avenue along the NFTA right-of-way, and 0.42 miles on-road on Fillmore to East Niagara. Fillmore will also have improved sidewalks for pedestrians and there will be "sharrows" so bicyclists and motorists share the road.
The $1.14 million extension project is in the design phase now, with construction expected to begin next year.
All these links among trails delights Town of Tonawanda Engineer Jim Jones. "The projects all came together to really become a growing tree, which will only branch out," he said.
4. First use of a HAWK signal in the state at Sheridan Drive
This traffic control device can't be found on any other state road. It doesn't have a green light. In fact, it has two red lights and is dark until activated.
It's called a HAWK. That's short for high-intensity activated crosswalk beacon, and its purpose is to allow users of the new Tonawanda Rails to Trails path to safely cross the seven lanes of busy Sheridan, which carries more than 30,000 vehicles daily.
Traffic engineers struggled with how to handle the crossing near the halfway point in the 4-mile trail before settling on a HAWK as the best option. There's another HAWK at Kenmore Avenue that is not yet operational and is part of a Kenmore Avenue reconstruction project.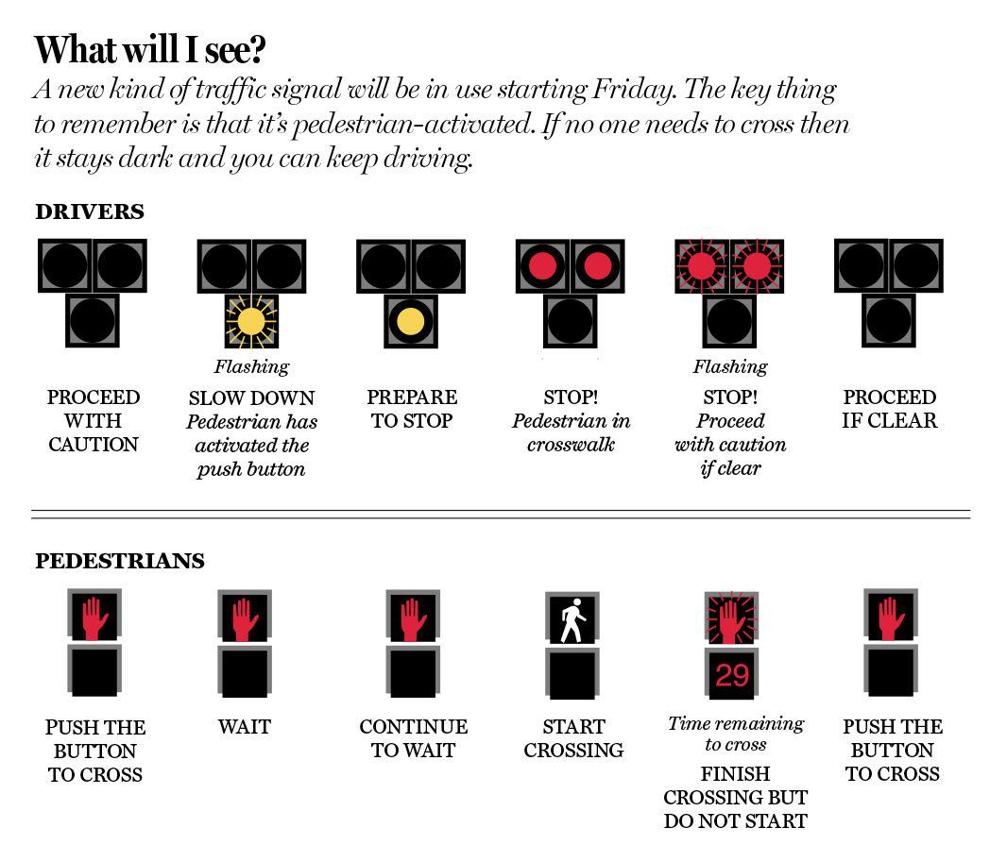 5. It's also the first use of a "Rectangular Rapid Flashing Beacon" in WNY
These are high-visibility yellow signs alerting motorists that there's a marked crosswalk used by pedestrians and bicyclists. Each sign has solar-powered LED lights that flash in an alternating pattern to catch motorists' attention and alert them that someone is attempting to cross. The lights are activated when the trail user pushes a button.
Motorists by state law must stop if a trail user is in the marked crosswalk.
6. Crosses Sheridan Drive near the "holy trinity of calories"
Hungry from burning all those calories on the trail? You can fuel up at Sheridan, where the trail passes near what Town Engineer Jones calls "the holy trinity of calories."  That would be three of the boulevard's famous food establishments: Paula's Donuts, Ted's Hot Dogs and Anderson's Frozen Custard.
Town officials also have ideas for posting directional signs in commercial areas to let trail users know how far they are from businesses and to give them an orientation. At Sheridan, there's also the possibility of adding bike racks, plantings, bike repair stations, air compressors and water fountains. The town is looking into sponsorships for those.
7. Part of the town's Complete Streets initiative
The trail is a vital part of the town's Complete Streets initiative. Complete Streets accommodate all modes of transportation by allowing for sidewalks, landscaping, parking, bike lanes and motor vehicle traffic. A bicycle master plan, like the one the City of Buffalo adopted several years ago, is part of the imitative.
"You have this interstate of multi-modal here, but how do you get to it?" asked Jones.
A town committee formed last year has proposed a draft Complete Streets policy and identified some likely candidates for a makeover. Many are the town's busiest streets, including Sheridan Drive; Kenmore and Englewood avenues; Brighton, Eggert and Military roads; and Parker and Colvin boulevards. Others are smaller residential streets, such as Crosby Avenue in the Village of Kenmore, that are close to parks, schools and athletic fields.
The town just finished collecting public input through an online survey and is now working on adopting a policy that future road projects must fit within.
8. Will link to the Lincoln Park loop trail
A spin-off path connecting the Rails to Trails to Lincoln Park is in its final design phase and should be completed next year. Constructed from porous material and supplemented with rain gardens along the perimeter, the Lincoln Park loop will be the first "green infrastructure" trail in the town.
"Instead of just shedding off into a catch basin and down and out in the pipe to the river, it keeps it and uses more of the water for recharging gardens," Jones said.
Trail users will also have easy access to all of Lincoln Park's amenities, including athletic fields, shelters and Lincoln Arena. Students can also easily access the Franklin Middle and Elementary School complex.
The trail is also adjacent to some of the town's other recreation spots. The dawn-to-dusk trail will link other points of interest such as Kenney Field, the Ken-Ton Family YMCA on Belmont Avenue and Cardinal O'Hara High School.
There are 13 trail access points at various points, including the trailheads at Kenmore Avenue to the south and State Street to the north, which also have parking lots. There's also benches along the way to rest and relax.
10. Trail has unlimited future potential
Town officials and the public are brimming with ideas for enhancing the trail and there's quite a bit of planning going on. There's talk of adding public art. One woman wants to plant milkweed along the trail to attract butterflies. The town's Youth, Parks and Recreation Department, which will operate and maintain the trail, will launch its "Adopt-a-Trail" program next year. The town may seeking Greenway Commission funding grants to enhance the trail.
"The energy behind this is palpable," Jones says.
While the trail is closed this winter, town officials are looking at the possibility of keeping it open during future winters for snowshoeing and cross-country skiing. They may also add lighting for nighttime use, like on the North Buffalo side, which features decorative light standards.
One thing is clear, from Day One last year when brush clearing started the trail has been a hit with the public. Over the last year, bulldozers stripped topsoil. Crushed stone was laid down and paved over. All through the process, the public took an interest and generated ideas and excitement.
"They are taking ownership," Jones said. "It's like a birthing. Everybody watched this baby's birth and now we're watching it grow."