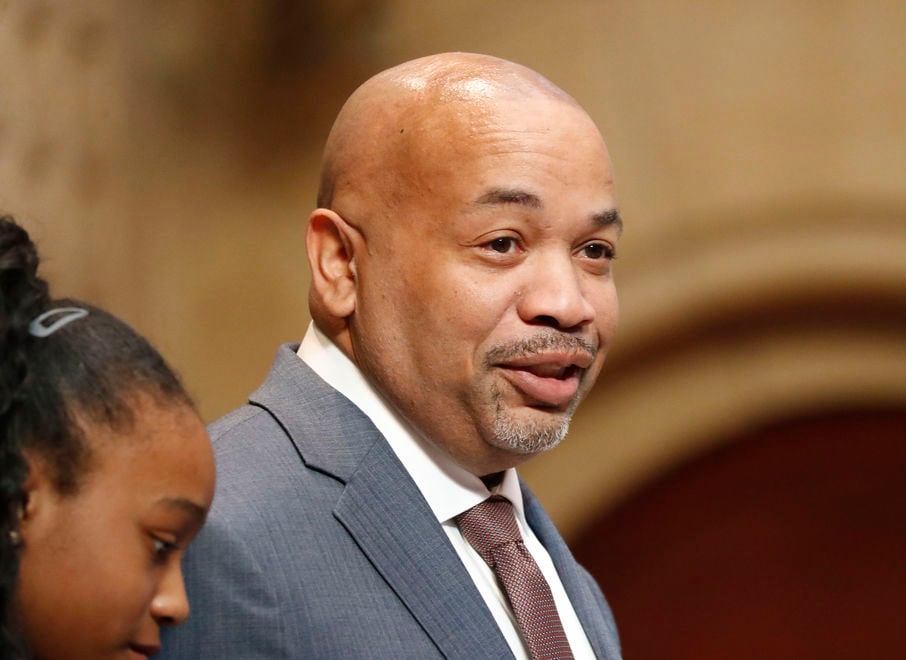 ALBANY – The Democratic leader of the Assembly suggested Friday that any potential wrongdoing that might be uncovered by the state Attorney General's Office regarding sexual harassment and other allegations against Gov. Andrew M. Cuomo might not be enough, on their own, for the 150-member chamber to impeach the third-term Democrat.
Assembly Speaker Carl Heastie, who has dismissed criticism that he is looking to protect the governor amid the various scandals that jeopardize his political future, said in a stop in Schenectady that the public needs to be patient with the investigation his chamber's committee has underway.
The Assembly leader said he can't predict what the attorney general's findings might ultimately be and can't, as a result, say one way or another what course the Assembly Judiciary Committee's own probe might take because the panel is looking into allegations that go beyond just the sexual harassment allegations against the governor.
The Assembly Judiciary Committee is running what Heastie and Assembly Democrats for months have characterized as an impeachment investigation that is separate from the attorney general's more limited probe. Republicans on the Assembly committee have previously said Democrats who control the committee have kept them in the loop and appear to be running a serious review of the many allegations Cuomo is facing.
All eyes in Albany and around the state are awaiting the outcome of an investigation of Cuomo launched earlier this year by Attorney General Letitia James. Her investigators last week interviewed Cuomo – following under-oath interviews with a number of top Cuomo advisers – about various accusations against him, including that he sexually harassed a number of female staffers in his office.
Cuomo at first apologized after one woman came forward and said his words were misinterpreted; since then, he has taken the combative route, doing everything from trying to rhetorically redefine the state's legal definition of sexual harassment to having a top aide regularly bash James' investigation as politically motivated. It was Cuomo's office on March 1 who gave the legal referral for James, a Democrat, to look into the allegations.
But some of the female accusers earlier pledged not to cooperate with the Assembly investigation, questioning its intent and openly suggesting Heastie would look out for the interests of Cuomo, a longtime political ally.
"The federal government is doing an inquiry. No one is rushing them," Heastie said Friday of a third probe of Cuomo – by federal prosecutors in Brooklyn who are looking into Cuomo's handling of the Covid outbreak in nursing homes, including that Cuomo's office undercounted the number of Covid deaths in the facilities last year.
Heastie said the Assembly Judiciary Committee should be given the "same deference" about the timetable of its Cuomo investigation as federal prosecutors and the state attorney general.
But Heastie then told reporters that the findings by James, depending on what they might be, aren't necessarily going to be enough to determine whether the Assembly moves forward with impeachment proceedings. He said he believes the findings by the James investigation "should be part of the Assembly's review, but I don't know if the report itself, alone, without the conclusion of the Judiciary Committee's work, should rise to an action,'' Heastie said Friday.
Michael Whyland, a Heastie spokesman, later took to Twitter to say that the Assembly leader's comments were being mischaracterized. "He simply said that upon receiving the (attorney general's) report the Judiciary (Committee) should add it as part of its review but also be allowed to conclude its work, because sexual harassment is one of multiple issues being investigated." (The Assembly panel is looking into a number of issues, including a $5.1 million book deal that Cuomo received last year to write about his handling of the Covid crisis in New York.) Whyland said Heastie was responding to a "speculative question" and that he doesn't know what her report might say but that "he trusts" the attorney general.
The speaker's comments drew a quick rebuke from Washington lawyer Debra Katz, who is representing Charlotte Bennett, a former Cuomo staffer who said the governor sexually harassed her in his Capitol office. Katz called Heastie's comments "alarming and outrageous" and "a betrayal of the duties of his office."
"Speaker Heastie has made clear that he will actively obstruct efforts to hold Governor Cuomo responsible even if, as we expect will be the case, the attorney general's investigators substantiate the multiple allegations of sexual harassment levied against the governor by Ms. Bennett and the other complainants," Katz said in a written statement.
Cuomo's increasing strategy has been to portray the attorney general's case as politically motivated by the state's top lawyer intent on becoming governor herself. That path took a new turn Wednesday when Long Island Democratic Assemblyman Charles Lavine, head of the Assembly Judiciary Committee, warned Cuomo that a tweet by a top Cuomo adviser critical of James was both "demeaning" to her investigation and could send "profoundly negative signals to potential witnesses." Lavine warned Cuomo there could be "severe repercussions" from such comments about the James' investigation.
The Cuomo adviser, Richard Azzopardi, who regularly turns to Twitter to denounce Cuomo critics, recently tweeted that James has said she "may" run for governor. In the same tweet, Azzopardi lashed out at a labor union leader no longer supportive of Cuomo as "an extortionist."
A law firm hired by Cuomo's office and funded by taxpayers rejected Lavine's characterizations and said, among other things, that Azzopardi's comments are protected by federal and state free speech rights and that "punishing executive officials for speaking about important issues of public policy is not merely inappropriate but is fundamentally inconsistent with the core values of our nation's founders."