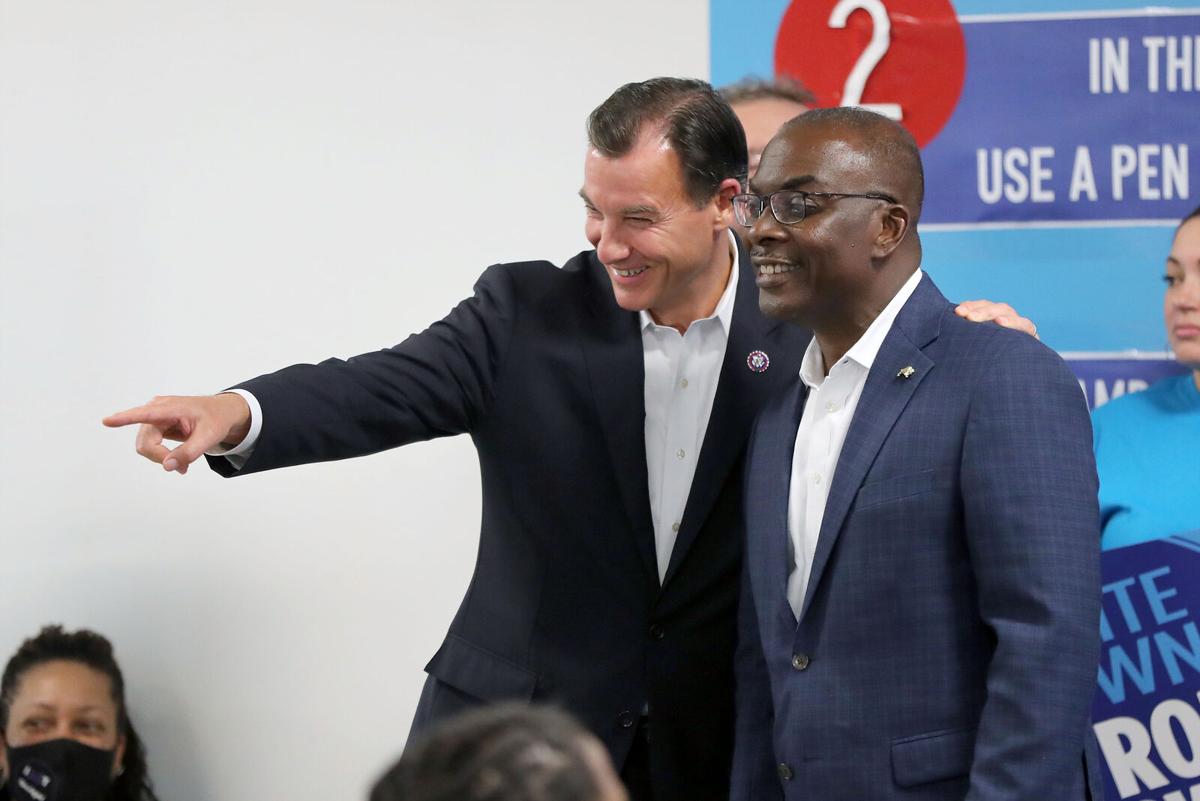 WASHINGTON – President Biden's signature "Build Back Better" plan would reinforce the social safety net – but it would also vastly expand a tax break that benefits America's wealthiest taxpayers.
And now that the House has passed that plan, it's up to the U.S. Senate to resolve a conundrum: the fact that two Democratic moderates worry about the size and scope of the plan, while the most progressive Democrat is outraged by that tax break. They need the votes of all three of those senators in order to pass their plan.
For metro Buffalo, though, residents on both ends of the income spectrum could benefit if the conundrum is left standing. After all, Buffalo is one of the nation's poorest cities, so a stronger safety net – one with a hefty child tax credit and federal money to keep low-income seniors in their homes and Medicare coverage for hearing loss – would benefit many residents.
But metro Buffalo also happens to be located in New York, which has the highest state and local tax burden in the nation, so any break on state and local taxes would disproportionately benefit the region.
And "Build Back Better," as it currently stands, includes not only those safety net provisions but also a big tax break: an expansion of the state and local tax deduction that would, ironically, benefit both metro Buffalo and America's billionaires.
So here's a look at Build Back Better, what it means for Buffalo's poor and not-so-poor, and how and whether the Senate might try to resolve that conundrum.
The version of the Build Back Better plan that the House approved Friday offers plenty of benefits for lower- and middle-income people whether they are young or old.
Most importantly for many families, it extends the expanded child tax credit that's been bringing many families monthly checks of up to $300 per child since July. The effort aims to cut child poverty in half, a goal that's especially important to cities like Buffalo, which had the nation's second highest child poverty rate in 2019 compared to other big cities.
But that's just the start of the bill's efforts to help families. The bill would provide universal pre-K for 3- and 4-year-olds. It would establish a new child care program that promises to save families thousands of dollars a year. It would implement paid family and medical leave, although that provision, like the bill itself, may not survive in the Senate. And it would expand the Pell Grant program to make college more affordable.
For seniors, the bill would cover hearing issues under Medicare for the first time. It would expand Medicaid so that more seniors could receive home care instead of going to nursing homes. It includes several provisions aimed at lowering prescription drug prices and others aimed at boosting nursing home quality.
To Republicans, who voted unanimously against the bill, it all adds up to a boondoggle.
"At a time when American families are facing the worst inflation surge in three decades, brought on by reckless partisan spending and bad policies from the Biden administration, we cannot afford to pile more big government on top," said Rep. Chris Jacobs, an Orchard Park Republican.
But to Democrats, the bill looks like bacon that they're bringing home, and plenty of it.
"Because of this bill, the future of my community in Western New York will be stronger and more resilient," said Rep. Brian Higgins, a Buffalo Democrat. "We are building back better, stronger and longer."
The bill builds back better for wealthier people, too. It raises the cap on the state and local tax deduction, set at $10,000 by the Republican Congress in 2017, to $80,000. 
Buffalo would benefit because it suffers under the burden of high state and local taxes. According to the Tax Foundation, New Yorkers paid an average of 14.1% of their income in state and local taxes in 2019, more than residents of any other state. So correspondingly, New Yorkers would benefit the most if Congress were to expand the deduction for state and local taxes.
Those benefits would be concentrated in metro New York thanks to its higher incomes, home prices and taxes, but higher-income Buffalo taxpayers would reap rewards, too. According to figures compiled by the office of Erie County Executive Mark C. Poloncarz, about 125,000 Erie County households experienced a tax increase because of the limit placed on the SALT deduction, with the average increase reported at $815 a year.
That's nothing compared to what people lost in high-income areas. Taxpayers in Nassau County lost an average of more than $5,000 because of the tax cap in 2018, federal figures show, while taxpayers in Westchester County lost an average of more than $8,600.
And the bulk of those taxpayers are not rich, said Rep. Tom Suozzi, a Long Island Democrat.
"If you're a union teacher at a public school, or you're a carpenter or an electrician, and you're in a household where you make $150,000 a year or $200,000 a year in that household, you're not a rich person where we are," said Suozzi, who led the charge for lifting the stand and local tax deduction cap. "That's a solid, strong middle class family. However, if you're making $150,000 in Oklahoma or Iowa or North Dakota or a whole bunch of other states ... that's conceived to be a wealthy person, and that's not wealthy where we are."
Writ large, though, the expanded SALT deduction – at $275 billion, the second-most expensive part of the Build Back Better plan after the $390 billion child care/pre-K effort – would disproportionately benefit the wealthy. The Tax Policy Center estimates that 70% of the tax break would go to the top 5% of income earners: those who make $365,000 or more annually.
That's why Republicans are attacking the expanded stat and local tax deduction.
"The Bill Back Broke plan, which is what we call it – the second largest part of that is a huge tax cut for the wealthiest Americans, with the SALT deduction," said Ronna McDaniel, who chairs the Republican National Committee.
With Republicans united against the Build Back Better plan, Democrats will need the unanimous support of all 50 Democratic senators to pass the bill.
But Democrats on opposite ends of the party's political spectrum may stand in the way.
On the center-right, Sens. Kyrsten Sinema of Arizona and Joe Manchin of West Virginia have raised concerns about the bill's overall cost. What's more, Manchin stands in the way of one of the bill's key provisions: the paid family leave program championed by Sen. Kirsten Gillibrand, a New York Democrat.
"I don't think it belongs in the bill," Manchin said on CNN earlier this month, arguing that paid family leave ought to be established separately in a bill negotiated with Republicans.
Meanwhile on the left, Sen. Bernie Sanders of Vermont objects to expanding the SALT cap in the way the House did it.
"The top 1% would pay lower taxes after passage of the Build Back Better plan than they did after the Trump tax cut in 2017," Sanders said in a statement. "This is beyond unacceptable."
He's working on an alternative that would cap the deduction based on income, so that taxpayers who earn more than a set amount – somewhere between $400,000 and $550,000 – would not be able to claim it.
Now it's primarily up to one New Yorker, Senate Majority Leader Charles E. Schumer, to get Sinema and Manchin to agree on a Build Back Better bill that also satisfies Sanders.
That may not even be possible. But Schumer vows he will get it done.
"We will act as quickly as possible to get this bill to President Biden's desk and deliver help for middle-class families," Schumer said.