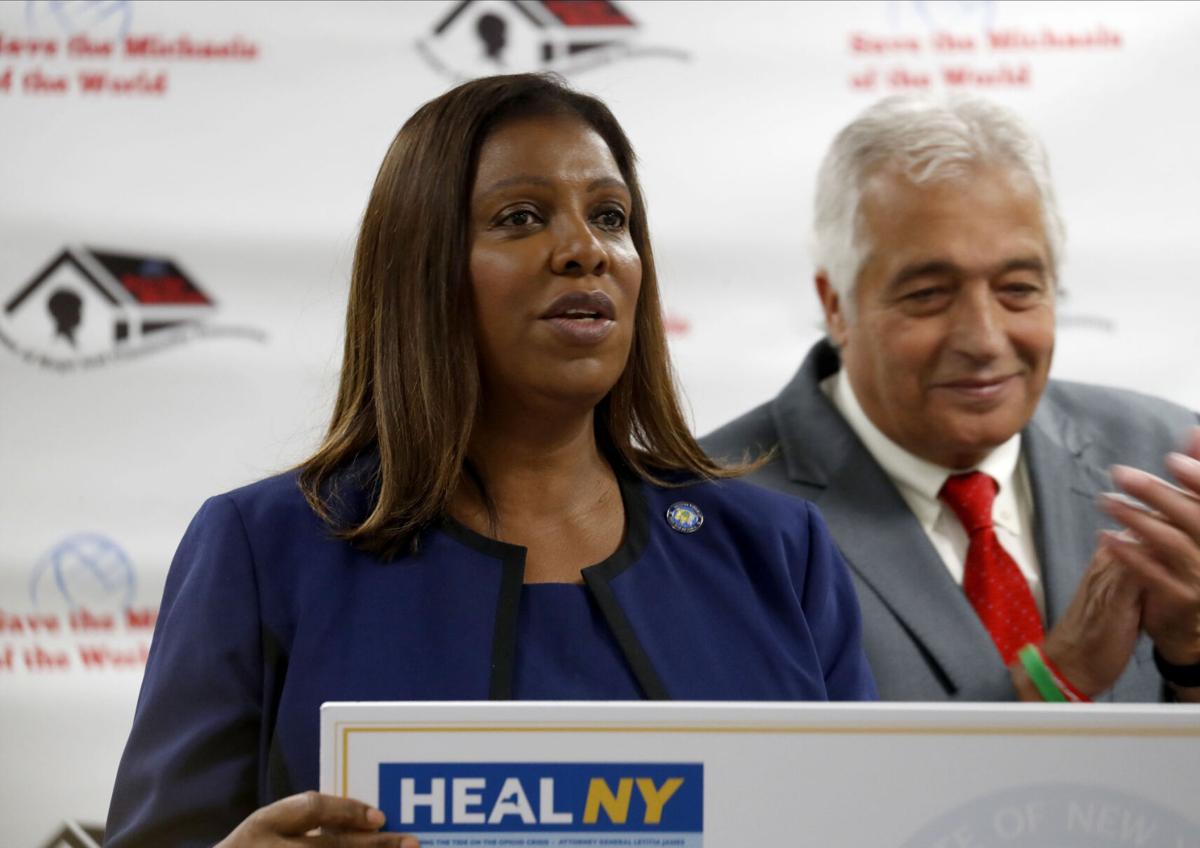 In the era of Andrew M. Cuomo's reign over New York politics, Attorney General Letitia James' Buffalo visit on Friday to dispense state largess for various causes might have gone unnoticed.
Among other things, it's what attorneys general do.
But since Cuomo left the governor's office in August after a James report labeled him a serial sexual harasser, the attorney general is viewed in an entirely different light. Now many label James the top contender for the Democratic nomination for governor next year, and cameras and notebooks record her every word.
As she and Democratic Sen. Timothy M. Kennedy of Buffalo fired up hundreds of striking Communications Workers of America on the Mercy Hospital picket line in South Buffalo Friday, she seemed to be strengthening her Democratic credentials with key constituencies like labor. Wearing a red CWA T-shirt and shouting through a bullhorn, James used words like "rights" and "respect" and "dignity" to express her encouragement.
"This hospital needs to stand up and do the right thing," she said, blasting management's hiring of non-union replacements for the striking workers. "As the chief law enforcement officer of the State of New York, I urge this hospital to remove the scabs.
"This is not a right-to-work state," she added to cheers. "This is a union state."
On Wednesday her office called for Huffmaster, a staffing company, to stop providing its services to the hospital. A letter to Huffmaster President Gregory Johnson from James' labor bureau chief claimed the company is providing services at Mercy as an employment agency and a "watch, guard or patrol" agency without a New York State license. In addition to health care workers, Huffmaster is supplying security workers at the hospital amid the strike.
James referred to the letter outside the hospital Friday. Now she wades into the middle of the 2-week-old dispute, prompting Mercy's parent organization – Catholic Health – to respond to her appearance.
"Huffmaster, the company providing replacement healthcare workers and security staff to Mercy Hospital during the strike, believes it has operated legally in New York for many years and is working closely with the Attorney General's office to resolve this situation," Catholic Health said Friday.
Union workers note Gov. Kathy Hochul has yet to make the same picket line appearance in her hometown of Buffalo. Now James becomes the first statewide figure to march in solidarity, joining a host of local Democrats.
Earlier in the day she made even more friends by announcing up to $75 million for Western New York to combat the opioid epidemic as part of her tour through a dozen cities during October.
None of it escaped the attention of Mercy strikers.
"She has the huge support of labor, stands with working people and has the respect of working people," said Al Russo, executive vice president of CWA Local 1101 in Manhattan who joined the Buffalo picket line Friday. "Everyone is ecstatic that she's here."
Would he vote for James for governor?
Laura Cox, a Mercy registered nurse marching with other union workers, said she would also vote for James.
"She's a people person and understands what needs to be done to change things," she said.
For the moment, James works hard to avoid touchy subjects like running for governor. She's just doing her "AG thing," and gaining lots of attention. She has not said anything officially about running for governor in 2022, though occasionally drops tantalizing hints with phrases like "stay tuned."
Meanwhile, Hochul has announced her candidacy, New York City Public Advocate Jumaane D. Williams has formed an exploratory committee, and hopefuls like Rep. Thomas R. Suozzi of Nassau County stumped with Mayor Byron W. Brown in Buffalo last weekend. Now all those "political observers" who handicap gubernatorial elections await an expected James announcement soon.
Those same political observers also note that the last two elected governors of New York – Cuomo and Eliot L. Spitzer – ascended from the Attorney General's Office.
James also journeyed to Syracuse and Rochester this week, only stoking the speculation. And while it may be unfair to pin a political label on her efforts to fight opioid addiction, her new status seems to intensify attention on such causes. Indeed, 14 Democrats from Erie County joined her at the Save the Michaels of the World organization earlier Friday in a sign that elected officials are recognizing her new status. In an emotional event, she announced up to $1.5 billion in funds will be awarded awarded to counties across New York.
The money stems from the James lawsuit filed in 2019, at the time the nation's most extensive lawsuit against the opioid manufacturers and distributors. The state blamed them for marketing opioids to doctors, hospitals, health care systems, and others leading to their over-prescription and resulting deaths.
Avi and Julie Israel founded their Save the Michaels of the World organization when their son died of suicide in 2011 after the effects of addiction. On Friday, Avi Israel praised the attorney general for her efforts in obtaining the new lawsuit proceeds that will be used exclusively for opioid addiction purposes.
And James said the state now needs to concentrate on directing the funds into appropriate uses, while noting its victory in the courts.