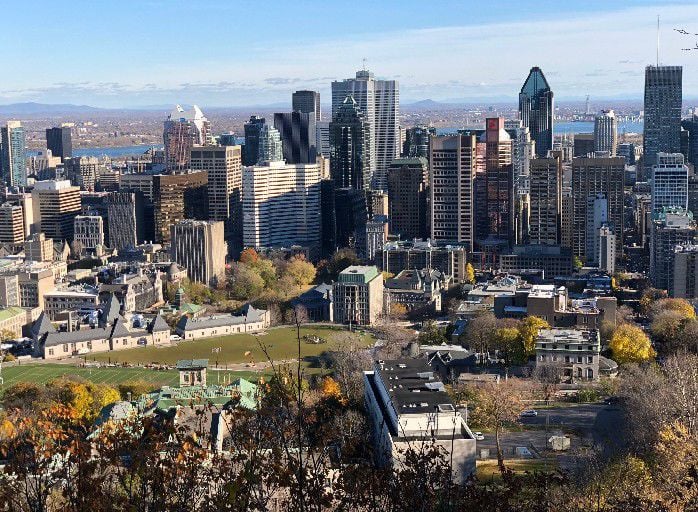 On March 18, the dreaded news came down: The United States and Canada were closing the border, the 3,987-mile demarcation, the longest border in the free world, leaving it open primarily for commerce. That meant the trucks that have clogged the Peace Bridge for years can still drive through crossings to either country.
The dreaded personal decision had to be faced: Do we stay, or do we go? We are not trucks. We are not essential.
There are Americans who do not live permanently in Canada and we are among them. Here for a yearlong teaching fellowship at McGill University's Max Bell School of Public Policy, this was an opportunity of experiencing cultural immersion, teaching graduate students from all over the world, and experiencing how a multilingual, highly diverse population lives.
Not to mention sampling the multitude of restaurants where pate, frites and saumon tartar are headliners on menus. And the puffy croissants and bread kneaded and baked that morning. And the shopkeepers who say, "Bonjour. Hi," even though the Quebec government reprimands them to stick to French only, a pipe dream in a place like Montreal where most everyone speaks fluent English. Watching Canadians enjoy a game of curling.
Instead, we had to determine what we might gain and what we might lose by staying in Canada until our scheduled return date on June 3. We had settled comfortably in Montreal, but concerns about personal health, family, medical care and a tougher closure nagged.
What if our adult children had an emergency? Would we be able to get to Cincinnati or San Francisco? What if we needed to see a general practitioner, an impossible thing to acquire here – some Canadians wait more than a year on an access list to secure one. We were not part of the national health care system.
Should we keep a bag packed at the door, passports in hand?
On the day of the border announcement, a Canadian Broadcasting News reporter stood on the side of the Ambassador Bridge, the biggest international crossing in North America, connecting Detroit with Windsor, Ont. More than 40,000 commuters, tourists and truck drivers carrying $323 million worth of goods cross the bridge each day, according to Tourism Windsor-Essex in Windsor.
They were pondering whether medical workers; workers who had jobs on either side of the border and crossed it every day; or those who had loved ones on either side were essential. It appeared that the 30-day temporary closing was aimed at truly nonessential travelers – day trippers between places such as Buffalo and Niagara Falls. Or tourists who might go over the Peace Bridge – with 10,892 daily crossings last year – to drive to Toronto for a play. Canadians complained loudly that a sizeable share of the virus was coming from the States.
Worried that the two countries later would decide, as had many countries abroad, that everyone has to stay put, we started to focus. Friends, relatives and our kids were wondering why we were still in the small city of Westmount, a separate enclave in Montreal. Probably because we were living in a bubble where we were learning how Canadians handled crisis and it didn't seem so bad.
Let's take snowstorms in our little Westmount. Fleets of plows turn out, one following the other, to push, collect and dump every flake of snow into the St. Lawrence River. Same for the sidewalks. When there is no snow, it runs small vehicles on the streets and sidewalks that baffled us: LR 50s that appeared to be sucking up water curbside? All of this was done ritually and regularly, though there are Montrealers who complained about the quality of the last clean-up that cost $4 million. The cleanings seemed high quality to us.
We looked at the virus numbers – the province of Quebec at the time had not so many cases, but the prognosis for Canada was as dire as anywhere else, with the same issues involving the health of medical personnel, hospital beds, protective equipment, unemployment, damage to the Canadian economy and tragic deaths.
Pittsburgh is our permanent domicile. Allegheny County, where the city is located, had had a growing number of cases – as did Pennsylvania – with attendant deaths, nothing too alarming. All of that has now changed dramatically on both sides of the border, only seven days since we left. (We drove home on March 22.)
Justin Trudeau, prime minister of Canada, a calm, well-spoken leader, gave frequent briefings to Canadians from the steps in front of Rideau Cottage in Ottawa where he was self-isolating for two weeks because his wife, Sophie, had the virus. Donald Trump, president of the United States, yells at everyone – especially the press – and has a hard time reading a teleprompter. He wants to send people back to work.
Whom would you stick with?
"As expected, the spread of the virus is accelerating in Quebec," Quebec Premier Francis Legault said at a press conference on March 21. "It's a reminder of the seriousness of the situation and the need to limit our physical contact. Together, we will get through this."
Three days later, Quebec's Public Health director, Horatio Arruda, said in the Globe and Mail newspaper, "Look what's happening in the world. It is impossible for Quebec to think it is surrounded by holy water and (the virus) would not get inside. It is in."
Whom would you stick with?
We called our general practitioner in Pittsburgh, who has taken care of us for 18 years, and decided to let him make the call. He did: Leave. He pointed out we had no support system in Canada should we fall to the virus.
We began to pack our bags, heartsick, but realizing we were living in a bubble where we wanted to think it would be different in Canada, a place long viewed as a refuge from war and conscription, intolerable immigration policies in other countries and the social ills that plague the United States. Canada has its own problems, but it's easy to ignore them.
By Sunday, March 22, we were on the road, a projected 11-hour drive. One of the big issues during route planning? Should we take the longer route through Buffalo, or go the more sensible way and get home earlier?
The aroma of a charcoal-broiled Ted's hot dog beckoned.
What's the rush to get home?
We choose the route that provided Ted's footlongs and a heap of crumbly, deep-fried onion rings. We ordered online and pulled into the Ted's in Lancaster. A helpful employee with gloves on scurried out to the car and handed us the precious treat. We ate in the car.
We had seen an eerie desolation along the way. The Mohawk Valley Welcome Center. Closed. The New York State Welcome Center. Closed. A handful of trucks on Interstate 87. There were 10 bays at the Champlain border crossing. One was open and a single car pulled up – us. The U.S. Border Patrol official looked and said, "You're going home? Right?" He looked really depressed.
He scanned our passports and vehicle registration and waved us through, barely glancing at our stuffed SUV. We could have brought an entire liquor store with us.
Suddenly, the advertisements changed roadside. The staple of Canadians, Tim Hortons, became Dunkin' Donuts, a sure sign we were leaving Quebec behind.
Too bad we didn't know about the Park Edge Sweet Shoppe on Abbott Road handing customer orders of its sponge candy and chocolates out its front door. We would have rolled in there, too.
Cindy Skrzycki is a visiting professor at the Max Bell School of Public Policy at McGill University in Montreal. She is a former Buffalo News reporter.
The Buffalo News: Good Morning, Buffalo
The smart way to start your day. We sift through all the news to give you a concise, informative look at the top headlines and must-read stories every weekday.