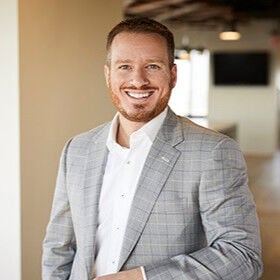 AML RightSource has changed owners as the company continues to grow its Buffalo presence.
The Cleveland-based company was sold by Clarion Capital Partners to Gridiron Capital. Terms were not disclosed, but AML RightSource's leaders, CEO Frank Ewing and president Paul Linehan, will remain in their roles.
AML RightSource helps banks and other clients spot illicit financial transactions. The company expanded to Buffalo in March 2019, with office space in Larkinville. AML RightSource has about 85 local employees, among nearly 1,250 at its five offices across North America.
Ewing said AML RightSource's local growth continues. The company hopes to double its employment in Buffalo over the next couple of years.
AML RightSource, which helps banks and other companies spot illicit financial transactions, has expanded to Buffalo, with plans to create more than 100 jobs in five years. Cleveland-based AML RightSource has 31 employees at its offices in Larkinville and expects to increase that to about 45 to 50 employees by June. "We are all systems go here in Buffalo,"
"We have a great group of employees," Ewing said. "We have a really fertile recruiting ground. Everything we predicted about access to really smart people who were really smart people well positioned to become financial crimes analysts and investigators has gone completely according to plan.'
Ewing has ties to Buffalo. The Utica native previously worked for HSBC Bank USA in Buffalo and graduated from the University at Buffalo Law School in 2012.
Clarion had owned AML RightSource since 2017. The company's new owner, Gridiron, is a larger fund "and they also really specialize in businesses that have Midwestern roots with high growth potential," Ewing said.
With Gridiron, Ewing said AML RightSource is positioned to "continue on a pretty fantastic organic growth journey, but we're really looking at additional opportunities for inorganic growth, through strategic (mergers and acquisitions) to become a little more tech enabled, to diversify our tech offerings and to grow globally as well."
The Buffalo News: Good Morning, Buffalo
The smart way to start your day. We sift through all the news to give you a concise, informative look at the top headlines and must-read stories every weekday.