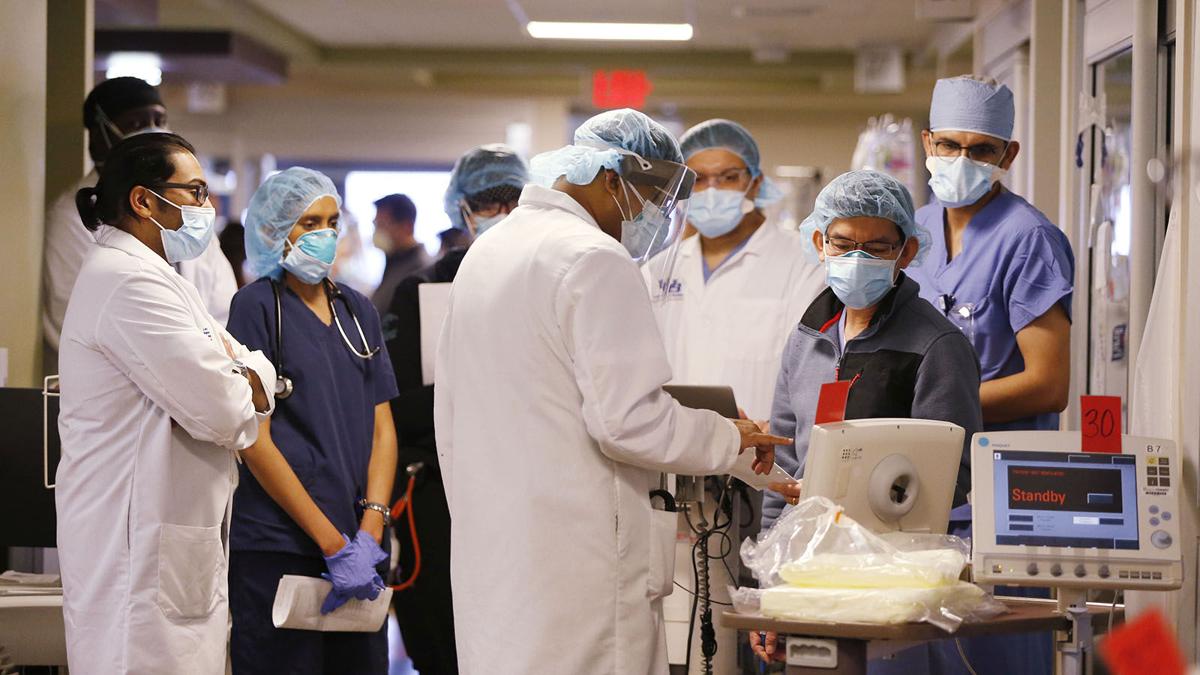 Western New York's so-called "second wave" picked up yet more steam this week, with skyrocketing case counts and positive test rates widely expected to prompt new shutdowns Wednesday.
The average number of new daily cases climbed to 552 on Monday, from 172 two weeks ago.
The average positive rate, or the share of tests that comes back positive, now sits at 4.9% in Western New York – double the average rate at the start of November.
But amid all these ominous metrics – what Erie County Executive Mark Poloncarz repeatedly called a "very bad situation" in Tuesday remarks – experts are paying particular attention to the number of Western New Yorkers now hospitalized with Covid-19, said Dr. Peter Winkelstein, the executive director of the University at Buffalo's Institute for Healthcare Informatics.
As of Monday, 185 Covid-19 patients were hospitalized in Western New York, up more than 100% from two weeks ago and 170% from this time in October. 
These insights are part of a Buffalo News project to track and analyze critical Covid-19 metrics. The News is using data from the state and local county departments of health, as well as the state Department of Education and The New York Times' national coronavirus database, to provide context and visuals to the still-unfolding story of Covid-19 in Erie, Niagara, Chautauqua, Cattaraugus and Allegany counties.
Will Erie County's "yellow" precautionary zone go orange? Or even the most restrictive red? Those questions and others should be answered Wednesday.
Those data show a clear spike in virtually all Covid-19 metrics over the past three weeks – less a second "wave" than a vertical cliff. The spike has been so sudden and so severe, Winkelstein said, that it threw off the mathematical models UB uses to predict future infections and hospitalizations.
In Erie County, which currently accounts for almost four-fifths of the region's cases, Covid-19 tests are turning up new cases at an average daily rate of roughly 44 per 100,000 people, according to a database compiled by the New York Times and analyzed by The Buffalo News. That's higher than the population-adjusted rates in both Rockland and Chemung counties, which both contain "orange" microcluster zones.
Worse, while hospitalization numbers have already ticked up sharply, the large number of new infections suggests that hospitalizations will swell even more over the next several weeks, though local officials can't predict by how much. That's because there is a six-day delay, on average, between infection and symptom onset, and an additional delay of four to six days between symptom onset and hospitalization.
UB President Satish K. Tripathi said the remaining days of in-person classes would allow the university more time to complete testing before thousands of students depart for the break.
Already, Covid-19 hospitalizations are hitting new national highs. More than 73,000 people were hospitalized with coronavirus on November 16, according to the Covid Tracking Project, well above the country's spring peak of just under 60,000.
In New York State, meanwhile, more than 2,100 patients are hospitalized, or double the hospital census one month ago.
But those figures are still a small fraction of the state's early April peak, when New York City was the epicenter of the U.S. outbreak and more than 18,000 New Yorkers were admitted to state hospitals.
Since Western New York's first recorded case on March 14, nearly 24,000 local people have tested positive for Covid-19, and 913 have died from it.