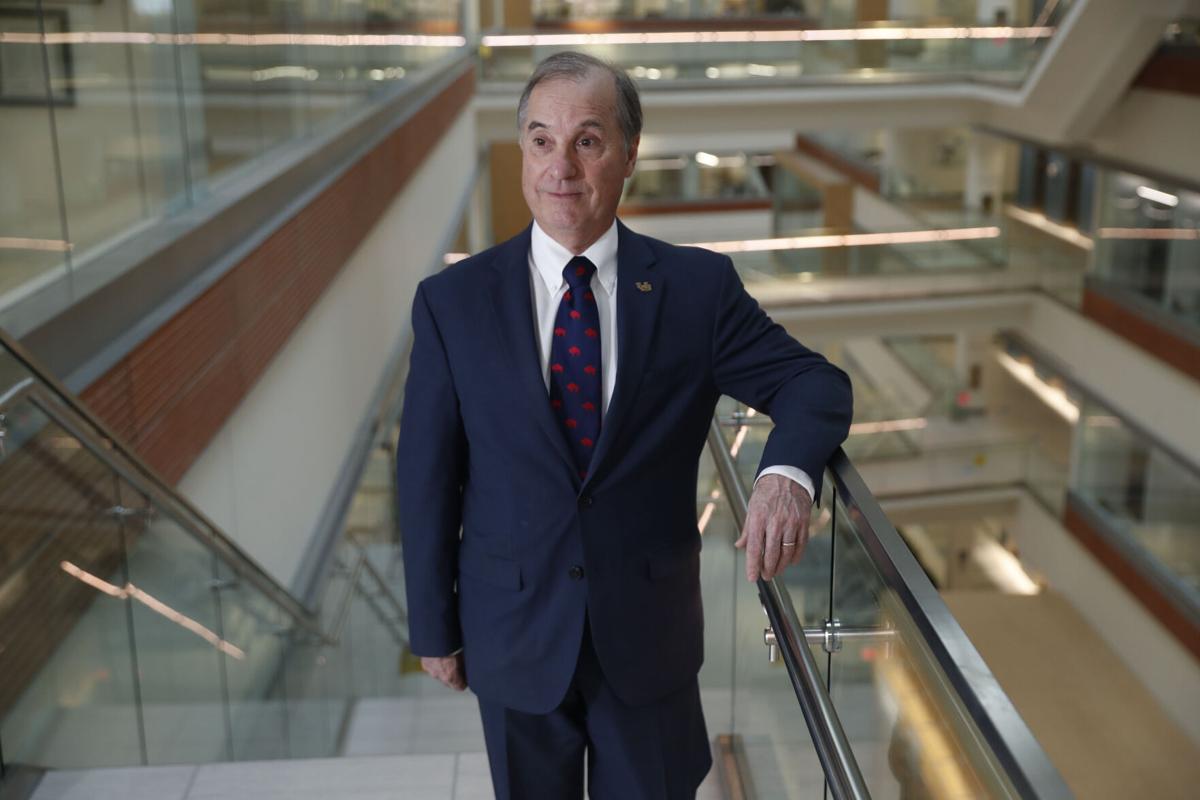 Before 2020, Dr. Thomas Russo guesses he gave 25 interviews over the years to news reporters.
Since March, Russo said he's granted around 340 interviews.
That's what happens when a pandemic strikes and you're the chief of infectious diseases at the University at Buffalo's Jacobs School of Medicine and Biomedical Sciences.
UB has tracked more than 1,000 instances when his comments about Covid-19 appeared in newspapers, websites, TV segments and other news outlets.
He has been quoted in more than 30 articles in The Buffalo News alone. And he's a regular on local TV news. His reach is national and international, too, with interviews for the BBC, Wall Street Journal, Washington Post and numerous other sites.
In short, Russo has gone viral.
Russo said he considers the interview requests opportunities to share the best possible public health information about the new coronavirus.
"It's always been my feeling – the magnitude of importance here is so great – that this is a mission you really need to see through to the end," he said.
Russo isn't the only member of the Jacobs School faculty granting interviews. But colleagues, including those who connect university faculty with journalists, say it's no surprise Russo has become a go-to expert for Covid-19 reporting – Buffalo's version of Dr. Anthony Fauci.
He has spent years studying the spread of infectious diseases. He stays on top of the latest research about the virus. And he is able to deliver medical concepts in a digestible manner and – most importantly for reporters on deadline – he is accessible and accommodating.
During the virus' first wave, UB fielded up to five media inquiries a day for Russo.
"Tom doesn't seem to do this with any ego," said Douglas Sitler, UB's associate director of national and international media relations.
Early interest in microbes
Some who hear Russo's accent assume he's from Brooklyn or the Bronx, but the 66-year-old grew up in Boston. 
"There's a few tells, if I say 'car' or something like that," he said. 
Infectious diseases and microbes grabbed his attention at an early age.
Dr. Thomas Russo, professor and chief of infectious diseases iat UB, talked with The Buffalo News about the dangers of the novel coronavirus and the mysteries that cloud saving the sickest of its
"Remember when we were kids, you'd get the swamp water and look at it under the microscope? I thought it was fascinating," Russo said.
He said he always had an interest in medicine and, in high school, he talked his way into being able to spend time at a local hospital.
"I was a walk-on, so to speak," said the former rugby and Division III college lacrosse player who attended Tufts University and then McGill University in Montreal.
His research for decades has focused on Gram-negative bacteria, or GNB, superbugs such as E. coli that are increasingly resistant to antibiotics and kill hundreds of thousands of people each year.
"We try to understand what makes them tick, why they're able to cause infections in humans," Russo said. "And then with that information you can identify what their potential Achilles' heels are."
He also cares for patients at the Veterans Affairs Medical Center in Buffalo and is a physician with UBMD Internal Medicine.
He came to Buffalo in 1994, in part because his wife, Johanna Calvert, has family in Ontario, and because of the opportunity to work in UB's infectious diseases division. Russo didn't know much about Buffalo then but now considers it home.
"As you know, you live here, Buffalo is a hidden gem, right?" he said.
Russo figures half of his previous media interviews involved the flu, a seasonal standby, with occasional requests during salmonella outbreaks and the like. This year is utterly different.
"Covid's just been a nonstop juggernaut for the most part," Russo said. "Rarely does a day go by that media requests don't come by."
As doctors and scientists last winter first heard about the new coronavirus, SARS-CoV-2, and the disease it causes, Covid-19, they were concerned for three main reasons, Russo said. It is easily transmissible, highly lethal and even people without symptoms can spread the virus.
"I think most infectious disease doctors knew way in the beginning that we were in trouble," he said.
His first request to offer his thoughts on the outbreak came on March 5, and they have continued to roll in.
"I've always tried to be responsive to all these media requests," he said. "And the reason is because I've always felt it's important to accurately educate and inform everyone, right? Because this is something that was really scary. There was a lot of information, all of which wasn't 100% accurate."
He said he also felt, as a senior researcher with lighter clinical obligations, he didn't want to pass the burden of answering more media questions onto his already busy colleagues.
UB employees during the pandemic have promoted Russo and several others as potential experts for reporters. Sometimes requests come in to UB's News Services office and staffers there check to see who is available to field questions on the reporter's schedule.
"He's a very plain-spoken person, and he's very passionate" while relaying vital information, said Ellen Goldbaum, a UB news content manager who works with medical faculty.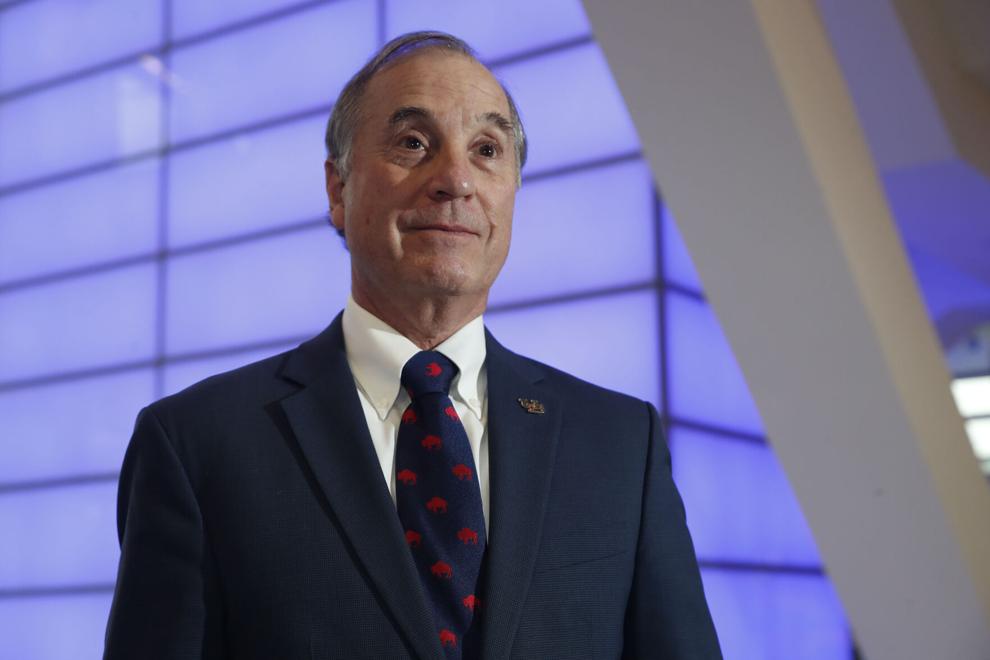 Russo has tracked 380 distinct news interviews between the first week of March and Nov. 20. UB says, as of that same day, Russo's comments from those interviews have appeared in 1,220 news articles and 376 TV or radio news segments.
He warned Discover that people shouldn't put their full faith in one negative Covid-19 test, given shortcomings in any individual test and how much most of us interact with other people.
"It's not like you're a hermit up in the North Canadian tundra," Russo told the magazine.
He told a USA Today sports columnist how hard it is to minimize the risk of transmission among college football players.
He told WKBW in August, commenting on rising Covid-19 cases among children, "They've been flying under the radar up until now."
And for the Huffington Post he gamely broke down the connection between Covid-19 and beards, observing, "I can imagine that maybe the beard could collect a little bit of spit or something," but they likely aren't a significant spreader.
"I have really never known him to go out and self-promote and try to get himself involved in things," said Dr. John A. Sellick Jr., a colleague in UB's infectious disease division. "But I think he's been able to produce a very consistent and calm explanation of the various guidelines and data."
Russo said he knows when a major Covid-19 news event breaks, or when a national figure makes an attention-grabbing statement, he will receive more calls, texts and emails from journalists afterward.
"You can imagine what it was like the day when a well-known politician was infected, for example," he said, dryly referring to President Trump's positive test.
Russo said his interactions with reporters over the past eight months convinced him nearly all seek the truth and act in good faith.
He said he can recall turning down only one request, when a China-based TV reporter asked if he would speak about why that country has done so much better than the United States in confronting the virus. He thought the reporter had a political agenda. 
Russo, whose colleagues gently tease him about his newfound fame, helped plan the precautions taken as UB prepared to reopen for the fall semester.
He does much of this work from the new Jacobs School on the downtown Buffalo Niagara Medical Campus. He said no one else wanted his fifth-floor office, which he dubs "the fish bowl," because its windows grant a full view for anyone passing in the high-traffic area.
"Every time I walk by there's an article, a publication, that he's reading off of his computer," said Dr. Alan J. Lesse, UB's senior associate dean for medical curriculum and an infectious disease specialist, adding, "It's impressive."
Russo sometimes takes a hands-on approach to promote best practices to prevent Covid-19.
Following a news conference with Lt. Gov. Kathy Hochul earlier this year at the Jacobs School, Russo prepared to take questions from local reporters, Sitler remembered. As one cameraman was setting up, Russo noticed he wasn't wearing a proper face covering.
This prompted Russo to reach into his pocket, pull out a disposable face mask and hand it to the photographer.
" 'I'd suggest you wear this instead of your bandana,' " Sitler recalled Russo saying.
"So he was still making a point."
UB Jacobs School of Medicine and Biomedical Sciences grand opening
The grand opening ceremony for the new UB Jacobs School of Medicine and Biomedical Sciences on the Buffalo Niagara Medical Campus