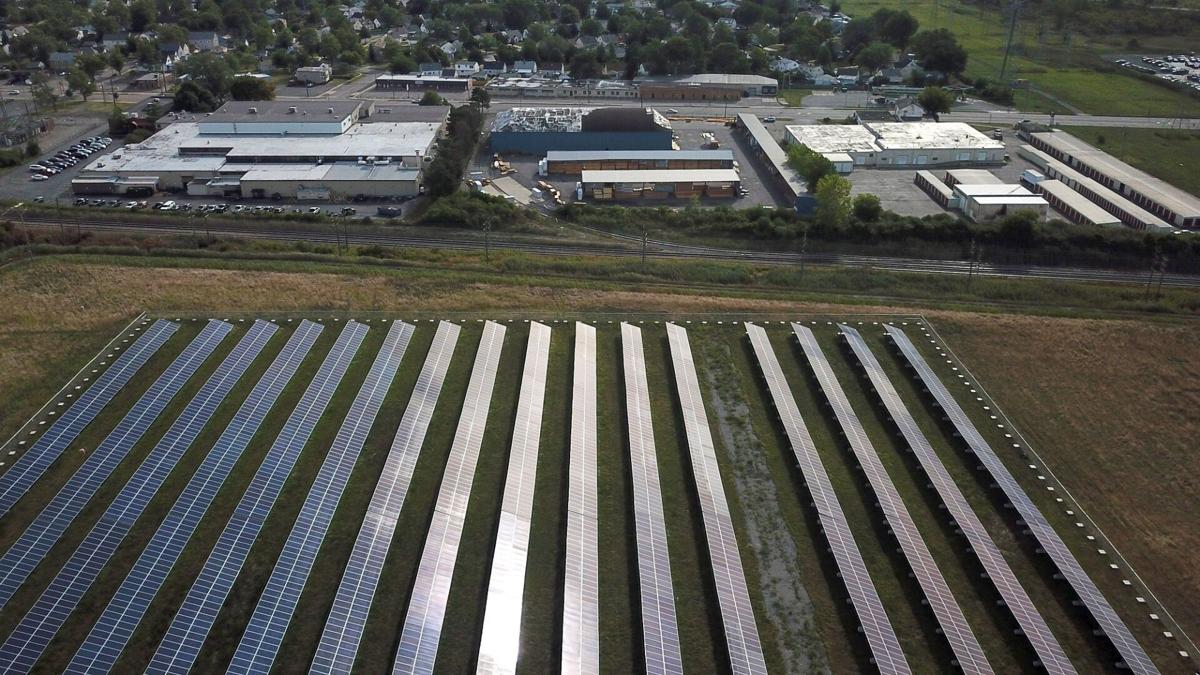 The Town of Amherst is making a push to get more of its energy from renewable sources and to reduce its overall energy consumption.
Amherst is looking to generate more of the electricity used in town buildings from solar arrays or, possibly, hydro power; convert streetlights to efficient LED lights; replace diesel-powered heavy equipment in the town's fleet with zero-emission machines; and reduce waste and increase recycling, among other changes.
Supervisor Brian J. Kulpa discussed the green initiative in his State of the Town address earlier this month and again in an interview Friday.
"It's about starting to transform the way you approach energy consumption in Western New York," he said.
Many of the ideas are at the level of a demonstration project, with solar energy a point of focus.
For example, the town in 2019 had a rooftop solar array installed at its Clearfield Community Center. The project generates about 200,000 kilowatt-hours of electricity, reducing the amount needed from National Grid to supply the center, Kulpa said.
The Clearfield array has worked so well the town wants to put in place a ground-mounted array at its water pollution control facility that would, he said, produce roughly $288,000 in lower energy costs over 20 years.
Kulpa said he can see the town installing more arrays at its highway and engineering departments; at its police, courts and library complex in Amherst's Audubon section; and at the town and village municipal center on Main Street in Williamsville – with the village's cooperation.
The town also could rely on solar power to provide power to street lights and traffic control devices in Amherst. The town is considering buying its street lights from National Grid and converting them to energy-efficient LED lights, improving the lighting network and reducing annual energy costs, as other communities have done.
Amherst officials have talked to a Buffalo startup, Green Machine, about supplying battery cells that would use solar power to charge streetlights and a network of artificially intelligent signals planned for the town, Kulpa said.
Green Machine also makes rechargeable battery packs for heavy construction equipment and Kulpa said the town intends to test out at least one such vehicle.
Further, town officials visited low-flow hydroelectric generators in Auburn, outside Syracuse, to help determine whether the same type of generating equipment could be installed along Ellicott Creek, Kulpa said.
The town has several advisory committees that seek to address fossil-fuel use, waste and recycling in Amherst, including a sustainability committee that has industry representatives.
In addition to the town-focused efforts, the Town Board recently amended Amherst's zoning laws to allow the installation of solar arrays on farmland with the requirement that a portion of the land remain in active agricultural use.
Also, the Town Board on Monday is set to vote on a special use permit for Amherst's first large, ground-mounted array on private property. The development's 13,260 panels would cover 15 acres of a 21.5-acre site at 595 Schoelles Road, north of the I-990. Public documents identify the developer as OurGeneration, a community solar project developer, operating through a limited liability company.
Some other communities and institutions also have welcomed solar energy, including:
The Town of Tonawanda, which contracted with Solar Liberty to construct an array on a portion of the town's former landfill, located just west of Military Road and just north of the I-290. Solar Liberty took over after Tesla backed out of the project. Work on the roughly 8,100-panel array was finished in 2019, and the town expected to save $60,000 annually on its electricity bill.
TM Montante, owner of Riverview Solar Technology Park, which agreed to have Montante Solar, a separate but affiliated company, install an array on about 20 acres in the park in the Town of Tonawanda. Work on the array was set to wrap up last year.
The University at Buffalo, which last year announced plans for an array of 16,770 solar panels on a 25-acre field on its North Campus in Amherst. Work by Solar Liberty on the project, which will generate the equivalent of the energy used annually by more than 1,300 homes, began last month and should conclude this spring. It is one of a number of arrays constructed or planned on and off campus.
Solar projects in other communities have run into opposition, with boards imposing moratoriums on new arrays or tightening their solar laws.
In Buffalo, for example, public opposition prompted Montante Solar in October to halt work on a planned solar array on Unity Island of nearly 12,000 panels and 23 inverters. This was capable of producing enough energy to power the Buffalo Sewer Authority's nearby wastewater treatment plant, cutting electric costs and reducing carbon dioxide emissions by 3,800 tons per year.
In Niagara County, the City of Lockport and the Town of Lewiston had put a pause on any new arrays and the Town of Wheatfield was considering one. As its 14-month moratorium ended, the Lewiston Town Board in December passed a revised local law requiring that fields of solar panels be located farther away from roads and homes than before, among other changes.
And on Grand Island, the Town Board earlier this month approved a 90-day solar moratorium that can be extended for another three months, Supervisor John Whitney said.
"We need to take a step back before we have an island of solar arrays and try to get a better handle on where they should be situated and that sort of thing," Whitney said.
He said a committee including community members and industry representatives will review and recommend changes to the town's current solar regulations. Grand Island has three arrays in operation and several others in the pipeline.
The laws put in place by cities, towns and villages generally govern large, commercial arrays that generate capacity of less than 25 megawatts of energy. State regulators, not local governments, have the final say over arrays that produce more than 25 megawatts.
In fact, Cypress Creek Renewables, a California company, this month formally opted into New York's new rapid approval process for large green energy projects for its massive Bear Ridge Solar development that would cover 750 acres of leased farmland in Cambria and 150 acres in Pendleton. An even larger solar project that would sprawl over 1,500 acres in Hartland and 500 acres in Newfane also is likely to take advantage of this new state approval process.