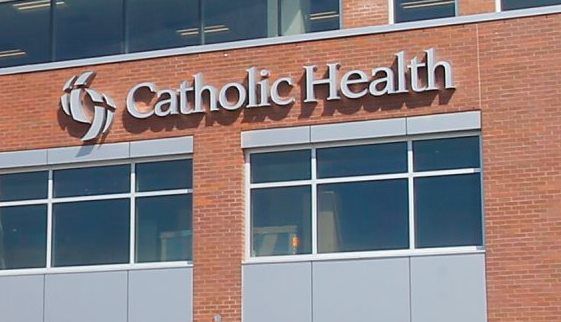 Catholic Health System's plan to open a methadone clinic in Amherst has stirred opposition from town officials and neighbors of the proposed site, which borders a residential street and a park.
The clinic is needed to serve Amherst residents battling drug addiction, Catholic Health administrators and Erie County's top health official say.
The plan is to relocate a clinic that provides drug and alcohol counseling services from Sheridan Drive  to 910 Millersport Highway, which is around the corner.
It would expand to provide patients with methadone, suboxone and other medication used to treat narcotics dependency.
"We feel very strongly that this is needed," said Martin Boryszak, president and CEO of Sisters of Charity Hospital, which would operate the clinic.
Amherst Supervisor Barry A. Weinstein, Police Chief John C. Askey and many residents who live near the Millersport site say that is not an appropriate location. There is little the town can do to block the project, but Weinstein asked a Catholic Health official to consider moving the methadone clinic to a less residential site in Amherst.
"Because of intense community opposition, intense neighborhood opposition," Weinstein said, "I'm taking a position that this is not a good site for it, and I'll do whatever I can to discourage it."
A Catholic Health spokeswoman said the system is moving forward with its plans.
The spokeswoman, JoAnn Cavanaugh, objected to labeling the proposed clinic a methadone clinic, noting that some patients would come to the facility for other purposes. She said the clinic will look like a typical doctor's office from the outside.
Sisters Hospital has operated an outpatient chemical dependency treatment program in the town since 1988.
Now at 3730 Sheridan Drive, the clinic provides counseling services to between 25 and 30 patients per day but does not provide them medication, Boryszak said. At the new site, a total of 50 combined counseling and medication-assisted patients might be served daily, officials said.
There is a desperate need for more services for people struggling with opioid addiction, said Dr. Gale R. Burstein, the county's health commissioner, who lives in Amherst. She said many of the people dying of opioid overdoses in Erie County – more than 320 confirmed or suspected deaths in 2016 alone – were from Amherst.
"It's really a lifesaver," Burstein said. "I want this clinic in my community."
She compared the methadone, suboxone and other medications provided at the clinic to insulin provided to a diabetic, and said society has to stop stigmatizing addicts.
"It's like the management of any chronic disease," Burstein said.
Boryszak said the new clinic would have security and the patients would receive medication during specific treatment windows to discourage loitering. The new clinic would be open seven days a week.
Sisters Hospital would lease space in a former Carquest Auto Parts shop, off Sheridan Drive, and near North Ivyhurst Road. Boryszak said Catholic Health officials met with county and town officials but they had not yet talked to neighbors of the property.
However, North Ivyhurst residents who got wind of the proposed clinic showed up to Monday's Town Board meeting to voice concerns during the meeting's public comment portion.
"I think it's a bad move on Amherst to put it there," John A. Radzikowski said Monday. "It's a very poor move. It's going to lower the quality of my life."
Michael L. Harlock noted the location's proximity to a nearby park and said neighbors were kept in the dark.
"When I moved into Amherst it was considered one of the safest towns in America," he said. "Where is it now? Keep us safe, please."
Askey, the police chief, sided with residents against the clinic. Another methadone clinic in the town has been a source of past trouble, including drug dealing in the parking lot, the police chief said at the meeting.
Still, Askey agreed there is a need in the community for such a clinic. "It's got to be someplace. People need help, just like we need hospitals," he said. "But it shouldn't be near a residence or near a park."
Alissa Shields was at the board meeting to speak about another controversial topic in her neighborhood: cellular towers. She said she was unhappily surprised to learn about the proposed clinic, which she fears would bring traffic problems, drug dealing and other issues to her community, which is near Garnet Park.
"This is a quiet, residential and family-filled neighborhood, and this is an intrusion into that – a very dangerous intrusion," Shields said in an interview.
Town officials have few options to try to prevent the clinic from opening at the site.
Catholic Health has filed for a certificate of need with the state Health Department, but the property is zoned correctly for the project and it did not require the approval of the Planning Board.
Sisters Hospital put up fencing along North Ivyhurst Road and along the property line with Walgreens, and did some landscaping and some work in the parking lot. Because of the limited nature of the work, the Planning Department gave administrative approval to the application, said Eric W. Gillert, the town's planning director.
However, the town must issue a building permit. Asked Wednesday whether he would advise the building commissioner to withhold the permit, Weinstein declined to answer.
But he said he spoke to Hadley Horrigan, who oversees government relations for Catholic Health, on Wednesday. "I said to Hadley, 'I'm not telling you not to come to Amherst, I'm just telling you to change your site,'" Weinstein said.
Weinstein told residents at Monday's meeting that this was the first he was hearing of the project. Weinstein, who is a physician, on Wednesday said he did meet with Catholic Health officials in February but contended they didn't share details about the clinic's purpose.
Cavanaugh said system officials "were very clear" in their meeting with Weinstein and other town officials about the clinic's services. "During those meetings, they were extremely supportive of our plans, so we are surprised their feelings have changed," she said.
Cavanaugh said Catholic Health officials plan to talk with town officials and neighbors as they move ahead with their plans.
About 75 Amherst residents are served at Sisters' methadone clinic at 158 Holden St., near the corner of Main and Amherst streets, Boryszak said. Many of those patients receive counseling at the Sheridan Drive clinic but have to travel to Buffalo to get medication.
News Staff Reporter Joseph Popiolkowski contributed to this report.
Get local news delivered to your inbox!
Subscribe to our Daily Headlines newsletter.