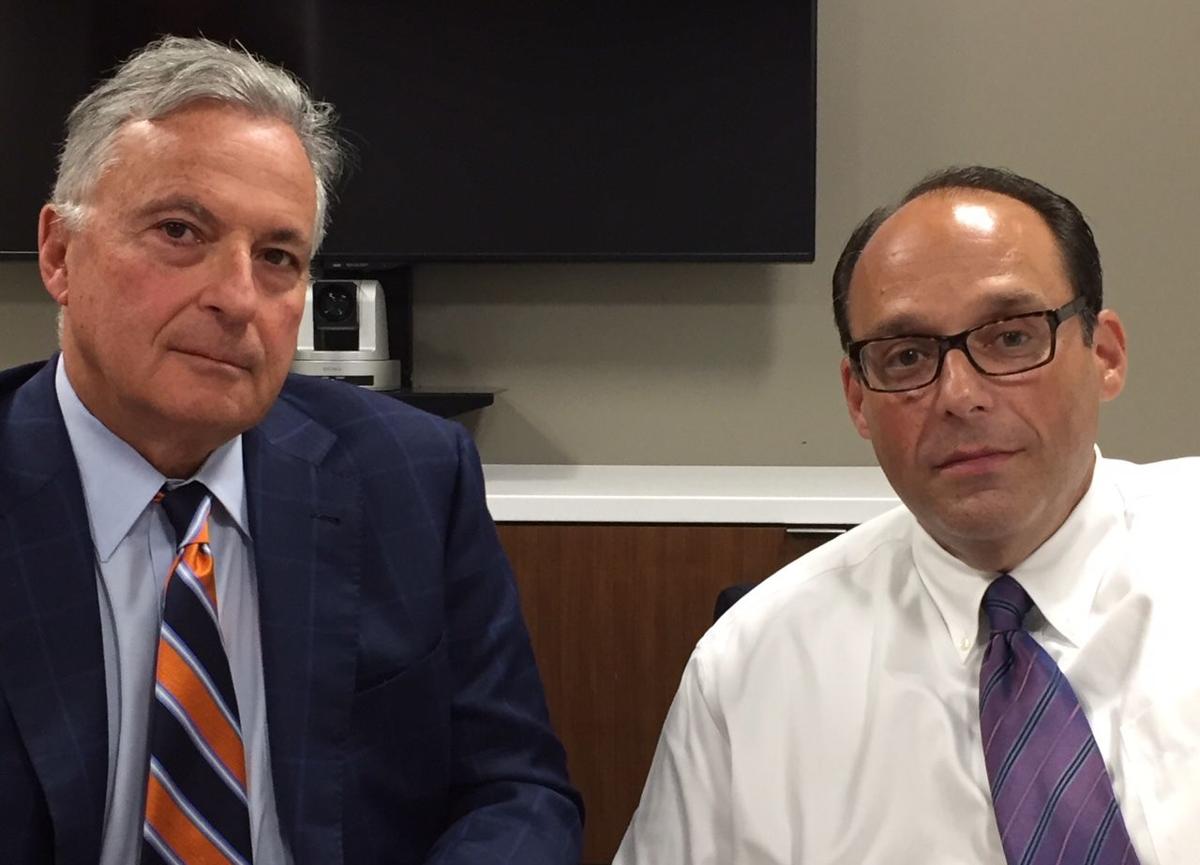 An Amherst business accused of trying to collect on fraudulent "phantom debts" agreed this week to pay $676,575 to settle a lawsuit filed against it by state and federal agencies.
Amherst businessman Andrew Shaevel, his associate Jon Purizhansky and their business, Hylan Asset Management, also agreed in federal court that they could be required to pay another $6 million if they violate an agreement with the government agencies that permanently bans them from debt collection work.
The company and its principals agreed to dismantle and never again seek collections on the company's "debt portfolio," potentially worth millions of dollars, under the agreement with the State Attorney General's office and the Federal Trade Commission.
The company "admits no wrongdoing," said its attorney, Dennis C. Vacco, late Friday afternoon.
Vacco said Shaevel and Purizhansky decided to pay the government and shut down the business rather than engaging in long and expensive litigation in federal court.
"While Hylan was confident in its ability to prevail at trial, the cost to settle this lawsuit was a small fraction of the cost to litigate against the government," Vacco said. "The principals of Hylan are pleased to put this matter behind them so they can focus on our other businesses and community involvement."
The debt collecting business was profitable enough that Hylan deposited $23.8 million into its bank accounts between 2014 and 2018, according to the government agencies.
Vacco said Hylan stopped all debt collection efforts last June, when the two agencies filed a lawsuit against the company.
The FTC and Attorney General's office also filed a permanent injunction this week against Buffalo area businessman Frank A. Ungaro Jr. and his debt collection company, Worldwide Processing Group LLP. Ungaro and his company are also barred from engaging in any "false, deceptive or misleading" debt collection practices. The government agencies accused Ungaro last year of collecting phantom debts for Shaevel and his firm.
The injunction requires Ungaro to pay the FTC $118,000 within this next 60 days, but if he does not adhere to his agreement with the government, he will have to pay an additional judgment of $4.8 million.
Officials of the FTC and state Attorney General's office had no immediate comment after The Buffalo News obtained court papers detailing the judgments and injunctions against the debt collectors.
In court papers, Shaevel, Purizhansky, Hylan and several associated companies agreed they would never again participate in "advertising, marketing, promoting, offering for sale, selling, distributing, buying or processing payment on any debt."
Last June, the agencies filed a civil complaint against Hylan Asset Management, charging that the company was a multimillion-dollar player in the seamy world of debt collection and the even seamier world of "phantom debt collection."
According to the government lawsuit, Hylan bought and sold millions of dollars worth of "bad debt" — supposedly unpaid loans and bills — and sometimes bought debt from companies with known records of fraud.
Some of the debts Hylan sought to collect were "phantom debts" that were never really owed in the first place, government agencies alleged.
"If there was any phantom debt in the debt portfolios that Hylan purchased, Hylan's principals were unaware of it," Vacco said on Friday.
When asked by The News whether Hylan officials now realize they were trying to collect on some phantom debts, Vacco said, "I'm going to stand with the statement I've already given you."
The government alleged that Hylan continued to buy debt from some unscrupulous companies even after Shaevel realized they had sold his company fraudulent, or phantom debts.
The agencies also accused Hylan of hiring fraudulent debt collection companies — including some who harass people with illegal, threatening tactics — to collect the debts.
Some of the debt collectors hired by Hylan violated federal regulations by threatening consumers with arrest, refusing to provide written validation of the debts or harassing the consumers' relatives, friends and co-workers.
The case attracted local attention last year largely because of Shaevel, a Williamsville businessman widely known for his involvement in business, charity and civic affairs.
In an interview with The News last September, Shaevel said he regretted that he ever got into the business of buying and selling debt. But he said he "never" knowingly bought, sold or tried to collect debts that were fraudulent.
If debt collection firms hired by Hylan did anything improper, it was not sanctioned in any way by him or his company, Shaevel said.
"I am not the man that the government portrays in those court papers," Shaevel said. "The good person that my friends speak about — I'm that guy."
Shaevel, who called himself a "deal junkie," is the former managing partner of Mensch Capital Partners, the group of businessmen who bought the old Westwood golf course in Amherst and have been trying for years to build a $250 million neighborhood development there. Shaevel stepped down as managing partner after the debt collection lawsuit was filed against him.
Over the past 25 years, the Williamsville man has received at least 19 honors and awards from local organizations, including the Buffalo Niagara Partnership, the Jewish Community Center of Buffalo, Canisius College, Williamsville Schools and the Amherst Chamber of Commerce. He has led fundraising drives that raised millions of dollars for causes in the region's Jewish community.
The federal court agreement requires Shaevel and Purizhansky to "fully cooperate" with any government investigation related to Hylan transactions, but Vacco said he is unaware of any ongoing investigation that would require the men to testify.