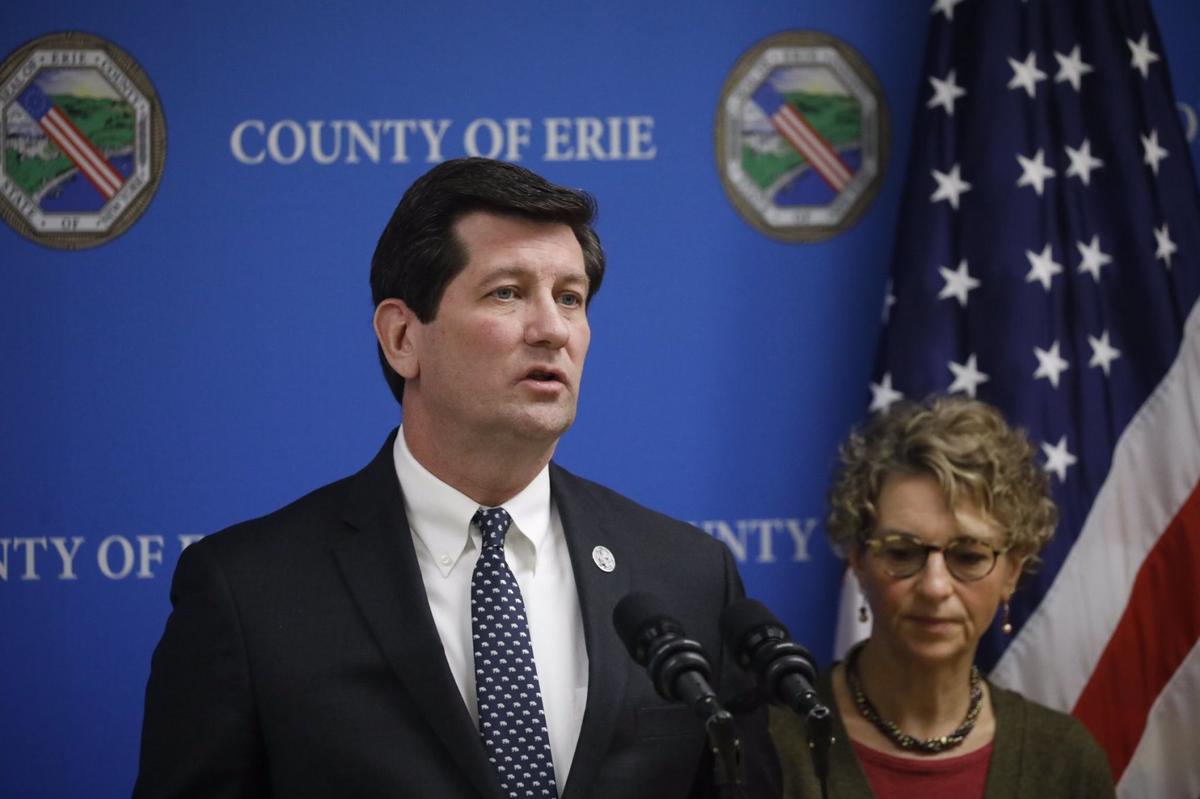 When it comes to getting the Covid-19 vaccine in Erie County, affluence equals access.
Of the top seven ZIP codes in Erie County where more than a fifth of residents have already received the Covid-19 vaccine, six came from the Amherst, Clarence and Orchard Park, which are among the wealthiest communities in the region, according to data shared Tuesday by Erie County Executive Mark Poloncarz.
Meanwhile, of the dozen ZIP codes which have fewer than 10% of the population vaccinated, nine were from poorer neighborhoods in Buffalo/Cheektowaga and the rest were from rural areas. 
While more rural counties in Western New York have been feeling short-changed when it comes to vaccine access, Erie County is struggling to deliver the vaccine equitably within its own boundaries.
"Basically, if you live in a wealthy suburb, you probably either have gotten a vaccine, or you have a much better chance of getting the vaccine," Poloncarz said at his weekly news briefing on the pandemic.
The wide range of vaccination rates – from 27% in the Getzville ZIP code of 14068 to only 2% in Gowanda ZIP code of 14070 – accounts for the need for geographically targeted pop-up vaccination clinics like the one offered sat the Delavan-Grider Community Center, Poloncarz said. The Delavan-Grider vaccination site opens Wednesday by appointment.
Six of the 10 ZIP codes that have been targeted by that East Side pop-up clinic have the lowest vaccination rates countywide.   
"There's some huge inequity in our community," Poloncarz said.
He pointed out that the high vaccination levels of 20% and above in wealthier communities reflects an even higher percentage of vaccination among those who qualify for doses because many residents still do not meet the phase 1A and 1B criteria, which restricts vaccine eligibility to certain essential workers, people with certain underlying health conditions, and those ages 65 and older.
Lowest Erie County vaccination rates
| ZIP code | Community | % vaccinated |
| --- | --- | --- |
| 14070 | Gowanda | 2% |
| 14211 | Buffalo/Cheektowaga | 4% |
| 14212 | Buffalo-Broadway/Sloan | 5% |
| 14207 | Buffalo-Black Rock/Riverside | 5% |
| 14210 | South Buffalo | 6% |
| 14215 | Buffalo - East Side | 6% |
| 14204 | Buffalo - East Side | 6% |
| 14208 | Buffalo - East Side | 6% |
| 14206 | Buffalo - Kaisertown | 6% |
| 14213 | Buffalo - West Side | 7% |
Highest Erie County vaccination rates
| ZIP code | Community | % vaccinated |
| --- | --- | --- |
| 14068 | Amherst-Getzville | 27% |
| 14221 | Amherst-Williamsville-Clarence | 24% |
| 14051 | East Amherst | 22% |
| 14031 | Clarence | 22% |
| 14127 | Orchard Park | 21% |
| 14091 | Lawtons | 21% |
| 14032 | Clarence - North | 21% |
| 14086 | Lancaster | 19% |
| 14075 | Hamburg | 18% |
| 14052 | Aurora | 18% |
Shortage a lot less short
After weeks of vaccines being in short supply, Poloncarz said supply is once again flowing. The county is slated to receive 20,000 first doses of the Covid-19 vaccine, across a variety of agencies and health care providers, over the coming week. That number does not include additional vaccine being provided directly to the Delavan-Grider Community Center from the federal government.
Of the 20,000 doses, 7,280 are coming to the Erie County Health Department, which compares with only 2,000 doses in prior weeks. The county will administer the doses to essential workers; people with mental disabilities living in certain residential settings; and provide 1,570 for hospitals to vaccinate eligible inpatients and outpatients with certain health conditions.
Another 3,640 county doses are being set aside specifically for those 65 and older. The Health Department is reaching out to eligible seniors who are already on the county's wait list to get the vaccine.
In addition, Poloncarz said, pharmacies across the county are receiving 6,000 vaccine doses to administer to eligible seniors, so older adults have more opportunities to get vaccinated than in the past.
More spots at Delavan-Grider
The Delavan-Grider Community Center, which will begin administering 1,000 vaccine doses a day starting Wednesday, had restricted vaccination appointments to 10 lower income ZIP codes, mostly in Buffalo. But starting at 8 a.m. Wednesday that site will begin accepting appointments available to all eligible Erie County residents.
As of Tuesday morning, about 7,000 were appointments available between March 14 and March 23, Poloncarz said.  
The county Health Department held a closed vaccination clinic for first responders and public transit workers Monday and Tuesday of this week. But despite admonitions by the county not to share the vaccine appointment links with anyone who wasn't a qualifying essential worker, Poloncarz said about 100 people who weren't eligible still tried to certify that they were eligible to get vaccinated. They were turned away on-site.
The same thing will occur with anyone under age 65 attempting to receive a vaccine reserved for those ages 65 and older, he said.
"I know people think it's a free-for-all, just get an appointment ... we have rules we have to follow," Poloncarz said.
Sports travel tournaments OK
Health Commissioner Dr. Gale Burstein said that starting Friday, it will once again be OK for nonprofessional, noncollegiate sports teams that come to Erie County from outside the region to participate in sports tournaments.
However, facility capacity still cannot exceed 50% and players and coaches from outside the region must test negative for Covid-19 within 72 hours of the tournament. Testing is not required for teams from the Western New York or Finger Lakes regions.
The county Health Department must be notified of any such events at least five days prior to the tournament and approve safety plans.
Similarly, while the state has given the green light for weddings and large catered events of between 50 and 150 people, the Erie County Health Department must be notified at least five days prior to the event so that the safety plan can be reviewed and approved, Burstein said.
Covid-19 testing requirements apply. 
No St. Patrick's parades, but ...
St. Patrick's Day parades and Dyngus Day events are once again canceled this year, but car parades or "vehicle caravans" are still permitted as long as people stay in their cars.
Municipalities and other event planners interested in planning such an event are encouraged to contact the county's Division of Environmental Health at 961-6800.
Erie County's Covid-19 positive test rates and hospitalization levels continue to fall, mimicking stable and falling trend lines for the region. The county's positive test rate for last week fell to 3.6%, the fourth straight week of decline.
While hospitalization levels have declined, the number of serious cases requiring admission to intensive care have remained relatively level over the past week. Of all those who are hospitalized with the virus, 47% are under the age of 65.