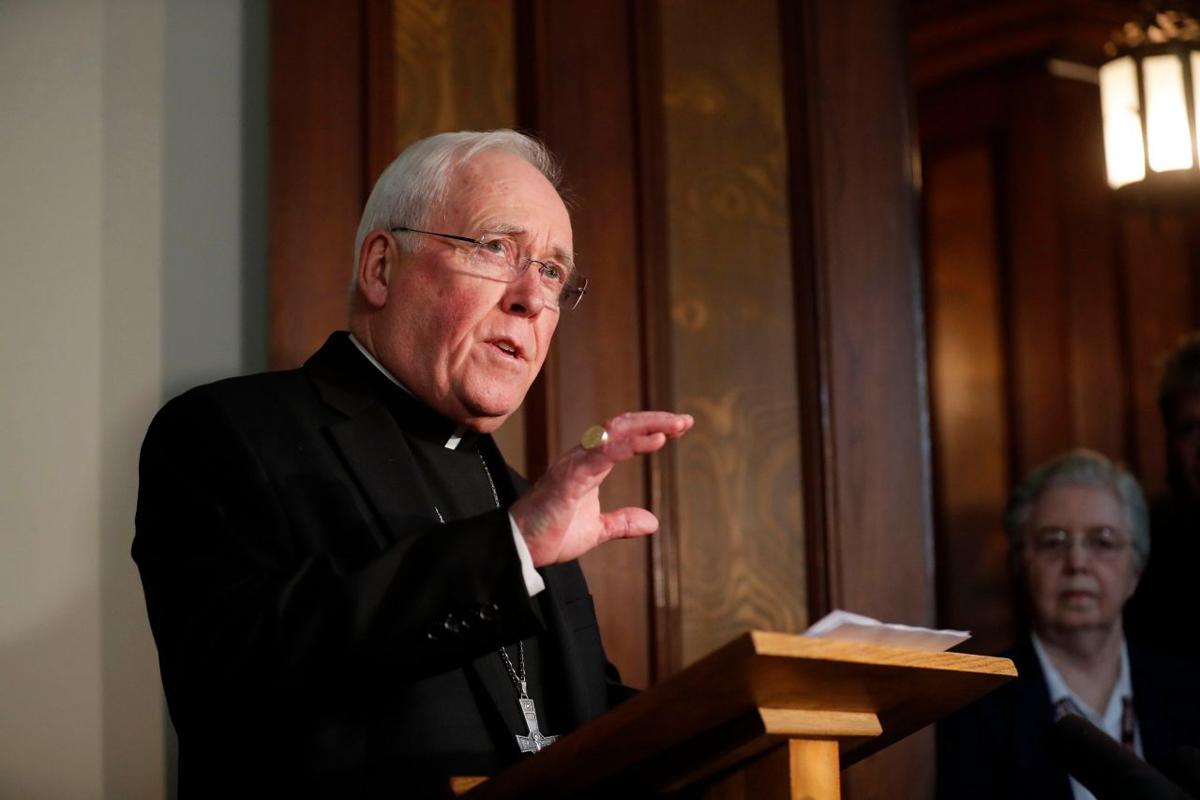 West Seneca resident Kevin Brun waited a long time for a moment like Monday morning, when New York Attorney General Letitia James sued the Buffalo Diocese, along with retired Bishop Richard J. Malone and retired Auxiliary Bishop Edward M. Grosz, over their handling of clergy sexual abuse cases.
Brun said the lawsuit and an investigative report on the Buffalo Diocese corroborated his own experiences with the church since he said he was abused by a priest more than 40 years ago.
"It only proves what I've been feeling and what I've known deep in my heart from the outset, that there were coverups, there were priests that were transferred, priests that were given recommendations for jobs by Bishop Malone and others, when they had full knowledge that there were credible claims of sexual abuse lodged against them," Brun said.
The civil case filed in State Supreme Court in New York County accused diocese leaders of protecting more than two dozen priests accused of child sexual abuse by not referring their cases to the Vatican for potential removal from the priesthood. It also accused Malone and Grosz of misusing charitable assets by supporting priests who they knew had likely sexually abused minors.
Since June, lawsuits filed in Western New York courts accused 33 Buffalo-area priests who previously had not been linked publicly to an abuse allegation.
A 2018 report by the attorney general of Pennsylvania sent out international shock waves when it revealed that 300 priests had abused more than 1,000 children in six dioceses in that state. The Pennsylvania report did not result in bishops being prosecuted, however, as many victims had called for.
The New York attorney general's investigation found that Buffalo Diocese leaders determined sex abuse complaints to be credible, but then sheltered the accused priests from public disclosure by deeming the priests "unassignable" and allowing them to retire or go on medical leave, rather than face referral to the Vatican for laicization.
"When trust is broken with spiritual leaders, it can lead to a crisis of faith. For years, the Diocese of Buffalo and its leadership failed to protect children from sexual abuse," James said in a written statement. "Instead, they chose to protect the very priests who were credibly accused of these atrocious acts. "
Diocese spokesman Greg Tucker said diocese officials will review the lawsuit and weigh a response.
"In the meantime, we wish to reiterate that there is zero tolerance for sexual abuse of a minor or of sexual harassment of an adult in the Diocese of Buffalo by any member of the clergy, employee or volunteer. The Diocese has put in place rigorous policies and protocols governing required behavior as well as a code of conduct, which all clergy are expected to abide by," Tucker said. "Moreover, the Diocese has committed to full cooperation with all civil authorities in both the reporting and investigation of alleged crimes and complaints."
"Emotionally, it's so disheartening, so discouraging. It's a slap in the face," said one victim who has tried to contact the diocese on several occasions but has not received a call
Malone could not be reached for comment Monday; Grosz did not return a voice message.
The attorney general's probe found that the diocese didn't sufficiently investigate allegations of sexual abuse of minors and didn't properly document the assessments of an advisory board created to assist the bishop in evaluating abuse claims.
The attorney general's report also accused the diocese, and, in particular, Malone and Grosz, of failing to:
- Refer unassignable priests to the Vatican, which oversees the adjudication of claims of clergy sexual abuse of minors;
- Inquire into violations of the 2002 Charter for the Protection of Children & Young People and essential norms;
- Adequately monitor priests they believed had sexually abused minors; and
- Prepare accurate business records regarding accused priests;
"The documents and testimony obtained during the investigation confirm that Bishop Malone and Auxiliary Bishop Grosz repeatedly breached their fiduciary duties of care, loyalty and fidelity to the diocese's mission through their individual actions and omissions," the report said.
Neither Malone nor Grosz has been charged criminally. The Attorney General's Office launched a probe of Catholic dioceses in New York, with a focus on the Buffalo Diocese, in September 2018 under former Attorney General Barbara Underwood. 
James, elected that same year, continued the investigation by the office's Charities Bureau, which oversees nonprofit organizations.
The New York attorney general doesn't have the power to convene grand juries without an executive order from the governor. The AG's Office said at the start of its civil investigation that it would partner with district attorneys on criminal investigations into dioceses, but no criminal charges have been lodged.
A spokeswoman for the Erie County District Attorney's Office said the office had no comment on the lawsuit.
The attorney general's lawsuit accuses the diocese leaders of misleading beneficiaries about their response to sex abuse allegations, following the 2002 adoption of national standards by the U.S. Conference of Catholic Bishops aimed at addressing and preventing sexual abuse of minors.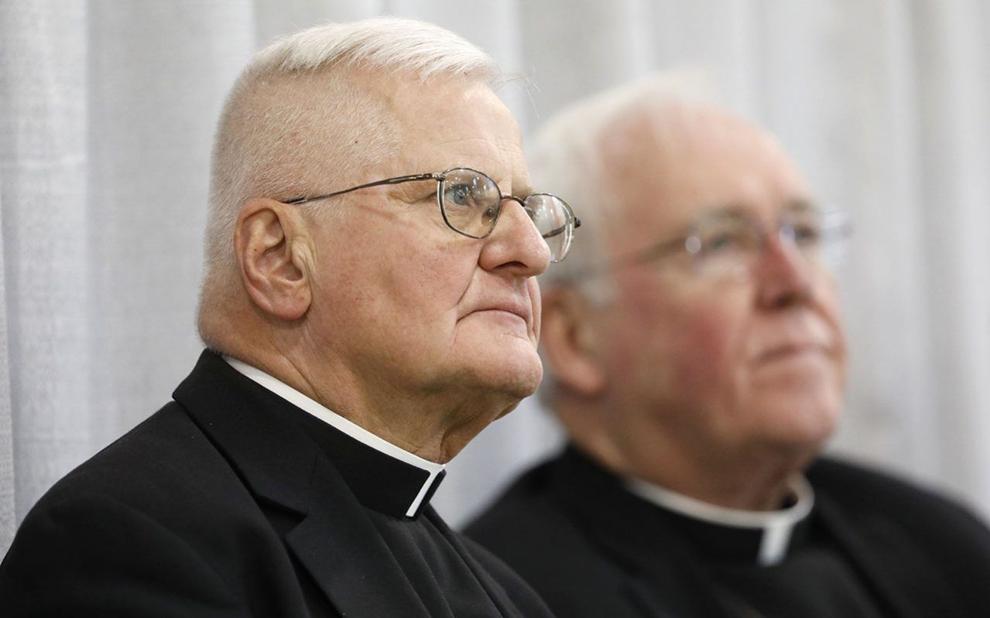 Pope Francis has accepted the resignation of Bishop Edward M. Grosz, auxiliary bishop of the Diocese of Buffalo, it was announced Monday by the United States Conference of Catholic Bishops and the Diocese of Buffalo. Bishop Grosz reached the mandatory retirement age for bishops when he turned 75 on Feb. 16. Catholic canon law dictates that bishops relinquish their
The Buffalo Diocese, "through the conduct of its senior leadership, evaded key provisions of these standards, ignoring requirements for the investigation and review of alleged clergy sexual abuse," the lawsuit claims.
By allowing unassignable priests to remain incardinated without meaningful supervision or monitoring, Buffalo Diocese leaders "operated to conceal the actual nature and scope of sexual abuse allegations" in the diocese, according to court papers.
The investigative report included 25 case studies of the diocese's handling of priests accused of abuse, based on subpoenaed church documents. None of the priests is identified by name in the report, although the Attorney General's Office has filed a motion asking the court to allow those names to be shared publicly.
Among the cases is a priest ordained in 1967 who had multiple reports of abuse on file as far back as 1983, but remained as a pastor until 2002, when he was allowed to take medical leave. Another priest, ordained in 1988, was allowed to stay as a pastor until 2011, despite a history of improper relationships with boys and other sexual indiscretions. The diocese didn't publicly identify the priests as abusers until 2018, and didn't forward their cases to Vatican until 2019, according to the report.
The lawsuit accused Malone and Grosz of violating multiple provisions of nonprofit corporation law and estates, powers and trusts law.
The lawsuit seeks an independent audit of the Buffalo Diocese's response to alleged sexual abuse, five years of required reporting to the attorney general and external oversight of a remedial and compliance plan.
It also seeks to hold Malone and Grosz "individually responsible" by prohibiting them from future service in a secular role as a director or officer of any charitable organization and "by obtaining damages and restitution from them for the waste of charitable assets caused by their misconduct."
Malone stepped down in December amid intense criticism over his handling of a clergy sex abuse scandal in the diocese of 163 parishes and 600,000 Catholics. A coverup of clergy abuse cases began unfolding in 2018 with a retired priest's admission to The News that he had molested "probably dozens" of teen boys in the 1970s and 1980s prior to receiving treatment at a Canadian mental health facility.
The admission triggered a cascade of accusations of abuse against dozens more priests, many of whom were still in ministry. It also led to the leak of secret internal documents and emails to WKBW-TV showing Malone downplayed the number of accused priests and kept in ministry two priests who were accused of inappropriate behavior.
In addition to the attorney general's investigation, the U.S. Department of Justice launched its own probe. The Vatican also did an inquiry, the results of which have not been made public.
The diocese also was named as a defendant in more than 250 Child Victims Act lawsuits before declaring Chapter 11 bankruptcy in February.
Bishop Edward B. Scharfenberger has been leading the Buffalo Diocese as apostolic administrator since Malone's departure after seven years as bishop.