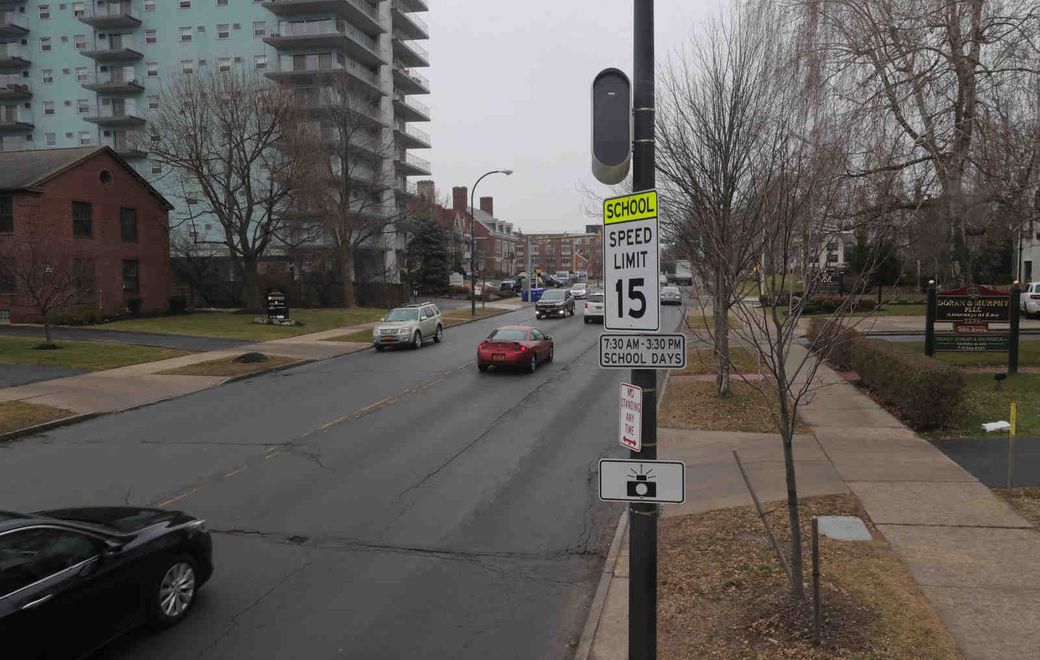 Michael M. Kozelsky's wife got a $50 citation for speeding in a Buffalo school zone at 7:17 a.m., but he said the zone's 15 mph speed limit didn't start until 7:30 a.m.
Thomas Murdock said he got his hearing notice in the mail for alleged school zone speeding – the week after the hearing date.
And Peter C. Rizzo said he was ticketed months before the speed zone cameras were independently calibrated, as required by law.
Kozelsky, Murdock and Rizzo represent some of the complaints residents have voiced about the Buffalo School Zone Safety Program. Envisioned as a way to catch motorists who endanger students and others by speeding on streets around schools, it has been a lightning rod for criticism, including that the original plan for all-day enforcement was merely a money grab by the city. Common Council members got so many complaints that they asked Mayor Byron W. Brown last month to consider pausing the program. Brown refused.
The administration acknowledged recently that the program has had some missteps, but said the issues have been resolved.
Buffalo's School Zone Safety Program is again in effect at schools that have returned to in-person learning.
The program uses speed camera technology to enforce the 15 mph speed limit at 20 zones near public, private and charter schools in the city. The zones were selected based on accident and traffic data, administration officials have said.
Flashing beacons warn drivers about the 15 mph limit, which is in effect during the entire school day. However, the cameras are activated only around arrival and dismissal times. Vehicles captured on camera traveling at least 26 mph receive a $50 citation mailed to the registered owner. From that, the city receives $36, and $14 goes to Sensys Gatso, the camera company that also issues the citations. (Police officers can still issue speeding tickets for exceeding the posted limit at any time, and those typically cost more than the citations.)
Rizzo, who got a citation for speeding near Canisius High School on March 11, says the state legislation allowing Buffalo's program mandates that the cameras be calibrated by an independent laboratory before implementation. But the cameras were not independently calibrated until September 2020. Therefore, he said, the $50 citations issued before then should be invalidated, and the city should refund any fines and hearing costs. 
Rizzo cited the law, which says in part, "Each photo speed violation monitoring system shall undergo an annual calibration check performed by an independent calibration laboratory which shall issue a signed certificate of calibration."
But citing the same law, Parking Commissioner Kevin J. Helfer said by email that it does not require camera systems to have their calibration verified before starting the program. Still, he said, "Sensys Gatso USA, Inc. who purchased the camera units from the manufacturer Sensys Gatso Group Netherlands, had verification of calibration performed by Sensys Gatso Group Netherlands before Sensys Gatso USA, Inc. accepted delivery of the units."
Helfer provided copies of those certifications.
However, alluding to the city's statement showing one arm of Sensys Gatso doing calibration for the other, Rizzo said, "You don't want the fox guarding the hen house."
Both Helfer and Rizzo provided copies of certificates that show the camera units also were calibrated in September 2020 by a separate company in Maryland. 
Rizzo – a certified fraud examiner, government auditor and urban planner who works for the federal government – said having the cameras calibrated by an independent company before they were put into use is an internal control governments use "to ensure that things are being done according to best practices." 
"It's kind of interesting that the city issued citations for a system in the spring of 2020, and yet they didn't calibrate them independently until September," he said. He added that he still has not received a final response to his appeal from August. 
The Brown administration said during a meeting with reporters and editors at The Buffalo News earlier this month that the issues with the program have been resolved and the system is ready for citywide reactivation when Buffalo Public Schools students, who have been learning remotely since March due to the pandemic, begin returning to schools Monday. But there will be no citations issued for the month of February, said City Spokesman Michael J. DeGeorge.
"I can tell you since the beginning of December we haven't had one issue. It's been absolutely flawless," Helfer said during that meeting.
Before that, the city "had to make a lot of changes" to the program because of the pandemic and United States Postal Service delays in delivering mailed citations, Helfer said.
Last month, about 20,000 motorists who had received speeding citations postmarked more than 14 business days after the date of the alleged infraction had their fines dismissed or received a complete refund if they had already paid. Sensys Gatso blamed the delay on "a severe ice storm in the Midwest the week of October 26th" that affected the company's fulfillment processing center and mail delivery. 
At the time, Brown said Sensys Gatso had plans to establish a local call center in partnership with the city's Economic Development Division. During the Editorial Board meeting this month, Helfer said the company may establish a fulfillment center locally, or possibly in Rochester.
The program remains in effect for the Buffalo Promise Neighborhood Children's Academy on Bailey Avenue, and the speed camera at the location is active, said Mayor Byron W. Brown.
No late fees will be charged and no motor vehicle registrations will be suspended as a result of speed zone citations until at least Monday , officials said. And the timeline for notices has been moved back because many of the notices were crisscrossing in the mail. People who had paid their fines were receiving late notices because by the time the fines were paid on day 30, a computer-generated notice had gone out indicating the bills had not been paid, Helfer explained.
In addition, people with questions or problems are being directed to call the city's 311 Call & Resolution Center or email the parking violations office.
"We've been doing that for the past two or three weeks, and people are getting called back within 24 hours, at the most 48 hours," Helfer said. "I think we've made a lot of changes." 
Murdock said he reached out to the city for help, but to no avail, right after receiving a notice Dec. 14 that his hearing was scheduled for Dec. 11, and that any further challenge required full payment and an additional $10 fee to pursue it.
Ultimately, he just gave up and paid the citation, he said in an email.
"It's disappointing when you reach out and can't get the help when you need it," Murdock said.
Responding to Kozelsky's complaint about the time the speed zones begin, Helfer said signs posting the hours of enforcement at each zone are accurate and the citation was valid. By law, the city can set the start time up to an hour before school begins. Cameras were activated on Oct. 13 at the location with 7 a.m. posted as the start of enforcement. But new signage installed after Oct. 13 changed the start to 7:30 a.m. to make it "consistent with the current school arrival and departure times."
Buffalo's School Zone Safety Program has been plagued with so many mistakes and missteps that some city lawmakers are considering keeping the speed zones but pausing or ending the ticketing component. 
Kozelsky said he and his wife contacted the processing center for weeks without receiving a return phone call. They were able to talk to someone, eventually, who said there was nothing that could be done, and the fine and fees would have to be paid. The bill had increased to $75 by that point.
A day later, a supervisor left a voicemail saying the citation was dismissed and no payment was due, said Kozelsky, who doesn't mind the speed camera enforcement. It was the resolution process that was aggravating.
"I understand bumpy rollouts, and the fact that we got the citation outside of the hours (of enforcement) seems like an understandable mistake," Kozelsky said. "However, the fact that it took so long to resolve was very frustrating."
To date, 100,427 citations have been issued, Helfer said. The city has received $1,170,197 in revenue so far from the program, and the administration anticipates receiving $2.3 million annually "based on current program operation."
Locations of the 20 speed camera zones:
Academy Middle School, 425 S. Park
Bennett High School, 2885 Main St.
Buffalo Promise Neighborhood Children's Academy, 3149 Bailey Ave.
Canisius High School, 1180 Delaware Ave.
Discovery School and Notre Dame Academy, 1125 Abbott Rd.
PS 54 Dr. George E. Blackman School of Excellence, 2495 and 2358 Main St.
PS 17 Early Childhood Center, 1045 W. Delevan Ave.
PS 61 Arthur O. Eve School of Distinction, 453 Leroy Ave.
PS 79 Pfc William J. Grabriarz School, 225 Lawn Ave. and West Hertel Academy, 489 Hertel Ave.
PS 97 Harvey Austin Elementary School, 1405 Sycamore St.
PS 69 Houghton Academy, 1725 Clinton St.
PS 304 Hutchinson Central Technical High School and PS 76 Herman Badillo Bilingual Academy, 256 Ave. 
PS 99 Stanley M. Makowski Early Childhood Center, 1095 Jefferson Ave.
McKinley High School, 1500 Elmwood Ave.
PS 32 Bennett Park Montessori, 342 Clinton St.
Nichols School, 1250 Amherst St.
PS 156 Frederick Law Olmsted School, 319 Suffolk St.
PS 192 Buffalo Academy for Visual and Performing Arts, 450 Masten Ave.
PS 3 D'Youville Porter Campus School, 255 Porter Ave. and PS 212 Leonardo daVinci High School, 320 Porter Ave.
St. Joseph University School, 3275 Main St.