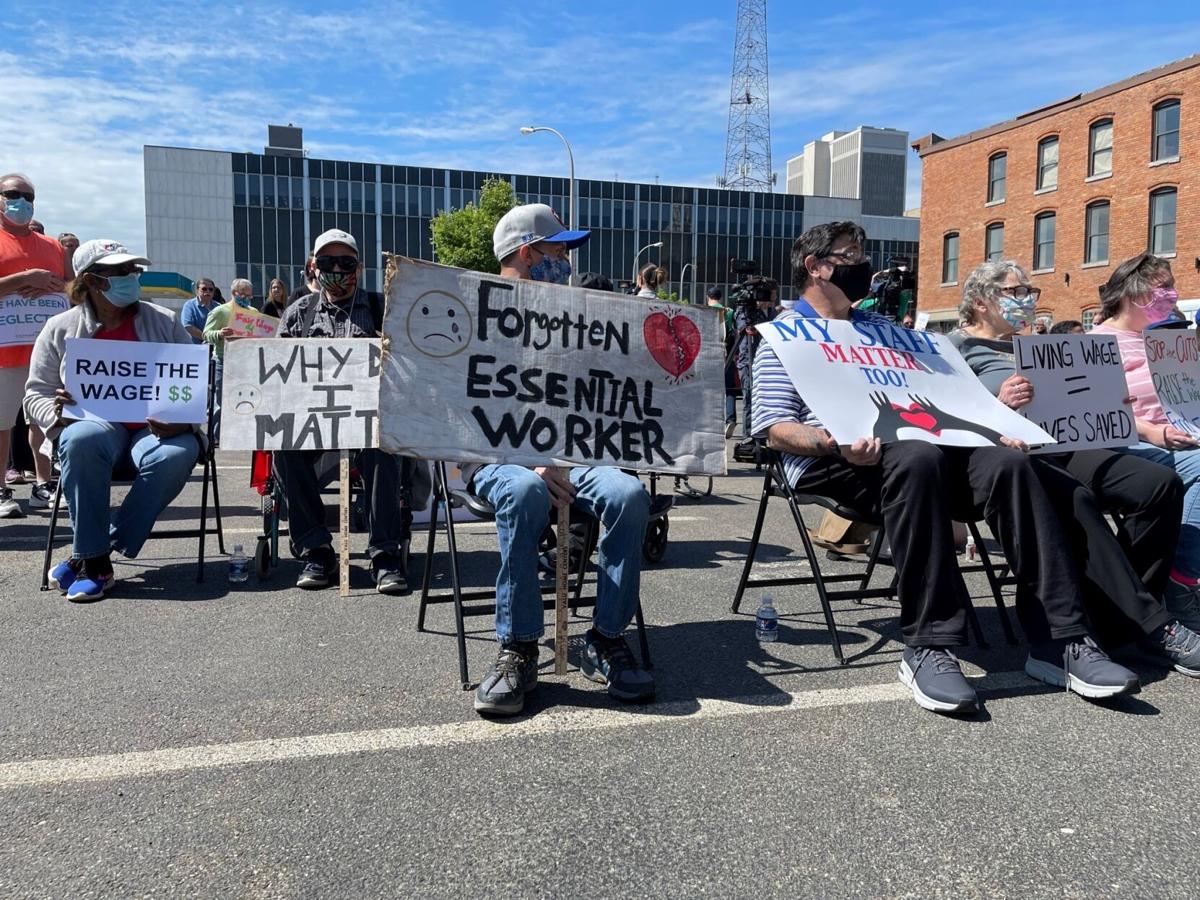 Becky Garcia works full time for a human-services agency, teaching job skills to people with disabilities, but still puts in hours at a pizzeria and as a driver for Uber or Lyft to support her family.
Mary Beth Debus said her 21-year-old daughter, Eliza, who has a number of intellectual disabilities, relies on high-quality care – now more than ever because of a recently diagnosed heart condition.
And B.J. Stasio, who has cerebral palsy and uses a wheelchair, said the staff members at People Inc. allow him to live an independent life.
"They are my arms. They are my legs," Stasio said in an interview. "Without them I'd be home stuck in bed."
Garcia, Debus and Stasio were among those Monday who warned that agencies serving people with disabilities face a staffing emergency because the state hasn't provided enough funding to pay workers an adequate wage.
Despite falling virus case numbers, lockdowns and limited personal contact largely continue for most in the disabled community.
Advocates say, as a result, these agencies struggle to attract enough workers, making it harder to provide vital services to people with developmental or physical disabilities. They called on the state to reverse previous funding cuts and raise the minimum wage for agency workers.
"We're in a crisis," said Brenda McDuffie, former president and CEO of the Buffalo Urban League.
Monday's news conference outside the downtown offices of Community Services for Every1 was sponsored by the Developmental Disabilities Alliance of Western New York, which represents 40 human-services agencies across New York's 18 westernmost counties.
The agencies' employees bathe, dress and feed clients with disabilities, drive them to appointments and provide other badly needed services, whether in a group-home setting or for clients who live with their families or on their own.
The workers, three-quarters of whom are women and 42% of whom are people of color, have seen their wages stagnate, said Jeff Paterson, an alliance board member. There are about 110,000 direct support professionals, or DSPs, across the state.
Without the the Americans With Disabilities Act, signed into law July 26, 1990, "it would be a lot harder to be a contributing member of society," says Kaylin Corbran.
Since 2009, the state has cut $2.6 billion from the disability services system, including $238 million this year, he said.
In 2005, for example, the average DSP wage was 33% higher than the state's minimum wage, Paterson said, while today it is less than 2% above the minimum wage.
The agencies have trouble recruiting and retaining workers because, as Candyce Adams, a manager in a large residential home, said, "They can go to McDonald's and make more money."
The advocates said vacant DSP positions at the agencies in the Western New York and Finger Lakes regions have increased by 51% since 2019, to roughly 3,200 vacancies today.
"This is a social justice issue," said the Rev. Kinzer M. Pointer, pastor of Liberty Missionary Baptist Church.
Wesley's "remarkable journey," said David Mack-Hardiman, associate vice president for People Inc., "serves as a role model to all people who desire an inclusive life."
Garcia, who has worked in this field for four years, is a single mother of three who said she dreams of the stability that would come with owning a home.
"The majority of people in this industry have families to support and struggle to make ends meet," Garcia said.
Debus said she's grateful for the caregivers who aid her daughter, performing difficult work for "lousy" pay, and she's frustrated by the effect of budget cuts on staffing.
It shows, she said, "The state does not care about my daughter."
Stasio, who lives in an apartment with his wife and receives care through People Inc., said it is important for caregivers, clients and their families to emphasize the value of these services.
"We're looking for a hand up, not a hand out," he said Monday.
The governor's office did not respond to a message seeking comment.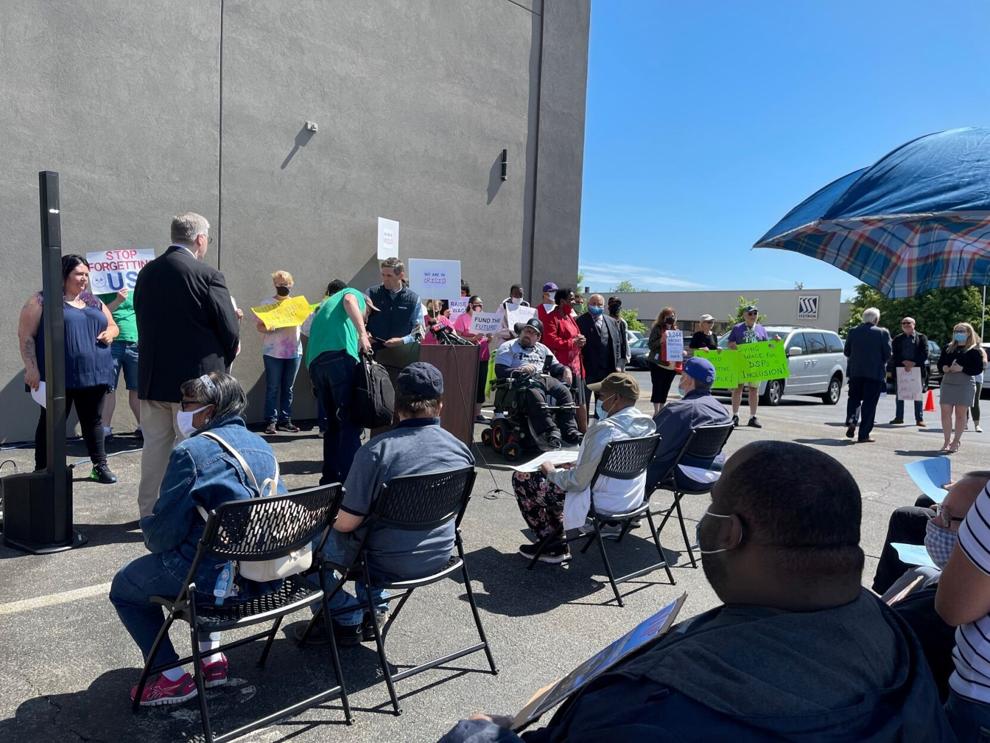 The agencies want the state to restore the most recent funding cut, use $250 million in federal aid to pay for wage increases over three years and provide annual 2% cost-of-living increases. The state this year provided a 1% cost-of-living adjustment.
Theresa Drum said her son, Tom, has multiple disabilities including medically complex neurologic issues and lives in a supervised apartment. She said it's hard for him to build trust with his caregivers when he sees new people.
"They are the ones who are keeping him out of the hospital," she said after Monday's event.