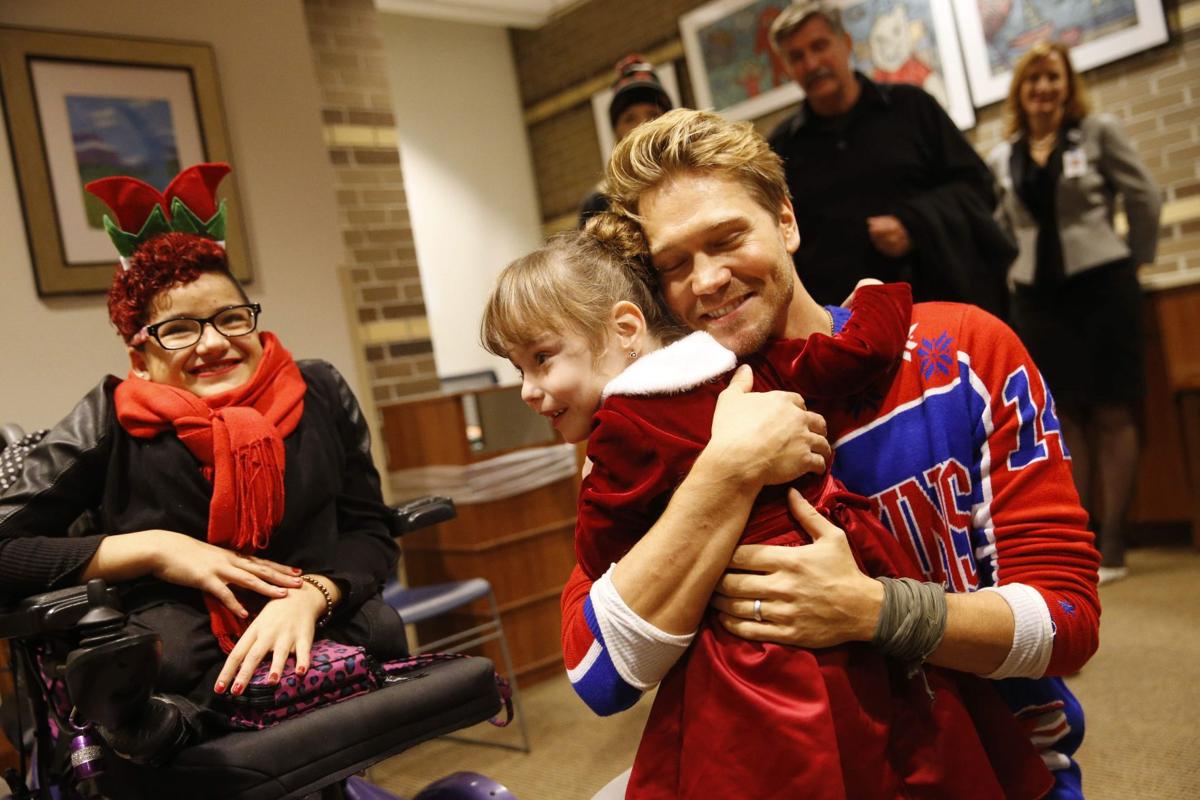 Christmas came a little early to Women & Children's Hospital on Wednesday in the form of a surprise monetary gift from a Hollywood actor.
But Chad Michael Murray – famous for playing Lucas Scott, the underdog kid from the wrong side of the tracks on the WB Network's "One Tree Hill" from 2003 to 2008 – visited Children's and met with a few of its "miracle kids" before handing over a $20,000 check that will benefit the hospital's Child Life Department.
"Hiya doin', buddy. Merry Christmas," the blond actor said as he greeted 7-year-old Isaiah Pitts.
"Hello, dad," Isaiah's mother, Sheresha, greeted the actor, who responded: "Isn't it awesome?"
Murray, who is a Western New York native raised in Clarence, and his wife, the actress Sarah Roemer, welcomed their first child, a son, in May. On Wednesday, Murray bantered with Isaiah about the Bills' season and showed off his red, white and blue Sammy Watkins sweater in homage to the Bills wide receiver.
"I got my Sammy Watkins sweater on just for the holidays. You a Bills fan?," he said. "All right. Next year we're going to get 'em."
Murray also chatted up the other young patients assembled in the hospital's conference center, complimenting 5-year-old Ava Hackett of Darien Center on her red velvet Christmas dress and testing Natalie Rivera, 17, on her knowledge of his filmography, which includes the 2004 romantic comedy "A Cinderella Story" and "Freaky Friday," a 2003 remake of the original 1976 film.
"This is why," Murray said, explaining the purpose for his gift to the hospital.
"You do everything for the kids. We just had a child – my wife and I, Sarah – and she knows how much I love this town. Buffalo is everything to me. I was actually born in Children's, and so was my father. That's two generations. So for me to be able to give back at any time … "
Hospital officials said Murray's gift will go to make patients' stays at the hospital more comfortable and enjoyable.
"Most importantly, I want the kids who come here … to have a good time, to have toys and games and forget about all the heavy stuff in life and truly enjoy themselves," Murray said. "That's what this was about for me."
The 1999 Clarence High School graduate – who was joined by his father, Rex, for Wednesday's visit – recalled that he spent several months recuperating at Children's following a life-saving surgery when he was 15 years old. He recounted that experience after Isaiah shared that he will be spending five weeks at Children's.
"You're going to miss friends. You're going to miss gym class," Murray warned the second-grader, who attends Olmsted School 64.
Despite relocating to Hollywood more than a decade ago to pursue his modeling and acting career, the 34-year-old Murray makes frequent visits back to his hometown. In 2014, he made an appearance at Eastern Hills Mall to sign autographs for $20 each, with the proceeds going to benefit Hunter's Hope, football Hall of Famer Jim Kelly's nonprofit organization of behalf of patients with Krabbe disease.
"I come in for Hunter's Hope every year with Jim and his family, and we do the golf tournament and we do the gala every year," Murray said.
"My wife and I came in earlier for the Bills-Patriots game. Sorry, guys. Almost had 'em. Someday.
"We tend to come in a lot. I love this place. It's home," Murray added. "It's the people. This is the one place I know in the country where when you walk into the grocery store and everyone asks about your day. Plus, you go anywhere and everyone is just friendly. I love it."