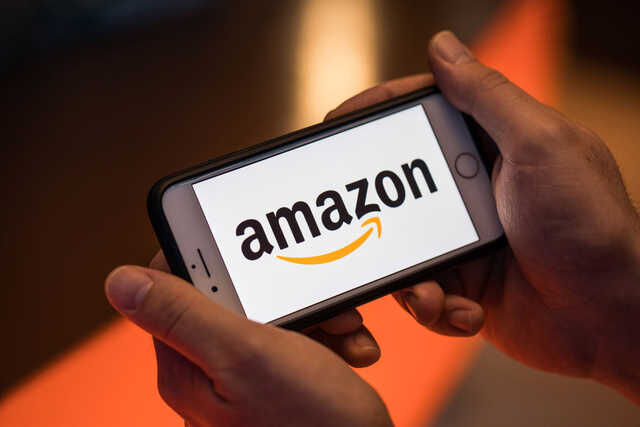 A group of community activists want the Town of Hamburg to refuse to give millions of dollars in tax breaks for a proposed Amazon distribution center, citing the company's wealth, the loss of tax revenues and the perceived inadequacy of the jobs that would come with it.
The Coalition for Economic Justice – along with local residents and union leaders – on Wednesday called for the Hamburg Industrial Development Agency to deny an estimated $6.85 million in tax incentives for the company's plan to build a $47.2 million warehouse and distribution center at the Lake Erie Commerce Center.
The activists called the tradeoff of tax breaks for jobs a bad deal for taxpayers in Hamburg and Erie County. Pay for the center's jobs will start at $15 an hour or $31,000 per year – which is "a wage that you can not live on in Hamburg," the group said. While that's above the state's current minimum wage of $12.50 an hour, it's less than the median wage, they said.
"Hamburg's residents deserve better," said Holly Nowak, executive director for CEJ Buffalo. "We are tired of being told that any job is a good job, that we need to do everything and anything to appease and lure in massive corporations that are worth more money than any of us could ever imagine and certainly will not see in our lifetime."
The activists also criticized Amazon for "how poorly it treats its employees," citing the experience of workers at the existing Lancaster and Tonawanda facilities, and noting that the company has a market value of $1.7 trillion. It also just posted record quarterly revenues exceeding $100 billion for the first time.
The deal would also reduce tax revenues from the project for the town and county at a time when both need it. The Frontier Central School District would receive $348,348 in taxes from Amazon over 10 years, compared to $1.65 million from the warehouse without tax breaks, but zero without any development.
"We believe in the need for development that works with and for the community," Nowak said. "Good development would mean a company willing to invest in the community, hire local labor, pay a livable wage, offer skill development, and not further burden residents with inflated tax breaks. By this definition, the Amazon development at Route 5 and Bayview does not pass these critical tests."
State Sen. Sean Ryan, D-Buffalo, has also been a critic of the requested assistance.
Ryan, during a public hearing held by the IDA last month, questioned why Amazon needed the tax breaks, saying the company built a similar project in Tonawanda – with six times as many jobs – without tax incentives. And he questioned the affordability of the wages.
"That's a tough wage to live in Hamburg," Ryan said. "I have a hard time envisioning buying a house and keeping a roof over your house in Hamburg at $31,000 a year."
"It's a valid concern," said Hamburg IDA Executive Director Sean Doyle. "We want this project to contribute to the community and not be a detriment."
A second online public hearing will be held at 6 p.m. Feb. 10 to take additional public comment, in response to public pressure.
Amazon is building new regional, sortation and "last-mile" distribution centers across the country – including in Western New York – to support that demand and speed up delivery of customer orders.
Amazon already opened two other facilities in Lancaster and Tonawanda, and sought approval last summer to build a giant regional hub on Grand Island in what would have been a $300 million project with 3.2 million square feet of space. That proposal met strong opposition from town residents who raised concerns about traffic, pollution and quality of life, forcing Amazon to back off. It's now planning to build a similar facility in suburban Rochester.
The Hamburg proposal is much smaller than that. Plans for the Amazon.com Services facility call for construction of a 181,500-square-foot building on 57.4 acres of land on Lakeshore Road, at Bayview Road.
The facility is expected to employ at least 50 full-time and 50 part-time workers, including five managerial roles.
Costs include the $1 million property purchase, plus $38 million in new construction and $5 million in tenant build-out. Upon completion, the IDA estimated the assessed valuation of the project at $5.6 million, with a market value of $11.2 million, and full annual taxes of $358,060.
Under the 10-year payment-in-lieu-of-taxes, Amazon would pay 10% of total taxes for the first three years, or $28,558 annually, rising to 30% by the final three years, or $85,675 annually. The company would also still pay $72,477 in special-district fees annually. In all, over 10 years, it would pay $599,724 in taxes, compared to $3.94 million without the tax breaks, according to the Hamburg IDA.
The site is already zoned for industrial use. The land is also pre-permitted under the town code, so as long as the project fits within pre-approved guidelines - which it appears to - it does not require town planning board approval.
Town Supervisor James Shaw has promised an "expedited review," acknowledging that there may be pushback but asserting that the benefits to the town "far outweigh any adverse consequences that may be put forward in the short term."
That's not the way critics see it. According to the release, opponents said residents "deserve good development that is not built on the backs of taxpayers for subpar jobs or to benefit a trillion-dollar corporation." They called on the IDA to "put residents' needs first," according to the press release, and to "use taxpayer dollars wisely and only support responsible community partners."
"Local governments too often want to hop on board the emerging tech-fueled job sector, but these warehousing jobs by Amazon provide less for working families than a typical sales associate position at Wal-Mart and Target," said Simon Husted, a CEJ member, who worked as a pallet technician at the Amazon sortation center in Lancaster.