The effort to bring retail giant Amazon to Grand Island may have fallen through over the summer, but Acquest Development hasn't given up on bringing a vast warehouse to its Long Road property.
Months after losing out on what would have been a colossal project, the Williamsville-based developer is now proposing a sprawling one-story warehouse facility, with about 1.1 million square feet of space, on the 144 acres it owns between Long and Bedell roads.
That's much smaller in height than the five-story building that Seattle-based Amazon had proposed – with 3.8 million square feet – but it's one-third larger in its footprint, occupying 250,000 square feet of additional ground instead of going vertical.
Even so, with just one floor and a vast amount of land around it, officials said the $80 million to $90 million project is designed to comply with the town's zoning code, to avoid the need for any variances that could create extra hurdles.
Acquest CEO Michael Huntress said the company has not identified any tenants for the planned Gateway Commerce Center, but told town officials that the new warehouse would be big enough for either one large tenant, or it could be divided into blocks of 100,000 or 200,000 square feet for multiple users, depending on the demand.
The facility is not intended for Amazon, he said. But that doesn't mean Huntress is closing the door on the online retailer.
"I'd be an idiot not to go to them first. They will be one of the first phone calls I make, that's for sure," Huntress said.  "They were obviously interested in the market and the site, but at this point, they're not part of the discussion."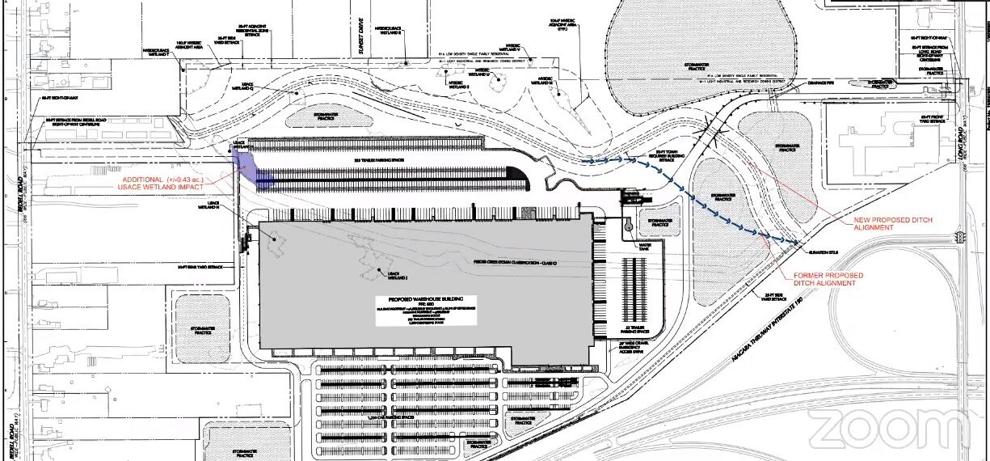 Rather, he said, the project is designed to meet a growing need for large high-bay warehouse space. That's been a major gap in the region that companies, real estate brokers and economic development leaders cite as a major problem hindering Western New York's ability to grow and attract new employers.
Annual studies by real estate broker CBRE-Buffalo have shown the vacancy rate for industrial space in Western New York dropping year after year. It's now less than 2%, indicating the market can't get much tighter.
"In Western New York, we've seen a big rise in the demand, and there's a significant shortage of high-bay space," Huntress told town officials during an online information session Thursday. "The market itself is extremely tight right now for warehouse."
He said Acquest owns 3 million square feet of warehouse space in the Rochester area, and "that space is 100% occupied and has been for the last 48 months."
And during the long process of planning for the Amazon facility, he said Acquest was contacted by "a number of national users that would potentially take portions or all of 1 million square feet if it were built." Some of them already have a presence locally, but others do not, he added.
The proposed project – which could accommodate 700 to 800 employees working inside – would include parking for 1,300 cars, as well as trailer storage for 350 trailers. The main entrance would be off Long, with the exit for employees going out to Bedell. The office space would run along the eastern facade.
The plan also includes landscaping and drainage, but Acquest will need an additional permit from the U.S. Army Corps of Engineers because it must pave over 2.3 acres of wetlands in the middle of the site.
"It should be fairly easy to get those permits, due to the fact that they're not very significant wetlands," Huntress said.
If approved, Huntress said he hopes to get a shovel in the ground by February or March, with completion by summer 2022.
National developer Trammell Crow had been seeking to build an enormous fulfillment center for Amazon on the acreage that Acquest has owned for 30 years, just off the Niagara Thruway, or I-190, on the northwest corner of the island.
It would have been one of the largest warehouses in the world, with more than 1,000 full-time employees, an annual payroll of nearly $31 million, and a projected $51 million in property tax revenues over the first 15 years.
But the project quickly came under fire by town residents and other opponents, who said it was much too big and not worth the economic benefits. They complained of nightmare traffic problems and harm to the environment, and Amazon dropped its plan earlier this year.
The effort didn't go to waste, however. Huntress said Acquest took the plans, studies and other reports that were conducted – including the environmental review, noise report and traffic mitigation recommendations – and used them as the base for its new proposal.
The revised proposal includes modifications and updates to include the required parking, setbacks of up to 2,000 feet from neighbors, lighting and other elements that the previous plan did not.
"We were able to pick up the pieces of a lot of the legwork that was done by Amazon and its design team," Huntress said.
This time, though, Acquest made sure the new design fit the municipal code. The application, which was filed last week, will be reviewed by the town Planning Board later this month.
"We designed a project that was 100% as of right, as far as we can tell," Huntress said. "We wanted to keep it simple. We didn't want to have to get variances."
Meanwhile, Acquest is also working with the Town of Amherst to rezone 93 acres of former farmland that the developer owns at 10880 Transit Road, to allow more flexibility for future projects.
The change from "general business" and "multifamily" to "research and development" would allow a broader array of uses, including warehouse, office or laboratory space, making the land more marketable, Huntress said.