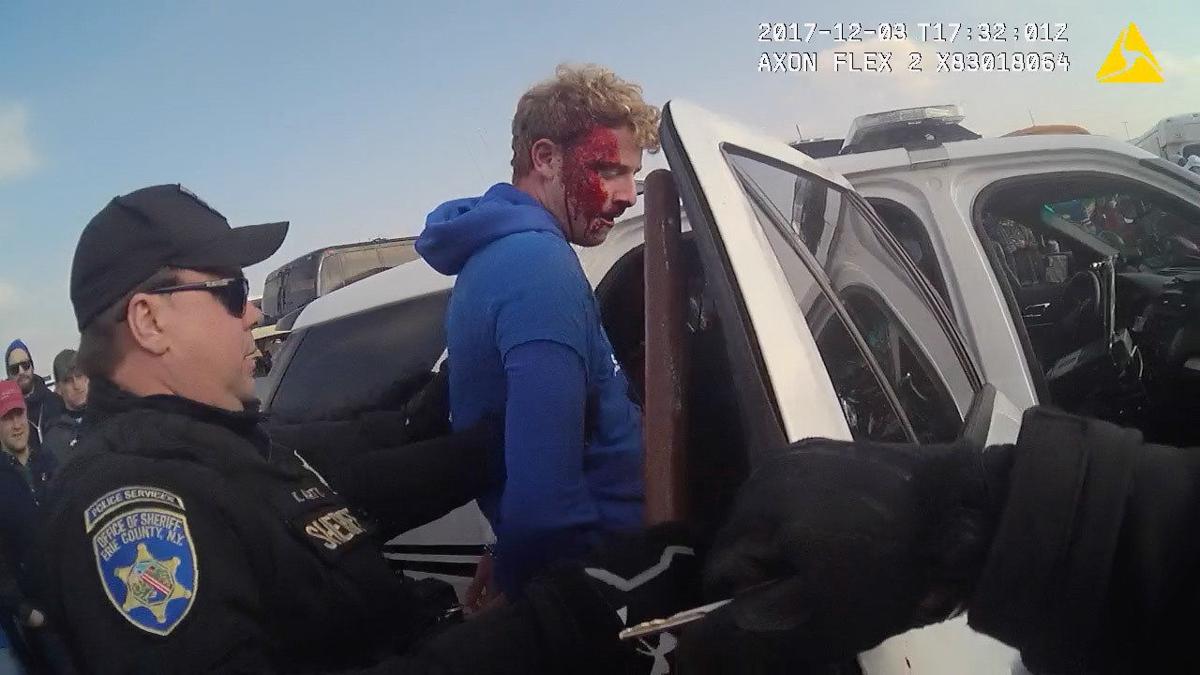 Sheriff Timothy B. Howard has insisted that he attended the brutality trial of one of his deputies – nearly every day and in uniform – only to learn the facts of the bloody arrest caught on video, not to root for his employee or take sides.
The now-former deputy at the heart of the matter, Kenneth P. Achtyl, recalls it differently.
"He offered support," Achtyl said during a deposition this year.
He went on to say that the Erie County sheriff expressed that support when he greeted the defendant in the courtroom on the trial's first day.
Achtyl said they chatted, at least briefly, on the four days Howard watched the five-day trial. And after the jury found Achtyl guilty – rare for a law enforcement officer in Erie County – Howard texted to ask how he was doing, Achtyl said.
They exchanged up to 10 more texts and discussed the prospects for an appeal, Achtyl recalled.
Those were valuable words to the lawyer suing Achtyl, Howard and Erie County on behalf of Nicholas Belsito. The college student suffered a broken nose and a concussion when Achtyl arrested him outside New Era Field – for swearing at him – in December 2017.
Lawyer Aaron F. Glazer said the deputy's answers show Howard had little concern about the assault on a citizen. He said it will help him argue that the Sheriff's Office systematically failed to properly train and monitor deputies. This "pattern of deliberate indifference," in legal jargon, led to the violation of Belsito's civil rights, the lawsuit alleges.
A few weeks after Achtyl testified, Howard sat for his deposition.
He could not recall, he said, telling Achtyl he was there to support him. And Howard didn't believe he had Achtyl's cellphone number.
The Orchard Park town justice will announce his punishment against Deputy Kenneth Achtyl on Thursday
Glazer then asked if he had any reason to disagree with Achtyl's statement that the two had texted.
"I would not," Howard said.
Howard said he disagreed with the jury verdict. To him, Achtyl's only mistake in arresting Belsito was exiting his sheriff's vehicle when he was responsible for a second defendant already handcuffed in the backseat.
"He wasn't a perfect employee that day, but he should not have been convicted of a crime," Howard said.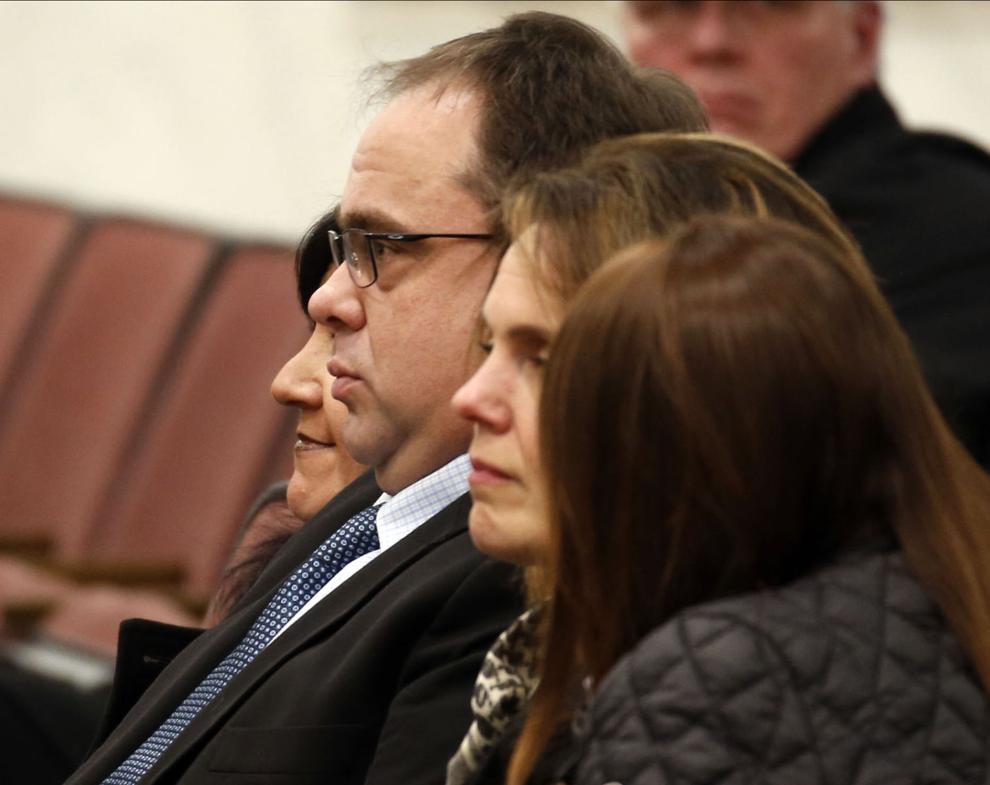 "When you say he wasn't a perfect employee, what do you mean by that?" Glazer asked.
"… He didn't use the best judgment in getting out of the car to make an arrest when he already had a subject under arrest, and he could have been more courteous in his conversations with Mr. Belsito before the arrest."
Howard said he would have let Achtyl remain a deputy, but he chose to resign.
Asked to comment, a Howard spokesman repeated that the sheriff attended the trial to listen to the testimony and learn the evidence.
"The sheriff shared his concern about Mr. Achtyl's health and well-being," spokesman Scott Zylka said about the courtroom conversations between Howard and his employee. "The sheriff cannot comment on what Mr. Achtyl inferred or what his thoughts were about the sheriff's presence in the courtroom or his caring notes to Mr. Achtyl."
Howard looms large over this year's sheriff's race, even though he decided not to seek another four-year term.
The win gave Garcia, a retired Buffalo police detective, the pole position on the Republican/Conservative side of the field. Should he prevail in November, the Sheriff's Office and its patronage will again pass to a chosen successor. The office will have gone from Patrick Gallivan to Howard to Garcia, who does business with now-State Sen. Gallivan in a private security firm. Their span would cover at least 28 years.
Still, Garcia is among the candidates who doubt they would have sat in on the trial, as Howard did.
"I would want to know the facts of the case," Garcia said. "But representing the Sheriff's Office, I would not want to come off as influencing the witnesses or the jury."
Garcia did not want to say whether Howard should or should not have attended the trial, deferring to the sheriff's decades of law enforcement experience.
Two other candidates were more critical.
"I wouldn't have done that, and I won't do that in the future," said Ted DiNoto, an Amherst police lieutenant, and a Republican, running on an independent line. "I believe in our system, but I don't think there should be any perception of trying to influence anything for any reason. If he thinks that was to support his officer, that was the wrong way to go about it."
Said Democratic nominee Kimberly Beaty: "We have to begin restoring trust between the police and the community. It was inappropriate for Sheriff Howard to appear in his uniform and huddle with the defense team in open court. His actions cast doubt as to whether there were adequate checks and balances, which is a disservice to his officers and the people they swear to protect."
Unlike the others, Healy-Case was mostly noncommittal on whether, as sheriff, she would attend an employee's trial in uniform. "It would depend on the facts of the case," said Healy-Case, who has the Conservative Party line.
Achtyl testified remotely in a session that started at 12:15 p.m. and ended just before 7 p.m. April 14. It was the first time anyone had taken down his words about Belsito's arrest. While the Sheriff's Office conducted an internal inquiry, its investigators never interviewed Achtyl. He did not take the stand at his trial in Orchard Park, where he was convicted of reckless assault, official misconduct and falsifying business records.
When pressed for details about Howard's statement of support, Achtyl said during his deposition that he couldn't remember the sheriff's exact words.
"All I can do is generally summarize it as what I interpreted as his support during this very difficult time that I was going through," he said.
Sometimes, Achtyl said, Howard was included in conversations with Rodney O. Personius, the attorney who led the unsuccessful defense. "I don't recall what we talked about," Achtyl added.
The internal file on Deputy Kenneth P. Achtyl consists of two documents that total three pages.
Howard has been criticized for appearing at the trial in uniform and appearing to take sides.
"What signal were you trying to give the jury, sitting there in uniform, day after day?" Legislator Jeanne M. Vinal, D-Amherst, asked Howard during a public meeting in March. The public expects police executives to root out officers who lack the temperament for law enforcement, she continued. What did his attendance say about his commitment to professional standards?
In March and during his deposition, which lasted two and a half hours, Howard stressed he was an impartial observer in the Orchard Park courtroom.
"I wanted to hear for myself what the case was," he said when deposed. "I wanted to hear the witness testimony myself, see all of the video that was there and not hear someone else's opinion of the case."
Did he wear his uniform? Glazer asked him.
"I don't remember," Howard said.
"If I told you that you were wearing your uniform, would you have a reason to disagree with that?"
"I would not," the sheriff responded.
During the trial, Howard routinely sat right behind Achtyl and his lawyer.
"Would you agree that the defendant sits on one side of the courtroom in a criminal trial and the prosecution sits on the other side?"
Said Howard: "The prosecutors and the defense, yes."
"Do you recall which side of the courtroom you sat on?"
"Well, if I told you there's only a left side and a right side and the defense sits on the left and the prosecution sits on the right," Glazer said, "do you know whether you sat on the left or the right?"
"I think I sat in the middle."
Even though Howard thought Achtyl did not deserve to be found guilty, he also said Belsito committed no crime before the deputy chased him down to put him in handcuffs. Howard also conceded it was not appropriate to use force on Belsito at that point, as Achtyl did by smacking him with his baton.
By watching the trial, Howard said, "only then did it become known that abusive or obscene language made in a public place is not grounds for arrest absent a complaint from a member of the public." He said the word was distributed to the ranks that it's not illegal to publicly swear even at a deputy absent a complaint.
Achtyl, however, said during his deposition that he knows it's not necessarily illegal to swear in public or at a deputy. So did Achtyl's partner, James W. Flowers. The state's highest court, the Court of Appeals, had said as much in 2013 and again in 2015.
To the deputies, Belsito deserved arrest because of what he did even before he strolled up to Achtyl's police vehicle to ask where the deputies would take his friend, the fellow handcuffed in the back seat. When Achtyl repeatedly told Belsito to beat it, he grew frustrated and, as he walked away, turned to curse at him.
"This was a truly sad case before me," said Orchard Park Town Justice Jorge S. de Rosas. "It's made our community law enforcement and Mr. Achtyl look pretty
Minutes before that encounter, Belsito hovered close to the deputies arresting his friend, Dylan Lowry, who had allegedly tossed a beer can, or beer cans, into the tailgating crowd. When one hit Achtyl's elbow, the deputies moved in to find the thrower. Charges against Lowry were later dropped.
"From what I recall," Achtyl said of Belsito, "he reached into the handcuffing area. He might have even touched Mr. Lowry, and offered a plea, I guess you could say, that Mr. Lowry would not be arrested." Said Flowers: "Mr. Belsito … interjected himself into that situation."
Achtyl and Flowers were following the defense strategy laid out at the criminal trial. Because they had no reason to arrest Belsito when he left the car's window, they linked the arrest to the problems Belsito might have created as Lowry was handcuffed.
During the trial, county prosecutors debunked this with two sets of facts. First, the deputies' court documents charging Belsito say nothing about his conduct as they handcuffed Lowry. The documents focused only on what happened after Achtyl lowered his window.
Second, Flowers admitted at the trial he did not know Belsito was the person hanging around the Lowry arrest until roughly a week later, when he watched the body camera video. By then, the court documents had been signed and presented to a judge.
That all came out again in the Flowers deposition.
Said Glazer: "If I told you that you testified at trial that you reviewed your bodycam a week later, would you have a reason to disagree with that?"
"No," said Flowers, who also is a defendant in the lawsuit.
"OK. So just so that we're clear, when Mr. Belsito walked up to your police cruiser to have a conversation with Mr. Achtyl, you did not know that he was the same person who had interfered with the Lowry arrest, is that correct …"