Russell Salvatore said he thinks he encountered the suspect accused of violently vandalizing the Patriots and Heroes Park outside his Lancaster restaurant five days before the bizarre crime.
Salvatore said he politely turned down the young man's business proposition on Feb. 25, telling him to return to the restaurant another time for further discussion.
The man came back before dawn on March 2, Salvatore said, and he broke off a replica bazooka from a statue of a soldier and used it to smash numerous sculptures and light fixtures at the park in front of Russell's Steaks, Chops & More.
"It's the only association I had with the guy," Salvatore told The Buffalo News on Monday. "I don't think he was targeting me. I hope not."
Salvatore said he plans to repair or replace every piece in the park, a tribute to those who serve this country, in time for Flag Day.
Lancaster police have identified the suspect and filed charges against him in Lancaster Town Court but he has not yet been taken into custody, said police Capt. Jeff Smith.
Smith said he could not provide further details about the investigation or more about the accused vandal until police make an arrest.
The charges filed against him are criminal mischief, a felony, and petit larceny and criminal possession of stolen property, both misdemeanors, Smith said.
Salvatore said it is his understanding the suspect is being evaluated for mental health issues at Erie County Medical Center.
A vandal smashed numerous statues overnight at a park honoring veterans and first responders in front of Russell's Steaks, Chops & More, 6675 Transit Road, Lancaster.
News of the vandalism at Salvatore's Patriots and Heroes Park drew widespread attention earlier this month.
Salvatore, 90, a veteran restaurateur, is well known for his starring role in his TV ads, his hospitality, the eye-catching décor at his restaurants and hotels and his generosity to charities.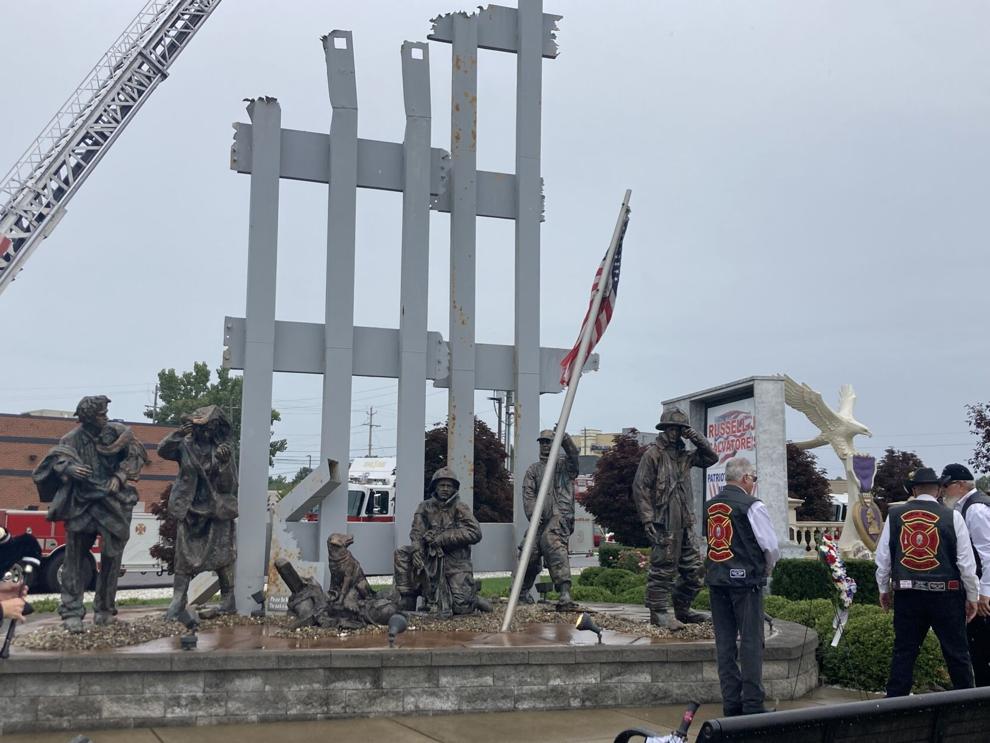 He dedicated his Patriots and Heroes Park, which he calls "my pride and joy," in 2010, and the first sculpture marking the 9/11 attack on the World Trade Center opened in 2011.
He estimated he has invested around $1 million in the tribute park, including sculptures honoring the victims of the Flight 3407 crash and recipients of the Purple Heart medal. The park also has a mausoleum in which Salvatore plans to be entombed after his death.
The vandalism happened March 2, according to police, when someone walked around the tribute park at 6675 Transit Road bashing ornamental fixtures, sculptures, statues and other pieces.
Many of the statues were tipped over, had limbs knocked off or both.
There's also significant damage to a copy of the Tomb of the Unknown Soldier, based on the original at Arlington National Cemetery. It was spray-painted with graffiti and most of the letters in its name were torn off. A sculpture recognizing the sacrifices of soldiers who took part in World War II's Battle of the Bulge was also damaged.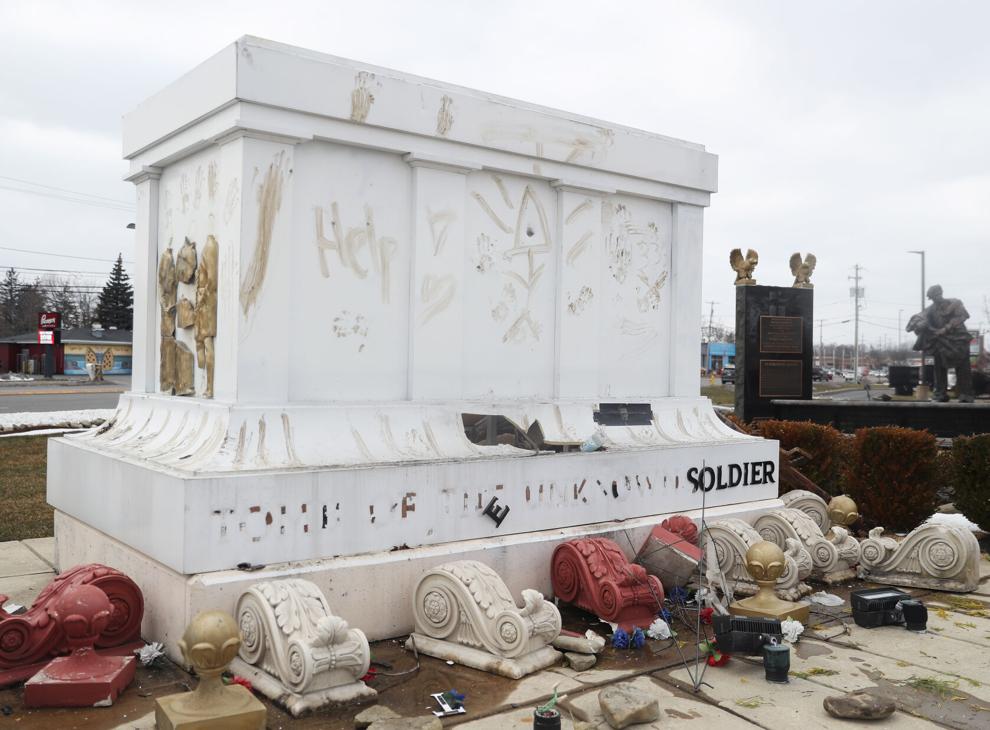 Lancaster police earlier said they were investigating reports the vandal had recorded himself damaging the sculptures and posted the footage online.
Smith offered reassurances the suspect is not currently in a position to damage anyone else's property.
"He is not a threat to anybody or anybody's property at this time," Smith said, without elaborating.
Salvatore said that based on what he's been told about the suspect, the young man was in his restaurant on Feb. 25, a Saturday night.
"And he asked me if I would buy some advertising from him. I said, 'This is a bad time to come and see me. I'm very busy seeing people. Come in Monday or Tuesday,'" said Salvatore, who said the man was about 21 years old. "He never came back."
Salvatore had initially said the vandal used a metal bar of some kind. It now appears, he said, that the vandal pried a replica bazooka – a shoulder-mounted rocket launcher used during World War II – from a sculpture of a soldier and wielded that to damage the items in the park.
Salvatore said he feels sympathy for the suspect after hearing about the man's state of mind.
He said he's not sure what he wants to see happen to the young man. If he wants to have insurance cover the cost of repairing or replacing the damaged items, he's required to pursue charges, he said.
In the days and weeks since the incident, Salvatore said numerous people have reached out to him to offer help to restore the park.
"I didn't believe it was in everybody's heart like that," he said.
He said he plans to finish the restoration in time for a ribbon-cutting on June 14, the Flag Day holiday, no matter the price. Salvatore said replacing just the damaged light fixtures could cost $170,000, according to an electrician's estimate.
"By June, I'll have that place sparkling better than ever," Salvatore said.