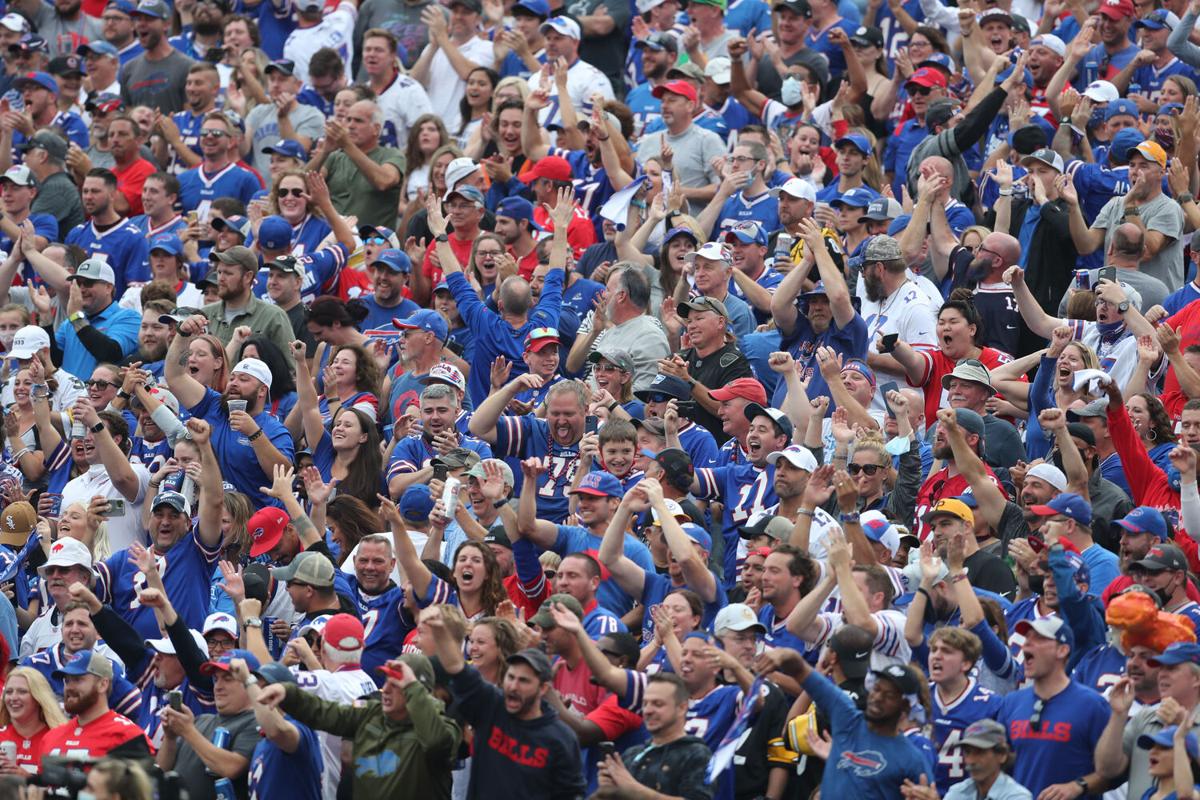 Sunday marks the second Buffalo Bills home game at which all fans entering Highmark Stadium must have received at least one dose of the Covid-19 vaccine. The Bills remain one of only two NFL teams requiring Covid-19 vaccination of all stadiumgoers.
But with tens of thousands of Bills fans trying to enter Highmark Stadium for every home game, how much vaccination vetting occurs?
According to fans at Highmark Stadium last week, the Bills staff in many cases gave a cursory look at people's vaccination proof, either their physical vaccination cards, Excelsior passes or other digital passes.
"We pretty much breezed right through the line for the vaccination inspection," said Rob Hummel, a Buffalo resident and season ticket holder.
Erie County health inspectors gave a secondary review of documents for 667 game attendees – 1% of all stadium entrants, according to the county. Attendance for last week's game was announced at 68,434.
Last Sunday's game against the Washington Football Team was the first time fans were required to show proof of at least one vaccination dose.
Hummel was attending last Sunday's game with seven friends. As a precaution, they all left their tailgate early and showed up at the gate more than an hour ahead of game time to account for the vaccination check. He had received information from the Bills stating that the vaccination vetting process would not add to their entry time.
"It didn't add any more time, but it wasn't much of a process," he said.
Of more than 68,000 stadiumgoers, five were turned away for failing to provide proof of vaccination.
Fans attending last Sunday's game reported that those with digital Excelsior passes were quickly sent through with a cursory glance at the phone screen. Those who showed paper vaccination records received slightly more scrutiny.
"They weren't asking for identification," Hummel said. "If you aren't asking for ID to line it up with the person who's showing it to you, it's kind of useless, in my opinion. Quite a few people were just using a card, and it could be anybody's."
When Rachel Bush, model and wife of Bills safety Jordan Poyer, attended last Sunday's Bills game, users on social media bombarded her with questions about how she got into the stadium, given her vocal opposition to the Covid-19 vaccine. She has not responded with any answers.
I love you all regardless of your vaccination status. Even those obsessed with whether or not others are vaccinated, you get love too. 😅😜 Lol I'm sure you'll come back to your senses one day 😅

— Rachel (@Rachel__Bush) September 28, 2021
Erie County Health Commissioner Dr. Gale Burstein said Thursday that if Bills staff had any questions or concerns about a person's vaccination documentation, or lack thereof, they were referred to one of the Erie County Health Department's inspectors or "sanitarians" for a secondary review.
"It was really up to the Bills screeners to decide what's reported to us," Burstein said.
If individuals were referred to secondary inspection, health inspectors would ask to see people's personal identification. If individuals had no proof, but were willing to let the health inspector check their vaccination status against the New York State vaccination database, they were verified and allowed entry, Burstein said. Otherwise, they had to leave.
Burstein said that of the five people who were ultimately refused stadium entry, one was a man who attempted to pass off his brother's vaccination card as his own. 
She and other county officials deferred to the Bills for more information about how vaccination vetting was handled on the front end since the vetting process was their responsibility.
"It's really a Bills initiative, so you have to ask them if they're going to make any changes," she said. "We were there to support them."
Stadium and arena goers must be fully vaccinated to attend games and events by the end of October. The only exception is for children younger than 12, who must wear a mask inside the stadium.
Bills officials have not answered questions or returned calls and emails from The Buffalo News about the vetting process over the last week.
County Executive Mark Poloncarz told The News on Thursday he believes the Bills were supposed to check vaccination documents against people's IDs to try and confirm their documentation against their actual identities.
He had previously threatened to refer anyone bringing a fake vaccination card to the District Attorney's Office for prosecution, when he and Pegula Sports & Entertainment first announced the vaccination policy last month.
On Thursday, he said that while some people may not have gotten the level of vetting they should have, he was glad the process was effective at moving nearly 70,000 people into the stadium before game time and that Health Department personnel were able to provide deeper vetting.
In the county's supporting role, two health inspectors were stationed at each gate, with a total of 14 on hand to provide secondary vaccination checks, Burstein said. With one game behind them, she said, the Health Department is adding even more staff to assist with inspections.
She also said that unlike last Sunday's game when inspectors left shortly after the game started, county staffers will remain stationed at open gates longer on Sunday. The county has no figures from the Bills about any fans Highmark Stadium workers might have barred.
Sunday's announced attendance was about 3,400 below capacity, and below the pre-mandate crowd of 69,787 on Sept. 12. The Bills issued refunds to 762 season ticket holders who did not wish to be vaccinated.
Bills fans have until Oct. 31 before they must show proof of full vaccination in order to enter the stadium.
The Bills remain one of only two NFL teams requiring Covid-19 vaccination of all stadiumgoers, with no negative test option for unvaccinated fans. The Las Vegas Raiders were the first NFL team to require full vaccination of fans entering the stadium.