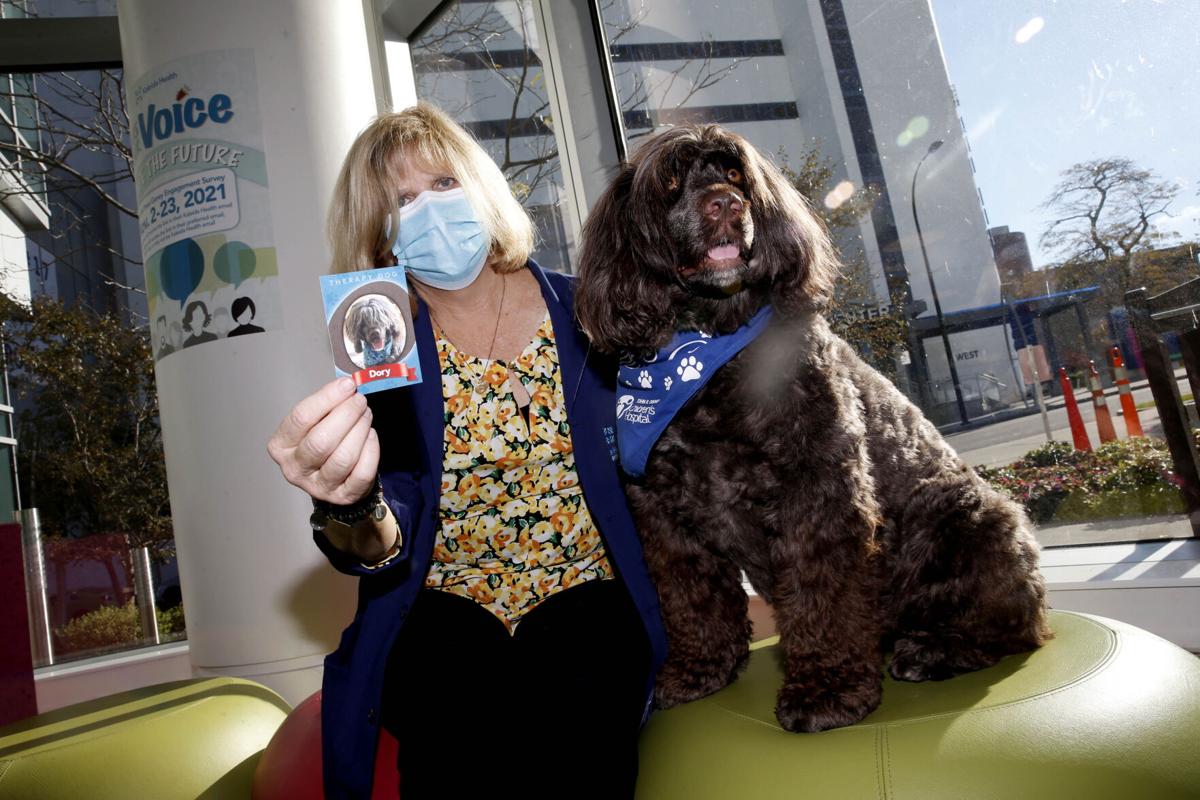 Smaller, less-ouchy needles. Cool Band-Aids. Coloring books with crayons. Cuddly therapy doggos.
With kids as young as 5 now eligible for the Covid-19 vaccine, health departments, hospitals and pediatricians' offices are preparing to accommodate a whole new segment of the population with a whole bunch of fun stuff geared toward making the process a little less scary.
Erie County, home to a little over 70,000 kids between the ages of 5 and 11, is holding its first clinic specifically geared that age group Saturday in conjunction with Oishei Children's Hospital in Buffalo.
All 300 appointments were snatched up within just a couple of hours after the Centers for Disease Control and Prevention gave final authorization earlier this week for emergency use of a smaller, pediatric dose of the two-shot Pfizer vaccine for children ages 5 to 11.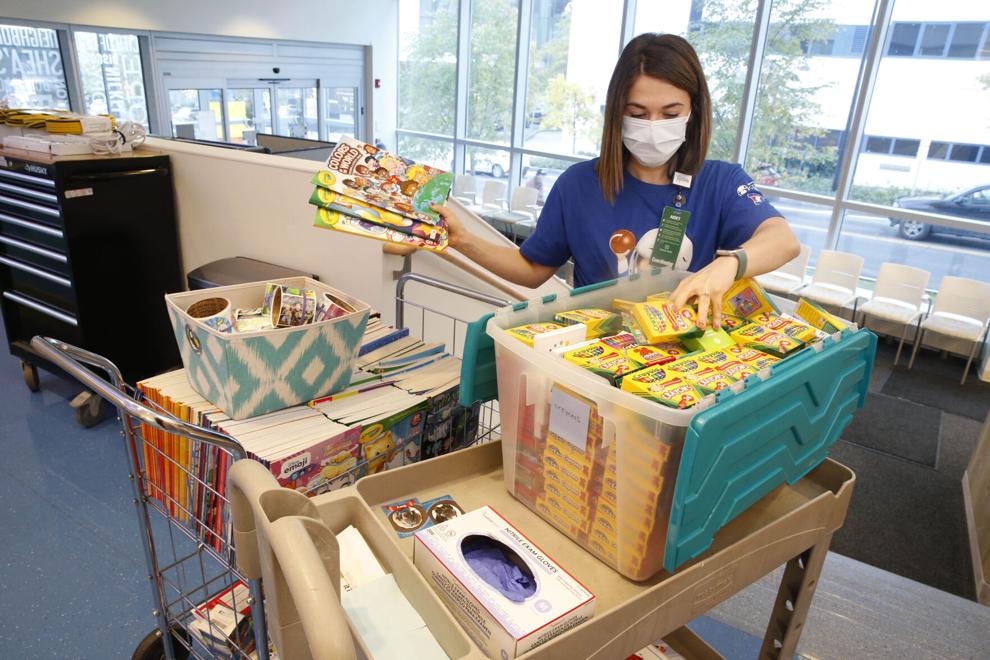 Volunteers and workers at Children's were busy Friday turning the New Era Cap pavilion on the main floor of the hospital at 818 Ellicott St. into a kid-friendly vaccine clinic.
Kids ages 5 to 11 can now receive Pfizer shots. In this Pandemic Lessons, we explore the safety and implications of those vaccinations.
Micaela Inglese, volunteer coordinator at Children's, said one of the main plans is to fill the space with friendly faces who can distract nervous youngsters.
The volunteers have been asked to dress up in Buffalo Bills gear and other fun clothes "to make it more down to earth and less like a medical setting."
They are planning to have four therapy dogs on hand to calm anxious children.
"Each of our therapy dogs have trading cards to remind them of who they met," Inglese said.
Kids will be offered a coloring book and crayons, to make any wait before the shot – and then the 15 to 30 minutes after – a little less fidgety.
The shots themselves are a smaller dose – one-third the regular dose of the Pfizer, so far the only brand approved for children under 12. Special orange caps top the pediatric doses, to make sure the correct kind is given to the children. Also, the needles themselves are smaller, to make them less painful.
And when the shot is over, children will get to pick from a variety of fun bandages and then get a big sticker to mark the big moment.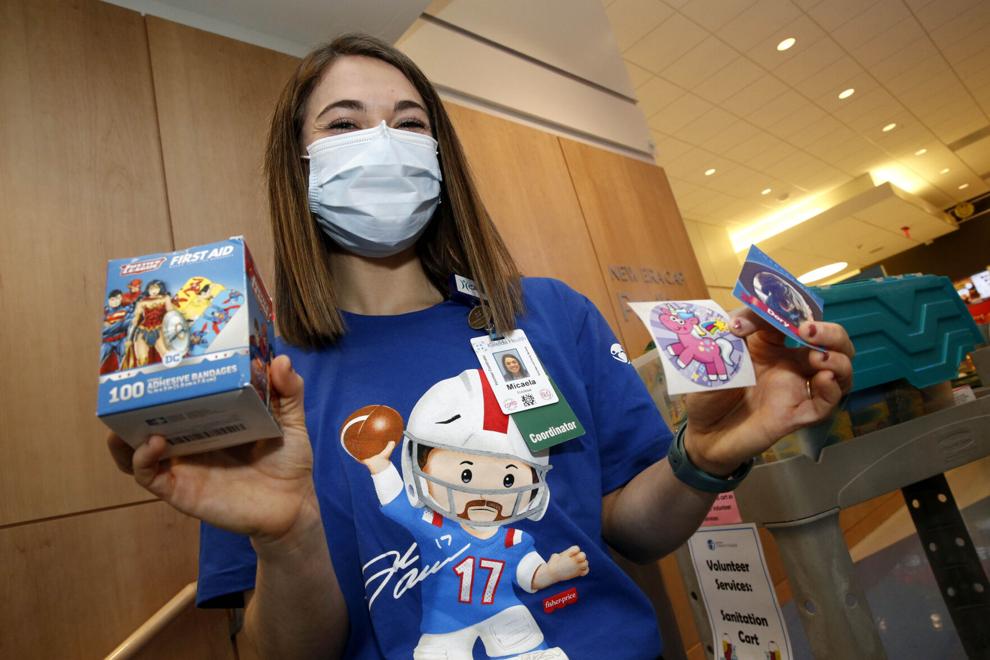 "We're super excited about this initiative," Inglese said.
In Niagara County, health officials are getting ready for their first clinic where kids' shots will be offered Monday at the Niagara Falls School District offices at 630 66th Street from 2 p.m. to 6 p.m.
Niagara County Public Health Director Daniel J. Stapleton said their approach is to get patients in and out as quickly as possible.
"We don't want to do anything that encourages congregation," Stapleton said.
For the young patients, the department is planning to have three nurses who are all veterans in vaccinating young ones, including one who has 35 years experience giving shots to children.
"It takes a certain type of person," Stapleton said. "What you don't want is to show any fear or trepidation."
Monday's clinic in the Falls won't be limited to just children. First and second doses for adults, along with boosters, will also be offered. More clinics are planned for the weeks ahead in both urban and rural parts of Niagara County.
"We're trying to get a mixture," he said.
"We are busy organizing clinics to make sure that we have access to everybody in the community who decides not to go to their pediatrician to get that vaccine. We just want to make it easy for people," Erie County Health Commissioner Dr. Gale Burstein said.
Erie County has more kid clinics planned for Nov. 13 at the Harlem Road Community Center in Amherst, West Seneca Middle School and the Claude and Ouida School 74 (Hamlin Park School) in Buffalo.
But Dr. Burstein urged parents to first reach out to their pediatricians to see if they are offering the kids' dose vaccines at their offices. She's aware that some offices are struggling with staff shortages and may not be able to accommodate a rush of patients wanting the shots, and that's why the clinics are being held as well.
She advised parents to prepare their kids ahead of time to ease any worries.
"This is going to be a routine vaccine," she said. "Parents should approach it just like when they take their kids for any other vaccines."
She encouraged parents to emphasize to their children that getting the shot is safe and lessens the risk of getting infected by Covid-19.
"Although it's not 100% – no vaccine is – this will help protect children against Covid," she said.
It will also help reduce the spread. Children who get Covid-19 are often asymptomatic, but can spread the virus to older, more vulnerable people, Burstein said.
Burstein also pointed out that vaccinated children don't need to miss school and quarantine at home if they're exposed, as long as they remain asymptomatic.
"Right now, we are busy collecting information to make sure that if we do decide to impart on a test-to-stay that we will have the best plan possible," said Erie County Health Commissioner Dr. Gale Burstein.
She knows some parents are advocating for a "test-to-stay" option with Covid-19, where students who are exposed would be tested at school and be allowed to stay if they test negative.
"We should look at this as a vax-to-stay program," she said.
To get a vaccine for your child, try your pediatrician or primary care provider first.