Demolition began Friday afternoon on a collapsed building at the northwest corner of Oak and Genesee streets. 
Chris Koch of Kideney Architects was at his desk in his office that overlooks Oak Street when he heard a terrible sound at about 10:45 a.m. Friday.
"You just heard a huge rumble like thunder," Koch said.
He looked out the window and couldn't see anything. Just a giant dust plume, he said.
The roof and much of the facade of a vacant three-story commercial building had just collapsed.
Fire Commissioner William Renaldo said at a news conference at the scene that the century-old commercial building was under renovation when it collapsed.
"Nobody has been injured," he said. Four to five workers were in an adjacent building, but they were all able to evacuate safely, he said.
A work truck parked in front of the building at 324 N. Oak was buried in tumbling bricks.
Frank Housh, a Buffalo attorney, said he was driving and on his way off the Kensington Expressway when he saw the aftermath of the collapse.
"I'm rolling off the 33 and I couldn't see anything – the smoke was that intense. I assumed it was a fire," Housh said. As he drove up, he saw that a building had collapsed.
The partial collapse marks the end of a brief effort by a new owner to save the historic structure, which had already been identified as endangered, and which was the subject of emergency planning by architects and engineers as recently as Friday morning, even as the front facade fell in. It also follows just days after the devastating collapse of a condominium building in a suburb of Miami, shocking the country and drawing attention to structural concerns.
The building is owned by Frank Chinnici's Legacy Development, through Main Gateway LP. It was one of six properties Chinnici's company purchased in a rescue effort last year, after decades of neglect by a downstate landlord, Bruce Adler, who had allowed multiple buildings in the area to deteriorate under his ownership. 
"We are absolutely devastated about 324 North Oak," said Eamon Riley, assistant vice president of development at Legacy. "We were diligently working on a stabilization plan, but we were unable to get to the finish line before this happened."
The properties had already been the subject of concern among preservationists by summer 2019 when the chimney caved in on another one – a three-story Italianate building at 435 Ellicott St. that dated to the 1860s. A part of the facade also crumbled, and city inspectors cited Adler for seven violations. 
But the building suffered additional roof damage in late fall 2019, triggering an emergency demolition that rocked the city's preservation community and prompted anger against derelict landlords. It also prompted renewed efforts by the city to crack down on absentee and neglectful building owners.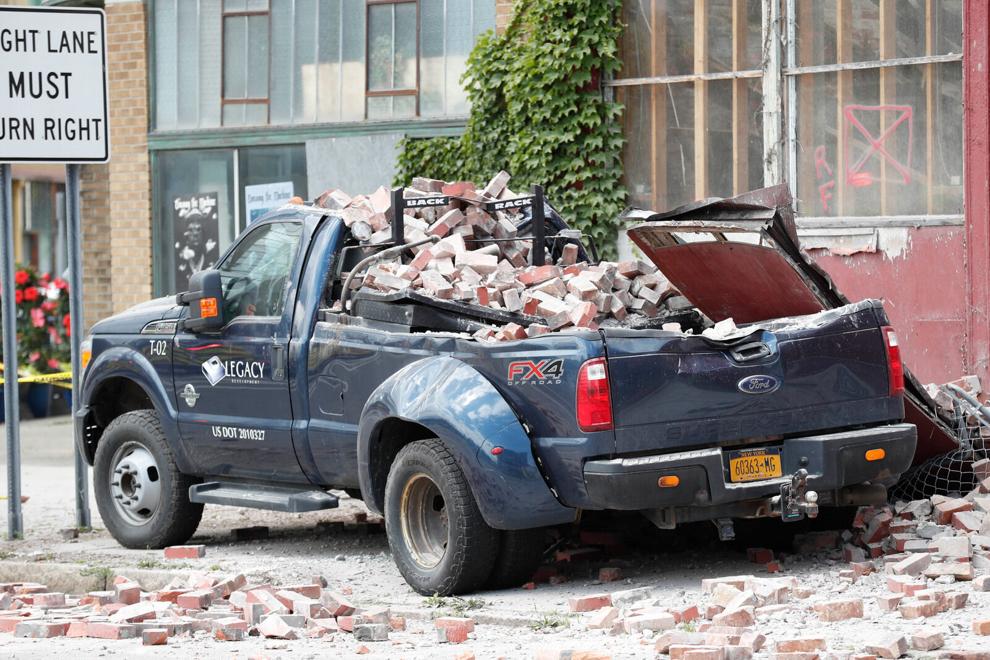 That's when Legacy stepped in to buy Adler's portfolio in order to save them. But by the time the purchase closed in April 2020, the Covid-19 pandemic was in full swing, construction was temporarily shut down, and work was delayed. No one has been in the building for a year.
"The questionable safety of the building made it difficult to get people in there to evaluate it," Riley said.
In fact, Riley said, Legacy's architect was talking about the building on the phone with its engineer – offsite – when the company received a call from some of its workers who were doing maintenance on some of the other nearby buildings and "heard some of the beams starting to crack."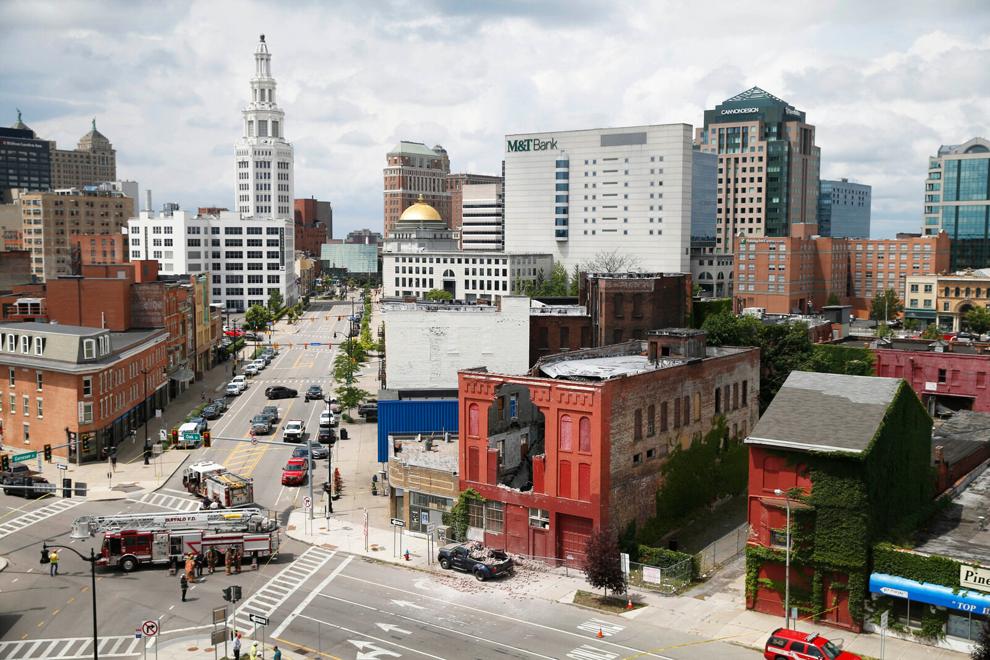 He said the combination of the pandemic and financial uncertainties prevented Legacy from lining up the funding it needed in time to start the work, so it was "just picking things up again and about to move it forward" when the collapse occurred. "We were unable to access the necessary resources to fix the problem," he said. "If not for the pandemic, we would have been on this sooner.
"Moving forward, we're hoping to maintain the historic character of these properties as much as possible and do our best to make this property whole again," he said.
News reporter Harold McNeil contributed to this story.