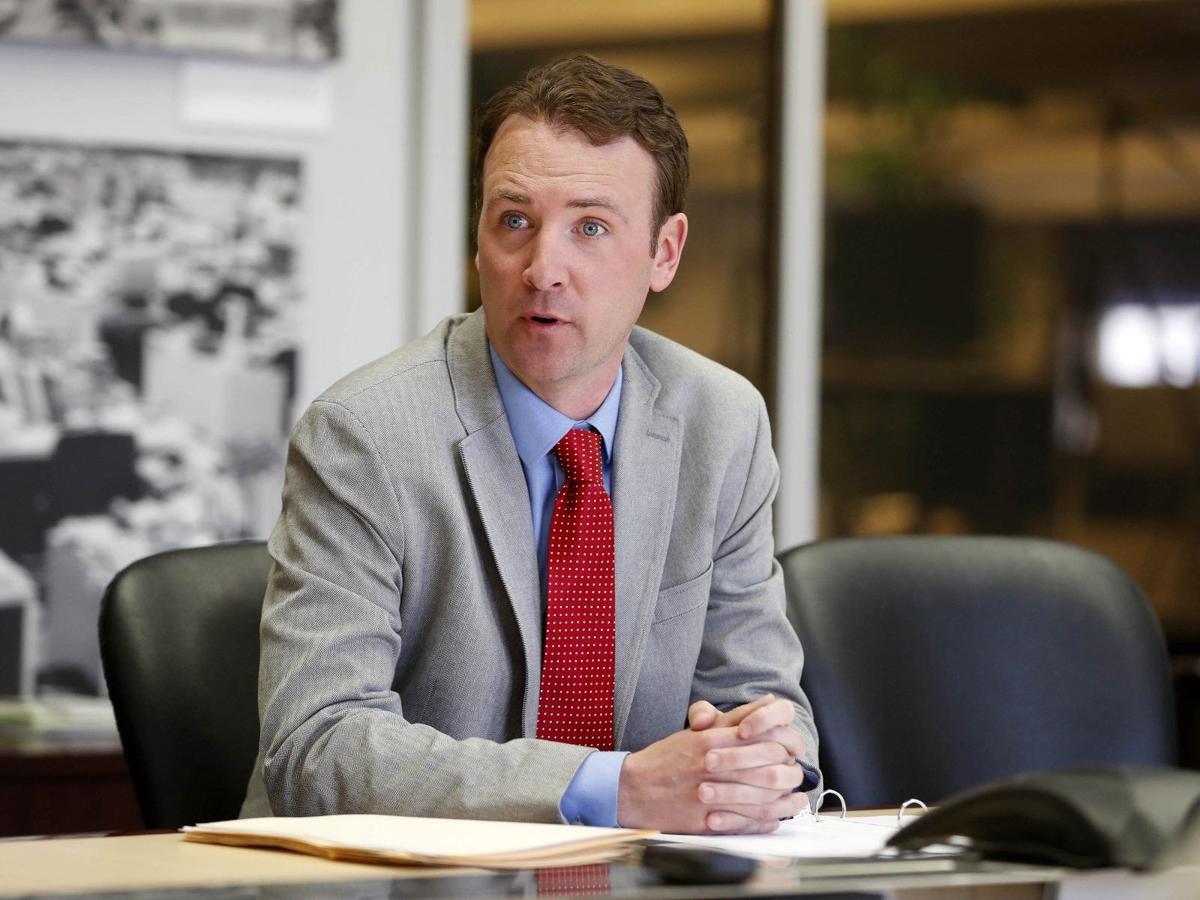 ALBANY – Erik T. Bohen boasted during his successful campaign for the Assembly 142nd District seat in Tuesday's special election that, despite running on the Republican line, he would join the Assembly Democratic conference upon his arrival in Albany.
Assembly Speaker Carl Heastie, a Bronx Democrat, made it clear Wednesday – in Albanyspeak – that while Bohen may be a registered Democrat he shouldn't have plans any time soon to be joining the Democrats who hold total sway over the operations of the Assembly.
"This is someone who was elected not running on the Democratic line and the speaker has not had any conversations with him. The speaker prefers to take a wait and see approach," said Michael Whyland, a Heastie spokesman.
Assembly sources said Heastie still needs to gauge the opinions of 104 Democratic caucus members. But there appears to be no chance Bohen will be invited to join the conference – a partisan caucus where admittance is not guaranteed – at least during the 2018 session.
In Bohen, Democrats Wednesday complained that he got elected with GOP financial help and had the head of the Erie County Republican Party, Nicholas Langworthy, front and center at his victory party Tuesday night after offering his assistance in getting Bohen elected. On a night when the GOP retained a congressional seat in an Arizona special election, the race in Western New York was also being watched and trumpeted by Republicans looking for signs of momentum heading into November.
Western New York Democrats were not rushing to embrace Bohen.
"There are 104 Democrats in the Democratic conference who ran on the Democratic line and a lot of them are confused why somebody who ran on the Republican line would even think about joining a Democratic conference," said Assemblyman Sean Ryan, a Buffalo Democrat.
Assemblywoman Crystal Peoples-Stokes, a Buffalo Democrat, echoed the problems Bohen faces in trying to join the Assembly Democrats.
"I understand he did win the election on the Republican line, which means it's a different line than the Democrats. It's a different agenda," Peoples-Stokes said.
"So I think the speaker will have to run this whole thing through the conference: Do you want a Republican sitting in Democratic conference?" she added.
For his part, Bohen said Wednesday he had not been in contact with Assembly Democrats about joining their conference in Albany, but he plans to this week.
"I haven't been to Albany yet and I'm looking forward to sitting down with everybody and working collaboratively to get things done for the district," Bohen said in an interview.
The new assemblymember expects to attend his first session next week after the election results are certified.
As holders of power in the Assembly, the Democratic conference – like other party caucuses in Albany – meets in private to hash out positions and decide any number of major matters, such as this year's $168.3 billion budget. As an incoming member, Bohen already was going to have little influence in the Legislature. As someone not welcomed into the Democratic conference – which, through Heastie, decides everything from office assignments, fate of bills and size of staff – Bohen faces tough odds of getting much accomplished before the session ends in June.
Bohen may have other issues: It was not immediately certain Wednesday he will be invited to join the smaller GOP Assembly conference, a group that counts among its membership zero registered Democrats.
Michael Fraser, a spokesman for Assembly Minority Leader Brian Kolb, said Assembly Republicans have not had any conversations with Bohen. "It'd be premature to comment at this time,'' Fraser said when asked if Bohen might have a home with Assembly Republicans.
Bohen was denied the backing of Erie County Democrats for the special election contest that filled a vacancy in the district represented until December by Erie County Clerk Michael Kearns. The Democrats designated Patrick B. Burke, who lost Tuesday's election to Bohen, who ran on the Republican and Conservative party lines.
Bohen, Democrats said, didn't just run as a matter of convenience on the GOP line, but he was actively aided by Republican and Conservative party forces in his run against Burke. Interestingly, in chalking up Assembly GOP victories from the Tuesday special election contests across the state, state GOP Chairman Ed Cox did not cite Bohen's victory in Erie County for a district that represents part of Buffalo, part of Lackawanna and all of Orchard Park and West Seneca.
While Bohen is a special education teacher in the Buffalo city school district, the New York State United Teachers, a union with potent political powers in elections across the state and within the Assembly Democratic conference, did not endorse his campaign. The union had problems with his longtime friendship with former Buffalo school board member Carl Paladino.
It's far from the first time that the South Buffalo-based district has had an Assembly representative with get-along issues in the 150-member house. Kearns had his battles with former Assembly Speaker Sheldon Silver that for a spell zeroed out his ability to get any bills passed in the Legislature, and former Assemblymembers Mark Schroeder and Brian Higgins were involved in anti-Silver maneuverings that limited their influence in Albany.
But Bohen's problem is not a personal one with Heastie, a Bronx Democrat, who Bohen during the campaign said he would support in future speaker elections. Rather, it's with the Democratic conference membership. And that is a more structural problem for him to get around even if his party of registration is Democratic.