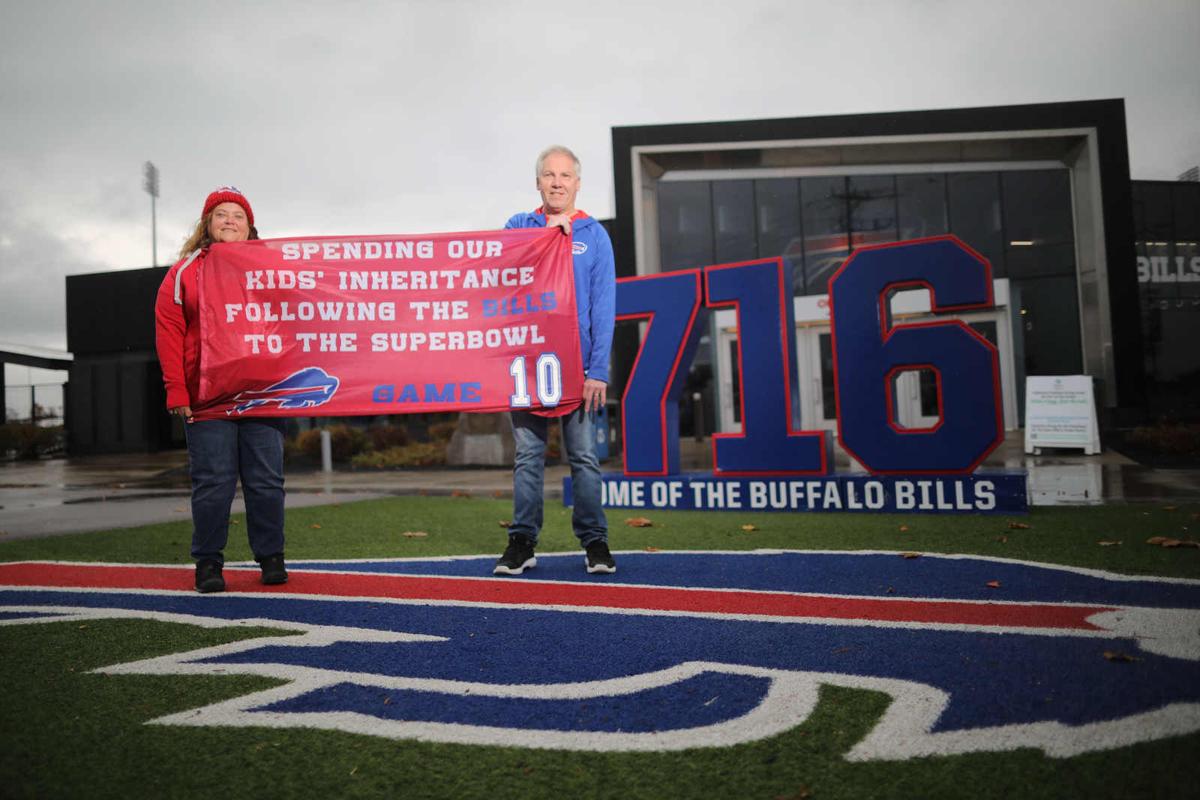 Decades before Twitter and the hashtag-turned-mantra "Bills Mafia" there was just a cliché: "Bills fans travel well."
Whether it was the heyday of the K-Gun offense or the lowly 2-14 years, in city after city, when the Bills came to town, their fans would follow. 
The phrase is a tacit acknowledgment of Buffalo's commitment to its beloved – or, depending on the season, bemoaned – football team. It is also a tacit acknowledgment that many of the Bills fans found in an opposing team's stadium also call that opposing city home. 
For generations, as the steel mills rusted and Buffalo's population shrank, the Diaspora grew. And so the seeds of Bills Mafia were spread around the country and the world. We spot each other with a Bills cap on trains and in bars and say (or shout) the secret password, "Go Bills!" and the communal bond of our fandom grows stronger.
Bills fans traveled well because in many cases, they had to. Life and job circumstances required it; opportunities beckoned elsewhere that didn't exist at home.
There's still work to do in that regard, but Buffalo is once again a city that's growing – if only a little, and mostly thanks to immigrants who may not have heard of the Bills before they got here.
With things looking up, maybe now Bills fans travel not because they have to, but because they want to.
Like Bonnie and Scott Fiegel. The Pendleton couple and lifelong Bills fans are recently retired, Bonnie from managing a convenience store and Scott after 40 years on the floor of General Motors.   
Several years ago Bonnie received a cancer diagnosis. She continues to receive regular treatments and her prognosis is good. 
But, she said, it's the kind of thing that helps reorder priorities. 
Naturally, that meant going all-in on an ascendant Bills team with Super Bowl aspirations. 
With their four children grown and the nest empty, Bonnie decided it was time to have a little fun. So she pitched a crazy idea, and then made it happen: Why not go to every game this season? Not every home game. Every single one – Super Bowl or bust.
"We have four children," Bonnie explained. "When they're growing up you can't afford to do those things, necessarily. My husband retired this year. I kind of talked him into it."
And so the joke was born: "We're spending our kids' inheritance following the Bills to the Super Bowl." They made the slogan into a flag that they carry with them to games. It's made them into Bills Mafia celebrities. Hundreds of photos, many of them with fellow road warriors, have made their way onto social media. 
"It started off as a joke, the sign," Fiegel said. She assures everyone: "Our kids are in full support." 
Ranging in age from 30 to 40, the kids actually have been able to get in on the fun. A daughter in Florida was in attendance for Jacksonville, will drive to Tampa, and will spend her Thanksgiving in the Big Easy with her parents and two of her siblings. 
The Fiegels have had plenty of company on the road this season.
The largest Bills road crowds so far, Bonnie said, were in Nashville versus the Titans and in the New York City area for the Jets game. But healthy crowds were in Miami and Kansas City, the latter of which she said was her favorite destination to date.
"My favorite was the KC game," she said. "The people were so nice there."
After this season, the couple said they probably will ease off the travel schedule, but they want to visit at least one new NFL city every year. The combination of a built-in fraternity of Bills fans and the ability to explore a new city's football culture makes an alluring opportunity.
As for this year, the NFL calendar dictates a road trip on Thanksgiving, and a down-and-back day trip to Boston the day after Christmas, which is the only trip on the schedule Fiegel said she would prefer not to take.
And what about the Big Game? Though there is no guarantee the Bills will make it that far, Fiegel said she's prepared to lay out the money if they do.
"We were a little hesitant about the Super Bowl itself," she said. "We're looking online at prices. The Super Bowl tickets might cost as much as all the other tickets combined."
It's a long way, literally and figuratively, from their seats in section 315 of Highmark Stadium in Orchard Park to the corporatized event that is a modern Super Bowl. This year it's being held in the shiny new SoFi Stadium in Los Angeles, the city perhaps least like Buffalo of any in the NFL. 
Not to worry. Bills fans travel well.