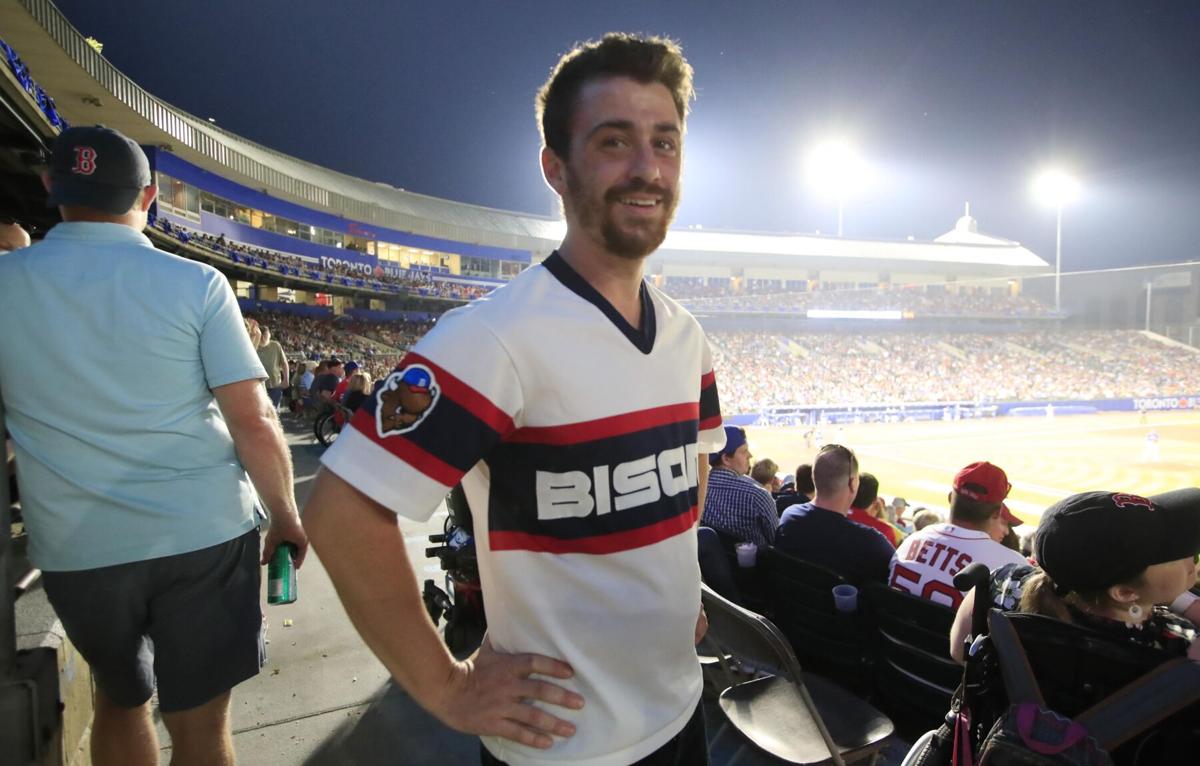 Dr. Ryan Miller and Christian Knauss, buddies from their high school days at St. Francis of Athol Springs, were at Sahlen Field a couple of days ago. They settled in to watch the Toronto Blue Jays play the Boston Red Sox, but Miller's eyes kept drifting from the game and toward the heights of Seneca One Tower.
"I was picturing myself up there with my dad," said Ryan, 29.
Wednesday, in a game against Boston that started beneath blue skies and a scoreboard message thanking their adopted city, the Blue Jays finished their unlikely two-year run in Buffalo. After more than 17 months of baseball away from home, the players and coaches are finally returning to Toronto. Yet what the Jays accomplished at Sahlen Field – unimaginable until the pandemic changed dynamics that long seemed fixed in place – gave Buffalo, already rich in baseball lore, an even more unique place in that heritage.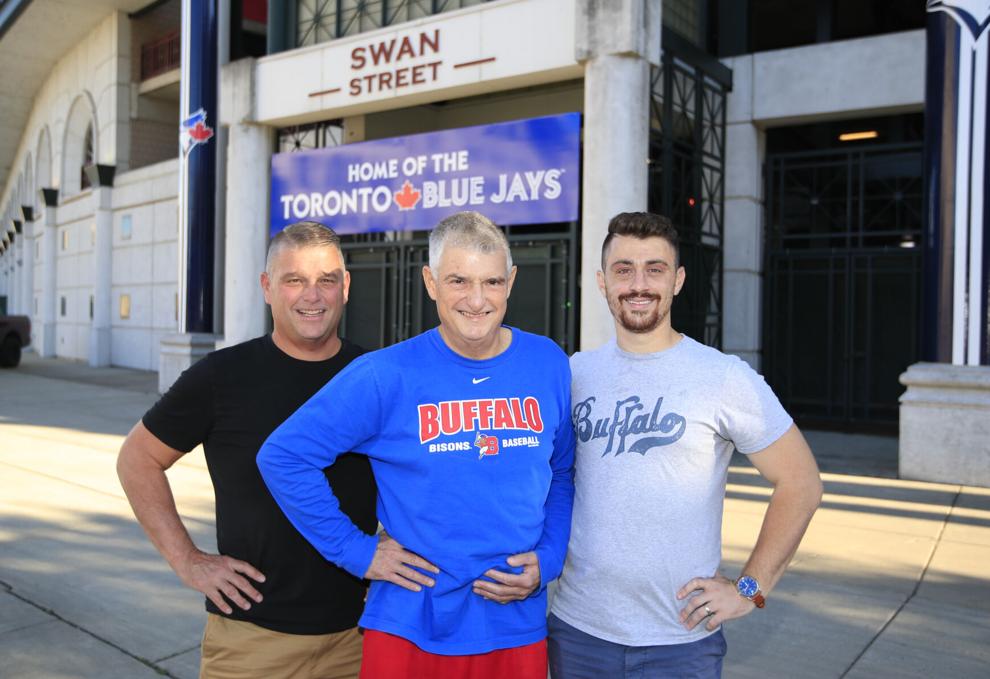 Never in major league history has an established team from one city spent so much time in an entirely separate community, said Jacob Pomrenke, director of editorial content for the Society for American Baseball Research. Pomrenke said Buffalo also becomes a member of a small club, one of only 15 American cities to host a big-league franchise in each of the 19th, 20th and 21st centuries.
It is worth noting how all the other cities on that list retain big-league teams today, which brings us back to the Millers and a dream, father and son.
Ryan's dad, Hal Miller, was a security guard at Republic Steel with a lifetime reverence for baseball. He followed the Triple-A Buffalo Bisons with the same passion and knowledge he brought to the Bills or Sabres. In 1988, when then-Pilot Field opened with a throwback design that influenced ballpark planning throughout the nation, Hal was there with his brother Joe and their dad and grandfather.
They had generational faith in what much of Buffalo, for a few years, dared to believe: That a new park built to fit the contours of an old downtown would someday serve as home to a major league team.
Hal Miller, 61, who has stage 4 cancer, had dreamed of seeing big-league baseball in Buffalo since childhood. His son, Ryan, helped him find a way.  
More than 30 years later, it happened in a way no one expected.
"All of this," said Ryan, thinking of his dad and gesturing toward a ballpark groomed to big-league standards. "He would have been overwhelmed."
A year ago, the Jays made a successful playoff run in Buffalo in front of cardboard fans and thousands of empty seats. That collision of strange realities – a big-league hope realized, yet no one there to watch – had especially aching magnitude for Ryan, a young physician in the University at Buffalo's family residency program.
His father, who had waited an entire lifetime for this baseball moment, was dying of lung cancer – with no chance to see a game.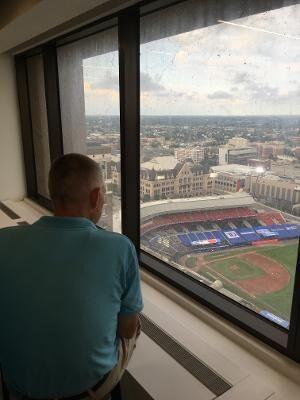 Ryan did not quit. He wrote to Douglas Jemal, the developer reopening the 38-floor skyscraper called Seneca One. Ryan explained – after a lifetime of watching Buffalo teams at his dad's side – how he hoped to see one last game together. Jemal responded by allowing Hal, his brother Joe and Ryan to take in a sweeping view of the field from the 22nd floor as Toronto played and won its Sahlen Field opener, against Miami.
"It was a full circle for him," Ryan said of his father, "from the first game when he dreamed about the major leagues to actually being there to see it."
Who is the one person with whom you most wish you could watch a major league game in Buffalo?
Hal, his cancer moving quickly, was around to sing the "Shout" song from Ryan's window during some euphoric playoff moments in the winter for the Bills. He was stronger for much longer than anyone expected, but he died in March, only weeks before another baseball season.
Five months later, as a kind of thank you and farewell before the Jays left Sahlen Field, a wistful Ryan was there to see them take on Boston.
Brian Frank, a Buffalo baseball historian whose "The HERD Chronicles" website and Twitter feed highlight great Bisons moments, said the symmetry of the past two years ascends to almost spiritual dimensions. He noted the Blue Jays played their first game during both stays in Buffalo against Miami – the city that decades ago was awarded the expansion team once sought by Buffalo.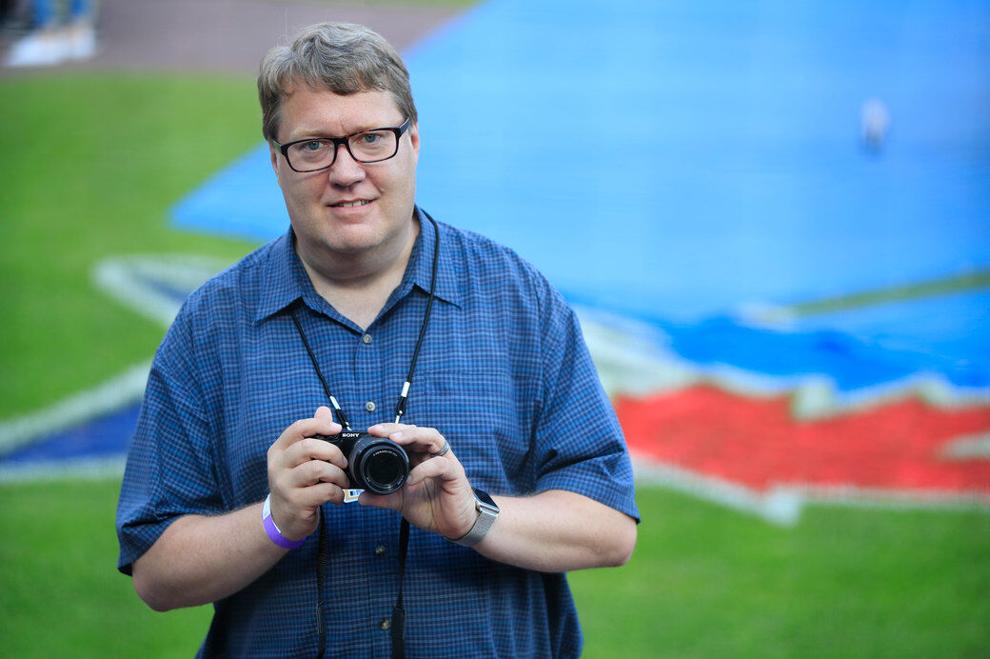 There is even more poetry, Frank said, to the way this all ends. Wednesday's final Blue Jays game at Sahlen Field was an American League clash against Boston, which goes to a kind of major league "wide right" in Buffalo baseball history. More than a century ago, when baseball executive Ban Johnson was putting together a new circuit to compete with the established National League, Buffalo – then among the nation's 10 largest cities – seemed to have a franchise locked up.
But Johnson pulled a double-cross only months before the 1901 big-league launch of what he called the American League. He cut out Buffalo and instead put that franchise in another city.
Jim Overfield laughed when he heard the comparison. Today is Parade Day in Cleveland. Hundreds of thousands of people have gathered to say farewell to an epic sports curse that some observers see as traveling eastbound on Lake Erie, headed straight to Buffalo. Jim is happy for the Ohio city. He knows how good all of this must feel.
It went to Boston, whose team would soon be known as the Red Sox. That was the most painful of blows, as Frank points out, because Johnson was basically saying that Buffalo did not quite measure up as major league. Somehow – outside of a fast stop with the Federal League and some games by visiting Negro Leagues teams, over the years – the city never regained a lasting big-league presence, even when its mid-century population climbed toward 600,000.
Their presence in Buffalo through this weekend's Toronto-Tampa Bay series is a kind of ultimate tribute to what is happening at Sahlen Field.
"If you believe in sports curses," Frank said, thinking of a community hunger for a major championship, "you can make the case that 'The Curse of Ban Johnson' is one."
Still, if goodwill and a civic embrace are what it takes to heal, you can also make a case that the curse is at its end. More than a century after Johnson's betrayal, an uprooted team in the league he started found a home in Buffalo.
"It took so long, and it happened in a roundabout fashion with these crazy, terrible and tragic circumstances," said Frank, who grew up traveling to Toronto with his family for Blue Jays games, "but you won't see the experience we just had anywhere else."
He suspects the two-year sojourn will have quiet yet lasting resonance in Buffalo. The ballpark, he said, "did what it was built to do." It provided a fitting home for a major league club, a memory that will remain in the turf and walls for as long as the place stands.
Frank will never forget the whole strange atmosphere a year ago, when the Blue Jays and Yankees might be playing inside – music from the P.A. booming past the facade – while nearby streets were utterly deserted. He has been moved this summer by the fans who showed up for photographs outside Sahlen Field, "sometimes with little kids, sometimes with older people," posing with the gentle devotion you see in spectators at any big-league park.
At Wednesday's game, he looked down from the media section and thought about how every moment, in some way, was the last time. The Toronto brass had stenciled "thank you" to Buffalo in the dirt behind home plate, and Frank was pleased that the crowd - whose Boston affinities were made evident by the roar after a Kike Hernandez home run - still rose to its feet to applaud the Blue Jays when they spilled from the dugout to tip their hats after a farewell video, or to noisily embrace a Vlad Guerrero Jr. homer. Beyond all else, Frank spoke of the sheer caliber of the players on the field, how the focus, the entertainment, was purely baseball itself.    
He hopes all of it ignites renewed affection for the Bisons, whose homecoming next month after two seasons away should be a keenly emotional moment of its own. And Frank wonders if the Blue Jays – who invested in so many ways in Buffalo – might start enjoying the kind of bond with their Triple-A community that feels more like the era when those connections had real meaning.
Maybe, more than anything, what just happened was enough all by itself. Before Toronto left, thousands who never thought they would see a big-league game in Buffalo showed up with graying parents, close friends or kids and grandkids. The sheer intimacy created a once-in-a-lifetime warmth, and Ryan Miller – in the stands, not so far from the first-base dugout – offered a thought about his dad that an awful lot of us felt this summer in that ballpark, remembering someone we loved.
"He's here," Ryan said, which helped him let the Blue Jays go.