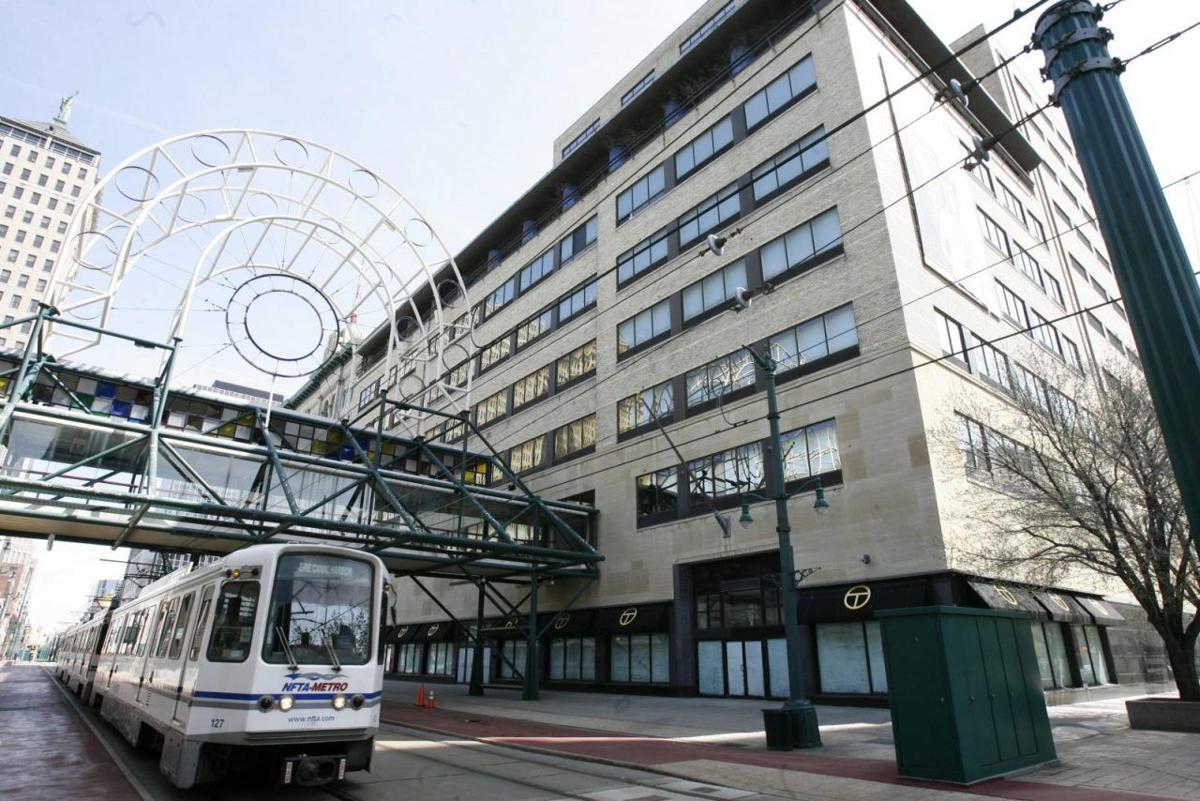 The $70 million conversion of the former AM&A's department store building downtown into the Wyndham Buffalo Hotel is shifting from the cleanup phase into construction.
The project had been delayed by a long, complex and costly environmental remediation and some demolition, but has now moved into the construction phase, including the installation of a new roof, said Brian Frost, CEO of general contractor Loung Construction.
Landco H&L, an investor group from Queens and China led by Billy Bao, is redeveloping the longtime former retail store at 377 Main St. into a 300-room hotel, along with two first-floor restaurants – one Chinese, one Japanese – in a project that now is expected to be completed in two years.
The 375,000-square-foot complex will also include 6,000 to 8,000 square feet of retail space, a New York City-style nightclub, an arcade, a large pool and spa in the basement, and 40,000 square feet of banquet and meeting space. Earlier plans for a sixth-floor steakhouse with a glass ceiling have been abandoned, replaced by hotel suites with skylights.
Frost said crews already cut two new giant atriums into the middle of the 10-story building, from the 10th floor down to the third, to provide windows for interior rooms. They've mostly completed the cleanup and repair of the exterior masonry on the building, which is still surrounded by scaffolding. Freight elevators have also been replaced.
"All of that is coming along," Frost said.
The next step is to frame the interior walls of the atriums and finish the HVAC systems, while engineer John Schenne finalizes the interior drawings before the developer can obtain the final building permits. At that point, he said, workers will start framing the hotel rooms and other spaces, on track for an anticipated spring 2020 opening.
The city also wants the developer to repair the portion of Washington Street in front of the complex, where the underground vault space extended out from the building and needed work done, Frost said.
Meanwhile, the same investor group – with different names and lead figures – is also pursuing two other projects in the region, one in Niagara Falls and one in Rochester, Frost said.
"They're investing all over the place," Frost said. "They plan to spend their money here in this region. They're for real."
Metropolis Properties Management, led by Tianyi Du, is buying and redeveloping the 114,000-square-foot former Mount St. Mary's Hospital – more recently, the St. Mary's Manor nursing home – on Sixth Street in Niagara Falls, with plans to convert it into a 200-room four-star hotel.
And a third group – WBS Capital, also led by Du – is buying the former Eastman Kodak Hawkeye plant along St. Paul Street in Rochester. Vacant since 2011, the 785,000-square-foot plant, with 14 parcels on 8.48 acres, would be redeveloped into a $55.7 million mixed-use project. It would include some affordable housing, as well as light industrial, warehouse and other commercial office space for e-commerce, a foreign-trade zone and international businesses.