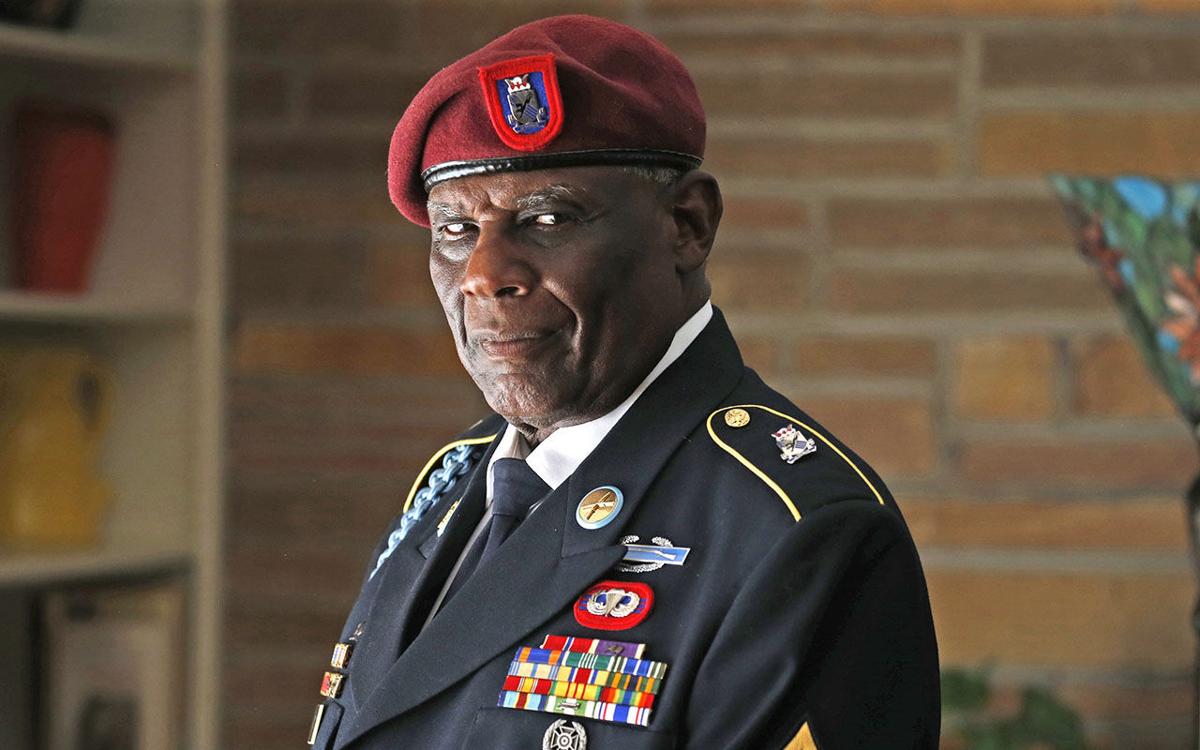 William Roland Hayes returned home from the Vietnam War with little fanfare – even though he had been wounded three times and on one of those occasions helped another wounded soldier.
His three Purple Hearts for battle wounds, and a Bronze Star for distinguished heroic service against the enemy, caught up with him by way of the mail after he had been honorably discharged and was back home in Buffalo.
"They said here you are and thank you," the 71-year-old Hayes said of the package he received containing his Army medals.
That unceremonious delivery changes Monday.
Rep. Brian Higgins, D-Buffalo, will formally present Hayes with his medals at a special ceremony at the Purple Heart Memorial in the Buffalo and Erie County Naval & Military Park. Later in the week, on Friday, the congressman will honor several other local Purple Heart recipients at the memorial.
It's all in advance of National Purple Heart Day on Aug. 7.
At that time, more recognition will come to yet another area veteran. Dennis Kulczyk, a North Tonawanda resident and Purple Heart recipient from service in Vietnam, has been selected to attend the inaugural Purple Heart Patriot Mission, a series of events honoring 50 Purple Heart recipients, representing each of the states.
Monday, the Buffalo region gets an early start in drawing attention to those who suffered wounds or were killed defending the nation and awarded the Purple Heart.
Hayes, like so many veterans, is modest about his military service, but he says he is glad that what the medal represents will be in the spotlight.
It was Higgins who wanted to do more for Hayes, after he learned how the Army veteran was wounded three times.
"Hayes' story is one of resilience, breaking barriers during the civil rights movement and beating the odds to return home safely," Higgins said.
Hayes, an African American who eventually rose to the rank of sergeant 1st class, said he had a simple goal when, at 18, he enlisted in the Army in July 1966.
"I wanted to get away and see some action. I wanted to see the world. I wanted to get away from the Bethlehem Steel plant I lived across the street from," he said of being raised in Lackawanna. "When I was a kid, all I did was go to the library and read about paratroopers. That's what I wanted to be."
'A remarkable record of service'
As a paratrooper with the 101st Airborne Division, Hayes arrived in Vietnam in November 1967. The only action he initially experienced was as a cook. That changed when a white sergeant stepped into his kitchen and, Hayes said,  "belligerently demanded a cup of coffee."
"I told him to get out and the next day I was sent to the front lines as an infantryman in a demolition platoon," Hayes said, explaining that he believes the sergeant was attempting to punish him. "I was a private at the time and he gave me what I really wanted. I didn't appreciate how it happened, but that is the way it went in how I got to the infantry."
Combat nearly cost Hayes his life.
He earned his first Purple Heart on March 14, 1968. A bullet ricocheted off the barrel of his machine gun and ripped through his right leg. During recovery, he said, he requested updates on his unit's combat actions. He says he felt guilty and threatened to go AWOL if he wasn't returned to his unit.
Though not completely healed, he said, he was granted permission. Several months later, in August, Hayes and other members of his patrol were helicoptered into an area controlled by the enemy. On the ground, he served as the point man and suffered another leg wound. This time an enemy bullet struck his left leg. That resulted in his second Purple Heart, which came in the form of an oak leaf cluster.
Though he was wounded, he managed to assist another wounded soldier.
A month later, his final Purple Heart oak leaf cluster was earned when shrapnel from a grenade struck the left side of his face, leaving a permanent scar.
"I thought my face was on fire until another soldier helped me to my feet," Hayes recalled.
He was discharged in July 1969. Soon after that, he said, the Army mailed him his medals.
Now, 50 years later, Hayes will be formally honored at 11 a.m. Monday in the presence of his family and friends by Higgins.
The public is welcome to attend, according to Paul J. Marzello Sr., president and chief executive officer of the Naval & Military Park.
"We are happy and proud to recognize Sgt. Hayes, who is a volunteer docent for the park. He's not only had a remarkable record of service to our country but he enthusiastically shares his experiences and knowledge," Marzello said. "It doesn't take long for visitors to recognize the pride and love he has for our country."
The other local ceremony for Purple Heart recipients is set for 1 p.m. Friday at the Purple Heart Memorial. Higgins will be presenting the medal to several individuals who either never received it, lost it or from whom it was stolen.
As for Dennis Kulczyk, who served as an Army specialist in Vietnam, he and the 49 other Purple Heart recipients from around the country will receive tours of the U.S. Military Academy at West Point. That's in addition to the program at the National Purple Heart Hall of Fame in New Windsor.
Get local news delivered to your inbox!
Subscribe to our Daily Headlines newsletter.