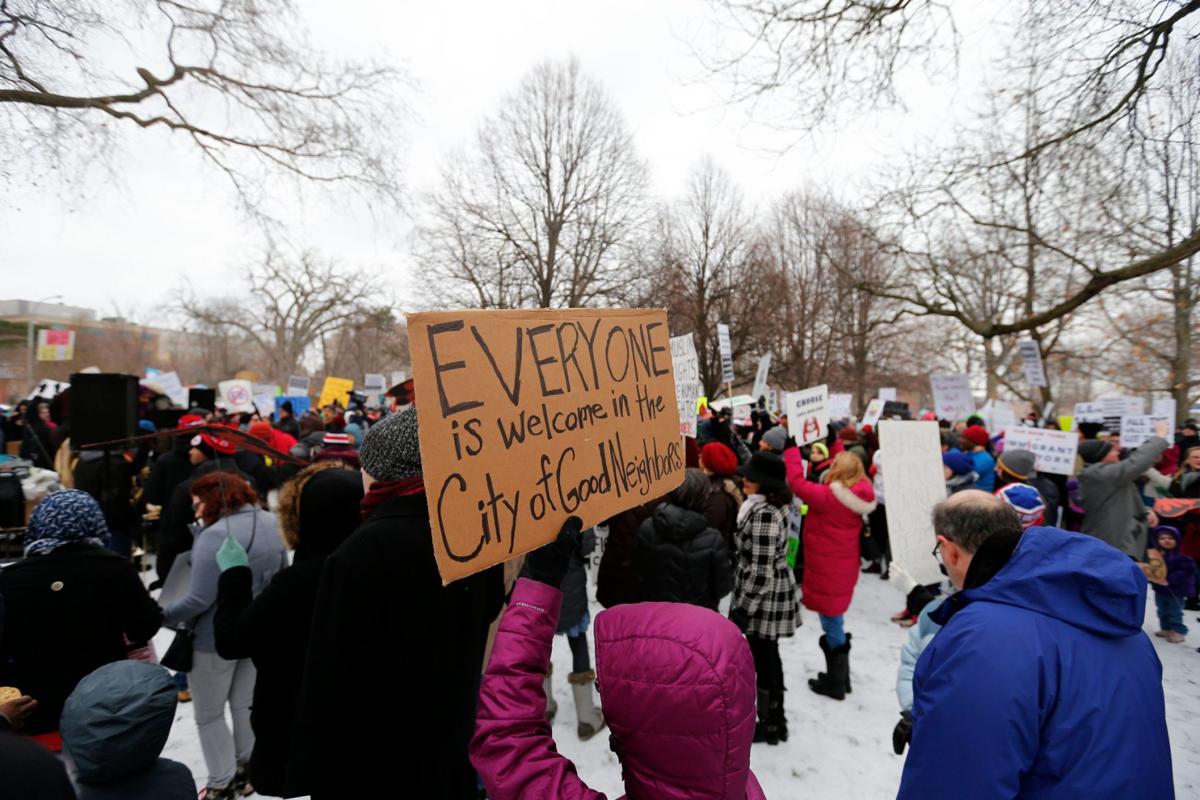 Saladi Shebule wants refugees and immigrants to the United States to have the same opportunity he did.
But the community activist and mentor in the area's Somali community who came to the U.S. in 2004 is concerned about recent changes to federal immigration policy, mainly a ban on travel from seven countries – including Somalia – and limits on accepting refugees.
"This is not the direction the country should be taking," he said. "When I came here as a young boy not knowing any English I persevered. That's the country I want us to think about on a daily basis."
Shebule was among the speakers Sunday at a rally of thousands in a frigid Columbus Park on the city's West Side, sponsored by a wide array of community and religious organizations who oppose President Donald Trump's executive order on immigration.
"We're standing up for immigrants' rights," said Meghan Maloney De Zaldivar, senior associate for regional outreach for the New York Immigration Coalition, and one of the event's organizers. "Immigrants' rights doesn't mean just refugees or just undocumented people. We are all under attack and we are all being dehumanized by this administration."
The fast-moving legal fight over Trump's targeted travel ban reached the 9th U.S. Circuit Court of Appeals, in San Francisco, late Saturday.
Lawyers for the federal government asked the appeals court to stay a temporary restraining order issued Friday by Judge James Robart of the U.S. District Court in Seattle.
Acting on a request from two states, Washington and Minnesota, Robart temporarily banned the administration from enforcing two parts of Trump's order: its 90-day suspension of entry into the United States of people from Iran, Iraq, Libya, Somalia, Sudan, Syria and Yemen, and its limits on accepting refugees, including "any action that prioritizes the refugee claims of certain religious minorities."
In its brief, the administration said that Robart had "improperly second-guessed the president's national security determinations." The brief said the president had vast power over immigration under the Constitution and federal law.
The court declined to issue an immediate administrative stay, but it said it would consider the federal government's emergency motion for a stay after receiving more briefs. The court set a very fast briefing schedule, asking the states to respond by midnight Sunday Pacific time, with the federal government to file a second brief by 3 p.m. on Monday.
The case is expected to reach the Supreme Court. The losing side will very likely ask the justices to review the appeals court's ruling on the emergency stay. The ultimate decision on whether the executive order is lawful will not come quickly. That means people seeking to travel or settle here may be whipsawed until the case is finally resolved.
That prospect upset Gretchen Schwarzmueller, a Buffalo native who teaches English as a second language to students in Livingston County, where she drove from Sunday for the rally.
She hoisted a sign reading "Our homeland is your homeland" written in Arabic above "Love is greater than fear" in English. On the reverse was "Refugee does not equal terrorist" in English and "We support you" in Arabic.
"I knew people here would understand it," she said of her sign. "I've gotten nods from people, and smiles and 'thank-yous' from people."
Schwarzmueller worked with refugees in Buffalo as a student teacher while completing her degree from Niagara University.
"When I think refugee, I see the little children I was teaching in school and how eager they were to learn and get an education," she said. "It's just not fair to deny them the same things we give to our children when they have nothing."
Elsewhere there were chants of "No ban, no wall," which was the rally's theme and a reference to Trump's promise to build a wall along the U.S.-Mexico border. Buffalo police, who were a noticeable presence on the rally's perimeter, estimated the crowd at 2,000 people.
They heard in Spanish through an interpreter from Antonio Ramos, an undocumented worker from Mexico who was one of 25 people swept up in October in a federal raid on four local Mexican restaurants.
"I came here to work," said Ramos, 29. "The situation in Mexico is very difficult. In my whole life I've always been a family man dedicated to my family."
He is hopeful he'll be allowed to stay here and asked the crowd to unite its voice "because the U.S. needs us."
One of the rally's goals was to demonstrate that the future of Buffalo's culture and economy depends partly on its immigrant communities, said Maloney De Zaldivar.
"I think we came out and showed that," she said, "but we also have a lot more work to do."
The New York Times contributed to this report.