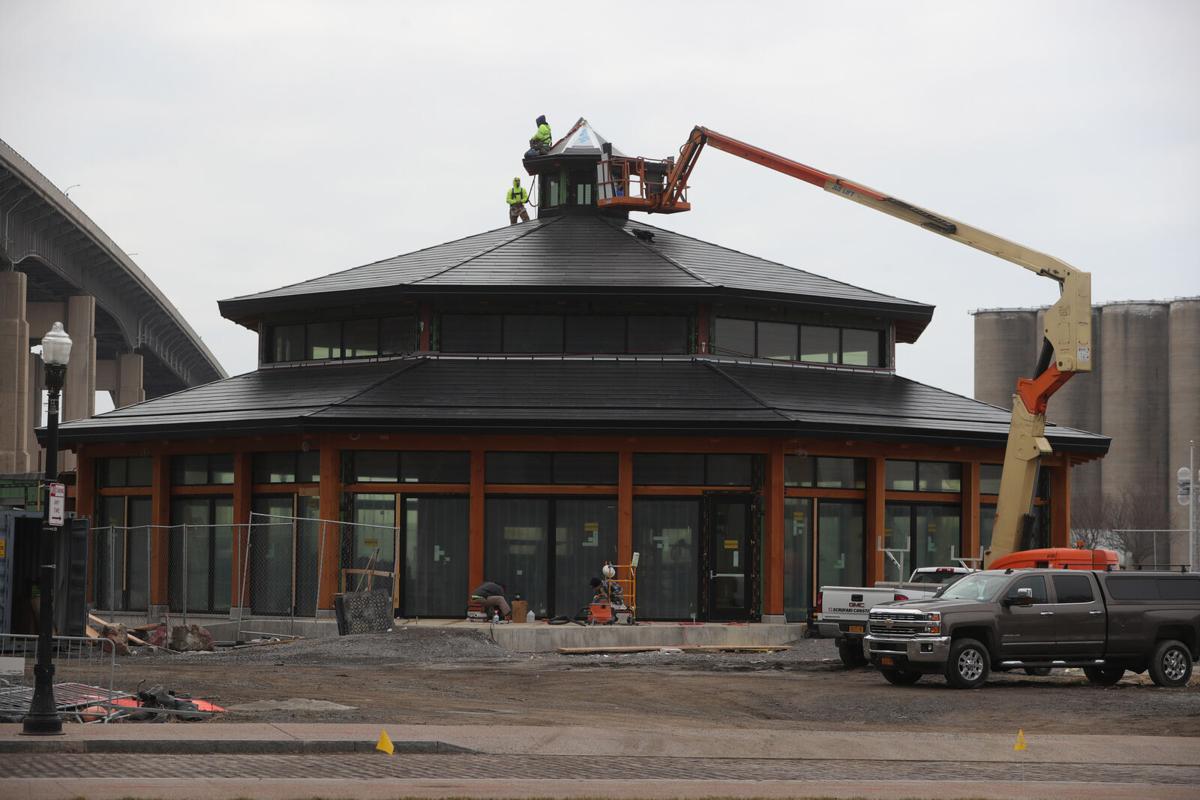 More than $1.2 million in grants have been awarded to pay for work at Prospect Park, the waterfront carousel and a shoreline trail among other initiatives. 
The largest of the six awards announced by the Buffalo and Erie County Greenway Standing Committee went to the Buffalo Olmsted Parks Conservancy, which received $500,000 to reconstruct pathways and replace benches in both halves of Prospect Park on Buffalo's West Side.
"The paths are crumbling and uneven, with a lot of older trees and roots that have impacted the quality of the sidewalks," said Stephanie Crockatt, president and CEO of the Buffalo Olmsted Parks Conservancy. "So we'll do a reconstruction of all the pathways so they're nice and even and good for people walking." 
• $315,000 to Erie County for phase two of its Shoreline Trail Enhancement Project. 
• $264,820 to Buffalo Heritage Carousel, with $167,000 for restoration and the remainder for a water meter and other utility costs.
• $80,000 to Buffalo & Erie County Naval and Military Park, with $35,000 toward the repair of the USS The Sullivans and $45,000 for design and architectural costs to redesign the entrance with walkway and bus stop improvements.
• $61,000 to Buffalo Scholastic Rowing Association for rowing on the Buffalo River for people with disabilities.
• $31,400 to Sail-Buffalo Sailing School for capital improvements.
"The Greenway grant is a tremendous boost to the Buffalo Heritage Carousel and so greatly appreciated as we strive to close our funding gap and look forward to opening Memorial Day weekend," said Laurie Hauer-LaDuca, the carousel group's president.
With the award, Buffalo Heritage Carousel now has $465,203 remaining to raise for the cost of the restoration and new roundhouse, she said.
Paul Marzello, president and CEO of the naval park, said the Greenway Stand Committee's support for the USS The Sullivans and improvements to the facility will be put to good use.
"We want to create some sort of bus drop-off so we can handle tourists better and more easily, whether school or commercial bus tours that can just swing in, drop people off and go find a nearby parking spot," Marzello said.
He said there are plans for better wayfinding signage and lighting to help the entrance to the naval park.
The Buffalo and Erie County Greenway Standing Committee allots $2 million each year for beautification and improvement projects along the Buffalo and Erie County portion of the greenway.