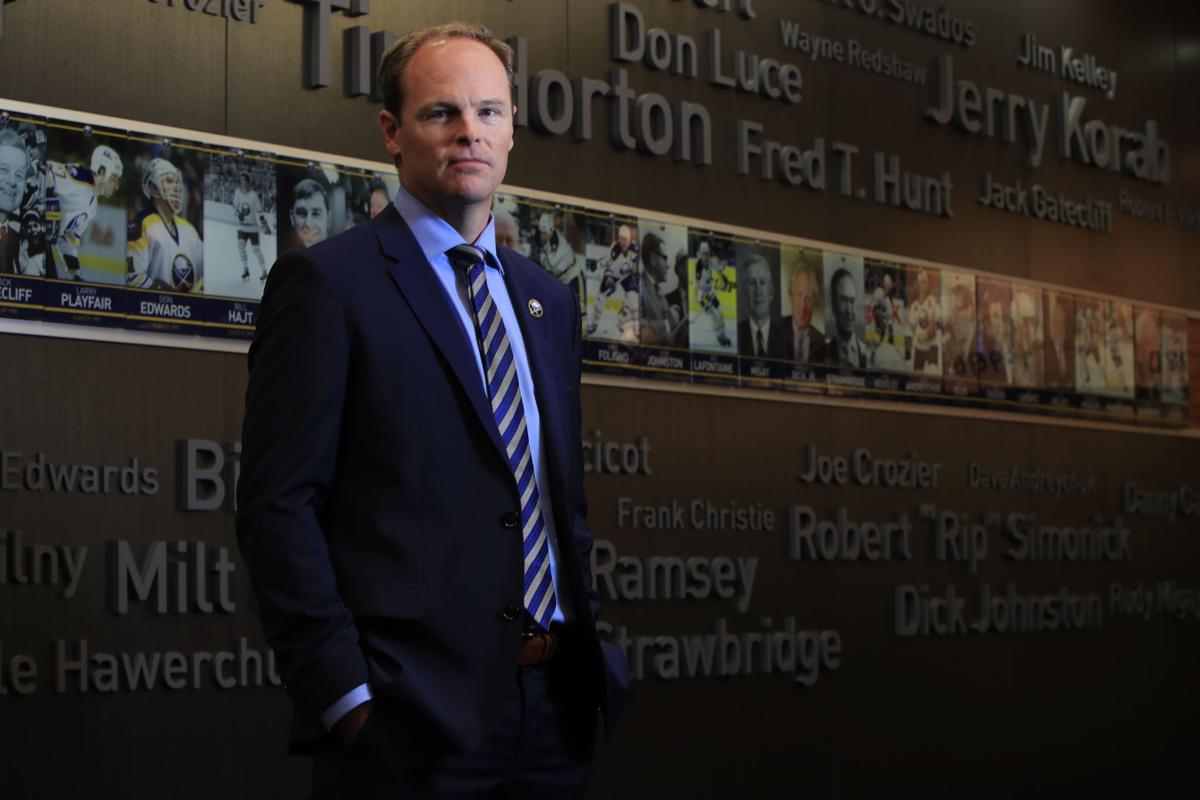 The doors to LECOM Harborcenter had been open to the public for one week when Terry and Kim Pegula hosted a VIP grand opening celebration at the state-of-the-art facility on Nov. 6, 2014.
This was the Pegulas' final toast to a $200 million project that revitalized Buffalo's Canalside and, among its many uses, would serve as the training ground for hockey players of all ages, including the Sabres.
After receiving a key to the city from Mayor Byron Brown, Terry Pegula stepped to the podium at center ice and, amid his opening remarks, acknowledged the employees who worked behind the scenes to turn his vision into a reality.
While scanning the crowd inside the 1,800-seat rink, Pegula singled out Kevyn Adams, who joined the project's management team in October 2013 after he was fired as an assistant coach with the Sabres.
"I remember singling him out in the stands and saying, 'Hey, keep working hard and we can all accomplish more,' " recalled Pegula.
Across the next six years, Adams implemented on-ice development programs as director of the facility's Academy of Hockey, ascended to general manager of the complex in January 2019 and parlayed that experience into a role as the Sabres' Vice President of Business Administration.
Adams, a 45-year-old Clarence native, was then hand-picked by the Pegulas to replace Jason Botterill as general manager of the Sabres, whose nine-season playoff drought is the longest in franchise history and the worst mark in the National Hockey League.
Adams had no experience as a high-ranking member of an NHL hockey operations department. He had never negotiated a free-agent contract or trade.
While Adams did not take the traditional route to overseeing one of the NHL's 31 teams, his appointment was the culmination of a plan that began long before he ever met the Pegulas.
"Not to get too sentimental, but this is a dream job," Adams said. "Not just because it's a general manager job in the National Hockey League. But because it's the Buffalo Sabres' general manager job. This is extremely special to me."
New challenge
Adams sensed the end was near. He was in his 10th season in the NHL – a journey that began with his selection 25th overall by the Boston Bruins in the 1993 entry draft – and he was on the wrong side of 30.
He had the skill, tenacity and wisdom to contribute as a role player, though. The Chicago Blackhawks thought so highly of his leadership that they acquired him in August 2007 to mentor a young roster that included Patrick Kane, Jonathan Toews and Patrick Sharp, core players who would later win three Stanley Cups in Chicago.
The NHL was getting younger and Adams wanted to plan a post-playing career. He had always been intrigued by the management side of the NHL, specifically the process of scouting and developing players into productive NHLers, but he wasn't sure how to separate himself other candidates.
Adams sought advice from people around the NHL, including his friends and former college teammates, Matthew Oates and Eustace King, who founded 02K Sports Management, an agency that represents NHL players.
Those conversations and research led Adams to an online graduate program through the University of Phoenix and he mapped out a plan to earn a Master's of Business Administration.
"I wanted to learn more on the business side and put myself in a position that may differentiate me from others," Adams recalled. "I remember late in my career thinking this was something I really needed and wanted to do. I felt like it was a challenge. … When I started it, I felt like, 'OK, this is a lot of work and I'll find times to do it.' "
In January 2009, only three months after the Blackhawks released him, Adams announced his retirement. He scored 59 goals across 540 regular-season games and his 67 playoff games included a Stanley Cup victory with the Hurricanes in 2006.
He joined the agency as a development coach and scout. The position allowed him to work closely with young prospects, including former Sabres first-round pick Tyler Ennis, and he scouted amateur games for potential clients. His evaluation resulted in 02K representing winger Brandon Bollig, who won a Stanley Cup with Chicago during a five-year NHL career. 
Adams called the role a "natural progression." He spent the latter portion of his career spending time with young players away from the rink. Former Hurricanes Eric Staal, Andrew Laad and Cam Ward ate many dinners at Adams' home. The Blackhawks had Adams room with Kane during the latter's first NHL training camp in Chicago. Later, Kane and Sharp spent Christmas Eve night and Christmas morning with the Adams family.
"Kevyn has always figured out a way to adapt," Oates said. "He figured out a way to adapt to our business. He figured out a way to adapt to the Pegulas' businesses. … He's coming into something that's new. Everything is challenging, but he's always found a way. That's what he's going to need and that's one of the reasons he's been successful, whether that's in a role in hockey or not."
Mentorship
Adams was 17 years old when he arrived at Miami University (Ohio) in 1992. Most of his teammates were no longer teenagers – one was 23 – and the college game was far more physical than his time playing junior hockey for the Niagara Scenics.
Yet, Adams quickly carved out a role with the RedHawks and scored 69 goals over four seasons before he was drafted by the Bruins. Again, Adams was forced to adapt his game.
He evolved from a goal scorer in college to a relentless role player who killed penalties, blocked shots, scored timely goals and imparted wisdom and inspirational words on teammates, including Rod Brind'Amour, who credits Adams for motivating him during the 2004-05 lockout.
Brind'Amour and Adams, the team's captain and assistant captain, respectively, led the Hurricanes to the franchise's first Stanley Cup the following season. Adams played 162 consecutive games from 2004 to 2006 and 25 games during those playoffs that ended with a Cup victory. He played 12 minutes, 30 seconds in Game 7 against the Edmonton Oilers, despite breaking his wrist by blocking a Chris Pronger shot during his second shift.
"He sacrificed a lot for our group, and he did whatever he could for us to win," Brind'Amour, now coach of the Hurricanes, said during a recent phone interview. "The perfect example is him breaking his wrist while blocking a shot. He would do that over and over again if he had to. All the hard work he put in when no one was watching. … What you see is what you get: an honest, hard-working person. When you have those qualities, you're going to go far.
"If everybody in the organization embodies what he's about, the Buffalo Sabres are going to be happy in the near future."
Ennis, now 30, was 16 years old when he watched his hometown Edmonton Oilers lose to Adams and the Hurricanes in the 2006 Cup final. The memories of that series were still fresh in Ennis' mind when the two met at the IIHF World Junior Championships in January 2009.
They shared a connection to Buffalo – Adams returned to Western New York following his playing career – and the retired NHLer was dispatched by Oates to check in on the agency's client. Several months later, Adams was hired by the Sabres as a development coach.
The position required him to work with a group of prospects that included Ennis, Drew Stafford, Nathan Gerbe, Marcus Foligno and Zack Kassian.
Ennis stayed with Adams' family when he arrived in Buffalo and the two developed a mentor-mentee relationship. There were long on-ice sessions in which Adams instructed Ennis on how to play center in the NHL and detailed conversations in which the two talked about life away from the rink.
The long road to the NHL – including parts of three seasons in the American Hockey League – provided Adams with experiences he could share with Ennis, who was drafted 26th overall in 2008. Adams even recommended a financial advisor for Ennis.
Progress by the Sabres' prospects – most notably Ennis' 20 goals in his first full NHL season – led to Adams' appointment as an assistant coach under Lindy Ruff for the 2011-12 season.
"It was really a best-case scenario for me when he got the assistant coach job," Ennis said during a recent phone interview. "That made the transition that much easier. I felt I had someone to talk to. He helped me so much with advice. He helped me so much with my game when I played center for the first time. He was helping me figure out the position. Everything when it came to (navigating) my life as an NHLer. He was a huge role model for me and a huge help in growing my NHL career and developing it."
Across two seasons as an assistant coach, Adams worked closely with a wave of young forwards who were expected to restore the Sabres to prominence in the Eastern Conference. However, the team missed the playoffs in 2012 and Ruff was fired after a 6-10-1 start to the lockout-shortened 2012-13 season.
Ron Rolston took over as coach and, following the season, fired the holdover assistants, including Adams.
Adams was suddenly faced with an uncertain future. Even early mornings and weekends weren't enough for him to complete the graduate degree during his four years coaching with the Sabres.
With an unusual amount of free time on his hands, Adams shifted his focus to schoolwork and earned his MBA in 2014.
"It made me take a step back and really, truly reflect about where I was, where did I ultimately see my future and the best way to go down that road," Adams said. "It was definitely a time for reflection."
'Worked for everything'
Without a job but certain of his goal, Adams started calling friends, former colleagues and acquaintances around the NHL.
Adams already acquired knowledge in scouting, player development and coaching. He received an offer from at least one NHL team to join their staff in some capacity. However, he wanted more experience on the business side.
His conversations led him on a short walk to LECOM Harborcenter. The facility was under construction and would not open for more than a year, but Adams was intrigued by the Pegulas' vision for a facility that could become one of the main hockey hubs in North America.
Adams was hired as vice president and director at the Academy of Hockey, which is marketed as "the premier development destination for hockey players and coaches by providing the dedicated hockey player that structured and specific program that encourages and motivates the individual to reach their highest playing potential."
"Kevyn's always been the kind of guy that's a deep thinker," Terry Pegula said. "He was aggressive in wanting to learn. At the time, I believe he had – I'm not going to mention the team – opportunities elsewhere. I told him there's always something good in something bad. … I think that's something he's taken on and pursued. Hockey is his passion. It's showing with the job he's earned recently."
This was an opportunity for Adams to build on-ice development programs for players of all ages and levels. He acquired extensive knowledge on how to lead a staff and build a business that would eventually host major hockey events, including the NHL scouting combine and the IIHF World Junior Championships.
Adams hired a staff of former NHLers, including Matt Ellis, and his individualized approach to development was sought by college and professional players from the area.
Adams also helped expand the Buffalo Jr. Sabres program, which has players drafted annually by junior hockey leagues in North America. He was promoted to general manager of LECOM Harborcenter in January 2019.
"The way Kevyn evolved his skill set and checking a lot of boxes, getting a crash course in what hockey and business had to offer – he was always about forward momentum, trying to be better, trying to educate himself and trying to add layers," said Ellis, now the Academy of Hockey's director. "It was inspiring for me. … From my perspective, watching and learning from Kevyn created a lot of the foundation for me (after playing hockey). It's hard to argue that he hasn't worked for everything."
Adams' positive approach to leadership and reputation as a clear communicator impressed the Pegulas. His diligence and adaptability earned their trust. During some Sabres games in recent years, Terry Pegula, an avid fan of the team before he purchased it in February 2011, would ask Adams about scouting and player development.
The passion in which Adams spoke resonated with Pegula. Adams detailed the process of tailoring his coaching to fit the needs of a team, different tools for on-ice development and on-ice traits that separate elite players from average.
The conversations captivated Pegula, who has long been interested in what makes an athlete great.
Trust, and Adams' performance at LECOM Harborcenter, resulted in his promotion in September to the Sabres' vice president of business administration. Adams oversaw day-to-day operations of the team outside of hockey operations and became as a conduit between the Pegulas and the fans.
When fan unrest built during the season, Adams spoke to The Buffalo News about the organization's plan to correct past mistakes. When a group of fans protested outside KeyBank Center in February, Adams went outside to greet them. And Adams was consulted when the Pegulas experienced what they described as a "disconnect" between them and Botterill.
With the Sabres facing a long offseason, the Pegulas appointed Adams as general manager without interviewing other candidates. During a Zoom conference call, Kim Pegula said: "With Kevyn, it's been a long process. Yes, not in the GM role, but certainly as a person. And I think this is why we think this is a little bit different. This is a change from maybe how we normally or a lot of other clubs normally hire GMs. This was somebody that has been part of our organizations in multiple roles and that we've come to know and respect."
"My whole life I've tended to – if you know someone for a period of time and you believe they're qualified for a job or a position, then why would you go out and look for someone else?," Terry Pegula said. "We knew Kevyn. Instead of bringing someone in that may not want to operate the same way that we think it should be operated, we knew Kevyn believed in our vision."
Challenges ahead
Upon taking ownership of the Sabres, Terry Pegula declared the team's hockey operations department would no longer be shackled by the sort of financial restrictions that forced amateur scouts to rely on video to evaluate prospects in Europe under former owner Tom Golisano.
Technology has changed Pegula's vision, though. He now rejects the notion that a "leaner" hockey operations department is non-traditional and cited how organizations across the business world, including sports, have downsized some operations in favor of efficient methods such as video or analytics.
Adams' first significant task was restructuring the Sabres' scouting department, beginning with the promotion of Jeremiah Crowe, formerly a pro scout, to director of scouting, and Jason Nightingale, director of analytics, added the title assistant director of scouting. The team currently employs four amateur scouts and one pro scout.
"It's refreshing to see these guys accept the challenge," Pegula said following a series of meetings with Adams' staff last week.
Adams has yet to hire assistant general managers, positions that could be an invaluable resource in negotiating trades and building the Sabres' top minor-league affiliate, the Rochester Americans. He described a collaborative approach in which he uses his staff as a resources while completing tasks such as negotiating contracts or trades.
"The way I'm going to approach this is I know I have a lot to learn," said Adams. "I'm going to ask questions, I'm going to surround myself with great people and I'm going to learn. I'm going to work as hard as I can to get this team to where we all want it to get to as fast it can. Absolutely everything in the past has helped prepare me for today."
Adams never played in Buffalo during his career, and his road to winning the Stanley Cup required him to break the hearts of Sabres fans during the Eastern Conference finals in 2006. His passion for the franchise dates to his childhood when he and his father, Ken, sat in the oranges at Memorial Auditorium and, as a teenager, Adams bought resold tickets to attend games.
Adams wore No. 11 during youth hockey as an ode to Gilbert Perreault and is already talking about bringing the Stanley Cup to Buffalo.
"There's going to be a learning curve in any job," Oates said. "I think the challenge is this is just new. Kevyn is organized. He'll lay things out, he'll come up with a game plan and he'll create a culture where they have a chance to win like he did."