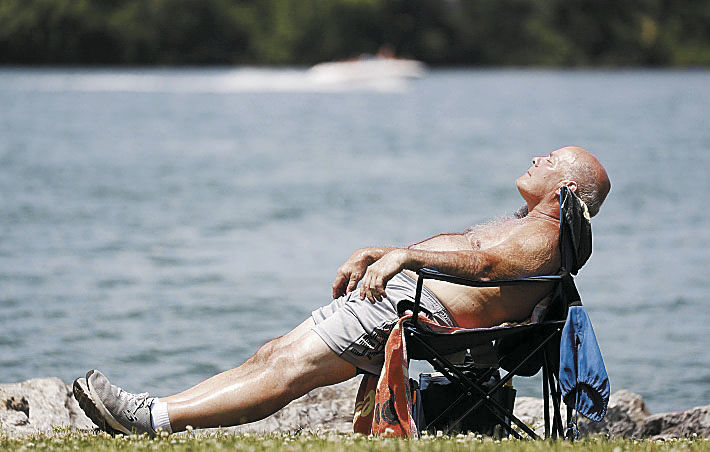 1988 had dial-up internet and floppy discs, Super Mario Bros 2 and, until this week, the longest stretch of 90-degree days in Buffalo.
This summer of 2020 is rivaling 1988, one of the hottest in Buffalo weather history.
Consider: At 11 a.m. Friday, the temperature hit 90 degrees, marking the eighth straight day of temperatures of 90 or above. That is the longest stretch of 90-plus temperatures for Buffalo, according to the National Weather Service.
The previous record of seven straight days was in July 1988 and concluded exactly 32 years ago Friday.
Friday also set the record high for the day, 97 degrees, surpassing the old record of 95, also set in 1988.
1988 had the second most 90 degree and above days on record, with 18. The hottest was 1955, when there were 20 days. We've already reached the 90s on 10 days this year at the National Weather Service office in Cheektowaga, and more days are on the way.
While the heat has been oppressive, it was particularly hard on about 11,000 National Grid customers in North Buffalo, mainly along Hertel Avenue, east of Elmwood Avenue, who were without power Friday. Crews were locating and repairing underground cables that caused the outage. Crews restored power to 3,000 by the afternoon and were working to turn on the electricity for the rest.  
There will be a bit of an improvement in the heat Saturday and Sunday, with highs reaching the low 80s, according to National Weather Service meteorologist Steve Welch. But, he warned, "It's not going to be a huge cool down." 
We could get half an inch or a little more of rain Saturday, and temperatures will dip into the 70s on Monday, and back to the low 80s Tuesday before the next wave of steamy weather.
"Definitely relief the next few days, which will be needed before the mid to late part of next week," Welch said.
The next stretch might not be as long as eight days, but forecasters say that the next heat wave might be even hotter than this week's.