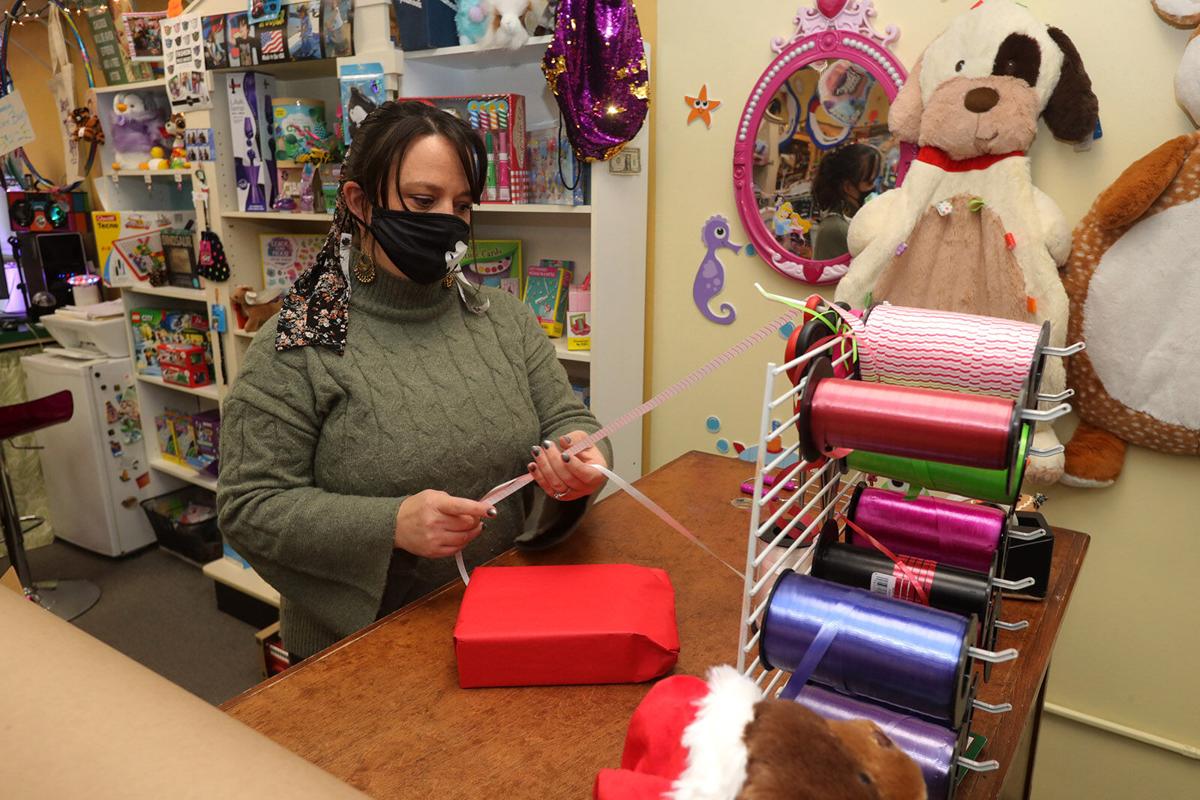 Laura Scalfani is scared.
Like most small retailers, her Williamsville shop, Carousel, makes its most sales during the holiday season. But, heading into Black Friday weekend and watching Covid-19 cases rise, she knows the state may tell customers they are not allowed inside her store.
She rode out a nearly three-month shutdown during the first round of the state's non-essential business closures. She endured the impact of the Covid-19 recession once she finally got her doors open. And, after such tough times, she was counting on these few remaining weeks of the year to make up as much business as possible.
Now, there's a very real chance that might not happen.
Carousel is facing restrictions as the thick of the holiday shopping season approaches. Gov. Andrew M. Cuomo has warned that the region is on its way to "turning red," the most restrictive of the state's three color-coded designations of Covid-19 microclusters. If it does, non-essential businesses would again have to stay closed except for curbside pickup and delivery for at least 14 days.
With no inkling how long the closure might last, many business owners say they won't make it through a second round of suffering.
Buffalo, Lackawanna, City of Tonawanda, Town of Tonawanda, Grand Island, Amherst, Clarence, Cheektowaga, Lancaster, West Seneca, Elma, Hamburg, Orchard Park, Aurora, Evans and Eden have been deemed "orange zones," one step below red. The rest of Erie County is now in the "yellow zone." North Tonawanda and Wheatfield south of Niagara Falls Boulevard in Niagara County are also now in yellow.
A decision on whether those designations will change could come as soon as Wednesday.
If the the caseload continues to rise as expected after Thanksgiving gatherings, no one knows how long a closure might last. But, if it ends up closing mom and pop stores during their most important time of year, Scalfani has no doubt what would happen: "It would be financially devastating."
"I can't even fathom right now what I would do," she said.
The county expects to start distributing funds from the "Back to Business" program next week, said County Executive Mark Poloncarz.
During the last shutdown, she adapted as well as she could. She expanded her marketing to drum up business, made free local deliveries and had strong support from regular customers.
Still, she lost thousands of dollars.
"My store is the type of store you really have to experience. You have to come in and smell the candle burning, you have to see and feel," Scalfani said. "You can't get that experience online."
She understands that the pandemic is serious, but believes her store is safer than the national big box chains such as Walmart and Target, which can hold thousands of people at once. She usually has a maximum of six people in the store at a time, and they are scattered upstairs and downstairs over 2,000 square feet and separate rooms in what is a converted former house. She said she goes above and beyond the required Covid-19 measures
So now, instead of enjoying what is usually her happiest time of year, she is "nervous and stressed" every minute of every day, she said.
"It's like you wake up thinking 'What's going to happen next?' and go to sleep worrying about it," she said. "It's never ending."
We can all use some Christmas magic right now, and that kind of magic cannot be found in crowded, endless aisles of China-sourced, mass-produced plastic.
Crystal Newman, owner of Bloomsbury Lane Toy Shoppe in Lancaster, is hoping for the best but preparing for the worst.
"I'm trying to stay positive," she said. "I'm nervous."
On the bright side, customers have been extra supportive. They shopped Bloomsbury for curbside pickup during the first shutdown, even when they didn't need anything.
They also have begun their shopping earlier this year, which has given her shop and others a boost.
"It feels like people are a little nervous, so they're getting out while they know they have the chance," Newman said.
But the hits kept coming all year. 
The state's first shutdown happened during Easter, the store's second busiest season. She estimates she lost $5,000 in sales that week alone. Construction closed the street in front of her shop to traffic since July. And Covid-19 restrictions canceled Lancaster's annual fire truck parade, which can draw 40,000 people and usually makes for Bloomsbury's busiest day of the year. 
Newman wants everyone to be safe and healthy, and understands the need for restrictions. But it has been a rough year. If Lancaster goes red – especially if it lasts longer than two weeks – the year will get much tougher.
More than 94,000 Western New Yorkers have contracted Covid-19 since last March, and more tha…
She's counting on community support and new selling methods she perfected during the first shutdown to see her through. She has put her cell phone number on the toy store's Facebook page and website so that customers can call her for help any time. She walks shoppers through the store on Facetime or Zoom to help them shop, then takes Paypal, a credit card or Venmo for payment over the phone. She has upped her social media game, has an email newsletter and uses a mass texting program. She hosts virtual events so organizations or groups of friends can shop together on Zoom.
Still, she has slightly reduced inventory, "just in case," so the shop "won't have as many bills hanging over our head," she said, especially heading into the notoriously slow retail months during the early part of the new year.
"December is a great month, but you do it so that it carries you through January and February," she said. "So that's when you get scared."