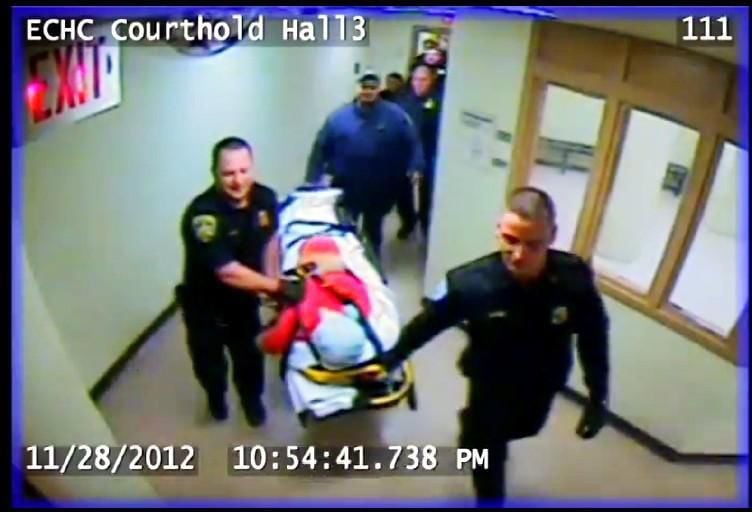 Two female inmates in recent months have made serious allegations against Robert Dee, an Erie County Holding Center sergeant who once married a woman he met behind bars.
Both of the inmates told Sheriff Timothy B. Howard's internal investigators that Dee made sexual advances as he monitored inmate cleaning crews, according to documents obtained by The Buffalo News.
One woman said she saw Dee kissing and fondling one of her acquaintances. Weeks later, the other told them she and the sergeant would flirt, have adult conversations and sexual contact in private moments.
Dee denied to investigators ever touching any female inmate inappropriately.
Both cases were closed in September as "unfounded" because of a lack of evidence. Dee's forced leave, with pay, then ended, and he returned to the job that in 2019 paid him more than $100,000.
Commanders, however, are to avoid assigning him to women's units, a top jail official said.
Federal and state laws treat sexual contact between a corrections officer and an inmate as a crime. The state penal law notes that because of the power imbalance, inmates in New York's jails and prisons are incapable of consenting to sex with guards.
"There is never consent under those circumstances," said Janine Kava, a spokeswoman for the state Commission of Correction, which regulates local jails and, she said, gives heightened scrutiny to sex offenses. Jails have 24 hours to file a report with the agency after finding out about sexual contact or beginning an investigation.
Howard's team did not report the Dee-related matters to the commission, neither upon hearing the allegations or completing the investigations. Said Jail Management Superintendent Thomas Diina: "We simply made an error in not reporting it. I am taking appropriate action to reduce the risk of this same mistake occurring again."
In 2017, the commission warned the sheriff to report serious incidents or face legal action. The commission has since received documents about the Dee investigations from Erie County – after The News asked about the matter – and is determining its next steps, Kava said.
Sheriff's deputies are usually blocked from talking to the news media without permission, but Diina said he would let the sergeant comment for this article. Dee, however, did not respond to The News' attempts to reach him by phone, text and email. The union that represents him and other Holding Center deputies, Teamsters Local 264, also did not respond to a request for comment on his behalf.
In an interview with the internal investigators, Dee defended himself by saying he is always professional in dealing with inmates, and he follows jail policies and procedures when picking female workers, or "trusties."
Dee once married a former inmate he met while on the job. Her mother, his former mother-in-law, says he's an attentive father from a good-hearted family.
"I think he's a good dad," said Sandra Gandy.
She is the mother of Jennifer Chudzinski, who met Dee more than 15 years ago while she did time behind bars. The two married and had three children, Gandy said, before splitting in 2012. When Jennifer Chudzinski died from an overdose in 2019, Dee and his parents were a source of support for her survivors, her mother said.
Dee has been named as a defendant in four inmate lawsuits alleging mistreatment. The most publicized of the four stems from the 2012 homicide of Richard A. Metcalf Jr. While the Erie County medical examiner at the time said Metcalf died of heart failure brought on by stress, the Commission of Correction's Medical Review Board said he died because deputies tied the strings of a spit mask tightly around his neck, asphyxiating him.
According to the investigators' timeline, Metcalf is either struggling for breath or in full cardiac arrest as Dee, recorded on video, pulls Metcalf's gurney to a waiting ambulance. The medics later said in sworn testimony that jail deputies barred them from examining the patient until he reached their vehicle. By then it was too late to save him.
Metcalf's body displayed an array of bruises, and the commission wanted the sheriff to discipline Dee for failing to supervise a proper use of force. Howard refused to do so.
Because Dee's new wife, Sara Dee, worked for District Attorney John J. Flynn as an assistant, the decision on whether to place criminal charges went to a prosecutor in a neighboring county. No criminal charges were filed in Metcalf's death.
Robert and Sara Dee are now in the middle of divorce proceedings. She stated in legal papers that she's the victim of domestic violence. Meanwhile, pages from her private journal were placed on a Dee family Facebook page, and the compromising information cost her her job. Robert Dee's father, James, has been charged with criminal contempt and disobeying a court order in the matter. He has pleaded not guilty.
On June 24 of this year, a female inmate told jail deputies she had seen Dee kissing one of her acquaintances, and his hands were on the woman's breasts, according to a summary of the investigation. But the summary also showed the acquaintance denied any involvement with the sergeant.
The News obtained the summary through the Freedom of Information Law. The sheriff's staff blacked out inmate names before providing it. 
Dee's accuser said she witnessed the kissing in April but told the staff about it in June, after deputies asked her to explain why she and the acquaintance were fighting. They fought, the accuser told them, because she had confronted the sergeant over what he was doing, and while he denied it, her fellow inmate's work assignments dried up, the report said.
Other inmates in the housing unit told deputies that the woman said to have kissed Dee would expose herself to him and talk about how they would kiss, the report said.
The sheriff's internal Office of Professional Standards found she had been among those Dee took to clean elevators and hallways four times from April 14-21. Interviewed again after her release from jail, the accuser insisted she had seen the two kiss, and added that the woman had admitted performing a sexual act on Dee, the internal report says.
But the inquiry ground to a halt when the woman who reportedly kissed Dee said it never happened.
"I swear that I never had sex with anyone, absolutely nothing,'' she told them in a written statement. "I can only say that the sergeant used to pass by very often at the beginning, when I got to my cell #5 and that is why rumors of the inmates started."
On July 21, Deputy Denise York of the Professional Standards staff completed a report calling the allegations unfounded.
Weeks later, on Aug. 18, a Holding Center chief sat down with another inmate accusing Dee of sexual misconduct. Another internal investigation began.
The inmate said she and Dee would kiss and do other things during a prior period of confinement – October and November of 2019.
According to a summary of the investigation, again with inmate names blacked out, the woman said she regretted going along with Dee's advances; she felt taken advantage of because she was at a vulnerable time in her life; she didn't want other women to go through what she experienced; and she feared seeing Dee while behind bars again.
She told internal investigators that the contact in 2019 started with Dee asking her if she had a bra, and that she would need one in order to work, according to their report. In time, Dee was asking if her breasts were real or fake and if he could feel them, the report continued.
While the two never had intercourse, she told them "she would be bent over trying to clean up something on the floor and he would come up behind her, grab her hips" and simulate intercourse, the report said.
One day, when he took her to do some work preparing for a painting job, she invited him to touch her in a private place, and he did, according to the internal report. She stated she then undid his belt, but he stopped her, saying they would have to wait until she was "on the outside" to go further, the report said. They never did see one another after her release, she said for the report.
Inmates are paid for their work, and one day she found more money than she expected in her account, she told the Professional Standards team. Dee, she said, told her the extra money was for the ''you and me stuff," and she shouldn't mention it to other inmates, according to the report.
Deputy York found the inmate received "an unusual amount" of pay one week – $34 – and records showed Dee authorized it. But logs for the women's unit did not show Dee signing her out for work details, as the inmate asserted. The jail's surveillance tapes only went back six months, so no video evidence was available from October and November 2019. While the inmate said Dee touched her between her legs on a day when she was preparing for a painting job, York's report noted that a male inmate did the painting. York mentioned no effort to contact inmates who had been housed with the woman.
Dee insisted to the Professional Standards team he had never touched a female inmate in an inappropriate manner, and all he ever did was make sure their basic needs were met. He went on to say he would help trusties receive their pay if they did the work and something held up the money, according to the summary.
Dee made those statements on Sept. 10. Later that day, York summed up her report for Undersheriff John W. Greenan: "There is a lack of evidence to corroborate the allegations."
Dee returned to work Sept. 14 – with a restriction.
"Facility watch commanders have been instructed," Diina explained, "to avoid assigning Sgt. Dee to any areas where female inmates are housed whenever possible."