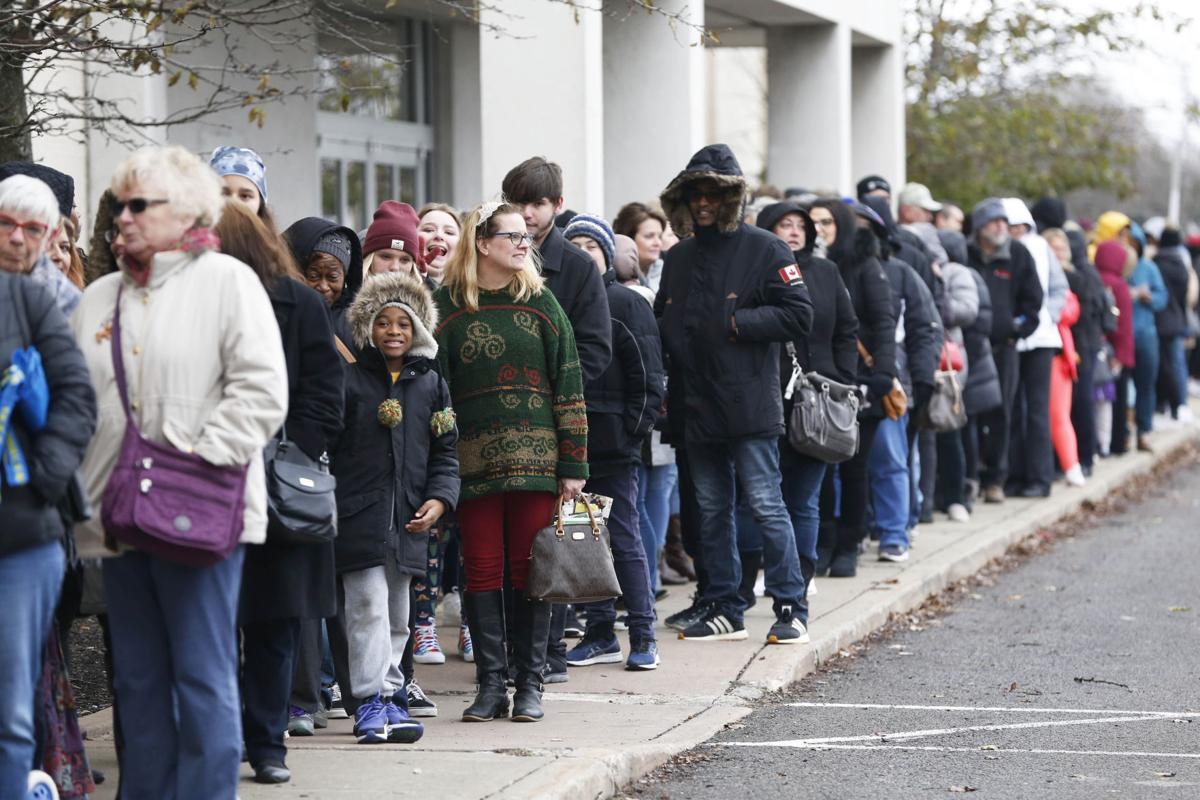 Every Black Friday for 17 years, Kim Johnson and her sisters have joined the crush of shoppers who wake up in the wee hours of the night to hit the stores and stand in long lines for cut-rate prices.
It started out as a budget-friendly way to buy the Barbies and blenders they gave to family and friends at Christmas, but soon grew into a sisterly tradition they looked forward to all year.
This year, because of Covid, the last place the women want to be is in stores near crowds of people.
"I'm going to my sister's and we're going to eat lots of chocolate and order online," said Johnson, of Depew.
Black Friday is just one more thing the novel coronavirus has turned upside down in 2020.
In the past, major retailers pulled out all the stops to drive consumer traffic to brick-and-mortar stores for the one-day shopping frenzy: Limited-quantity doorbusters, flash sales and a fever pitch of marketing hype.
But with crowds discouraged for the sake of public health, retailers are switching things up.
Black Friday Shopping starts early
Shoppers headed to the Boulevard Mall in Amherst early Thursday to get in line for the very first Black Friday shopping.
"Normally on Black Friday, shopping centers try to pack the house," said Russell Fulton, general manager at Eastern Hills mall. "That's just not going to work this year."
The Clarence mall said it is going "no gimmicks" this year, and will not hold big giveaways or anything else that might cause big crowds to congregate. Instead, it will have drawings throughout the season and use social media to communicate.
"Unlike any other year in my 30 years of shopping center management, this year is not going to be about crowds or gimmicks. It's going to be about keeping our shoppers, merchants and employees safe while still being able to find unique, one-of-a-kind gifts with our huge selection of hometown merchants."
That's well enough for Barbara Garlow of Ransomville. She said she won't be heading out at all this Black Friday.
"No need," she said. "The specials are online already."
Kohl's started offering its holiday promotions last week. Like other retailers, it's promoting curbside and in-store pickup.
Target kicked off its holiday sales Tuesday – earlier than it ever has. It's stretching its usual 14-day price-matching policy to cover Nov. 1 through Christmas Eve – so if the price of a purchase drops in a Target store or on Target.com, a customer can have their receipt adjusted to the lower price. The company will offer Black Friday deals the entire month of November.
Walmart will offer "Black Friday Deals for Days," three separate Black Friday events during the month of November, which it claims will feature its best prices of the season. The sales will be spaced at different times online and in stores throughout the day across all three days. Its first Black Friday event will be three weeks earlier than usual, starting Nov. 4 online and Nov. 7 in stores.
As a trend, most retailers will stay away from urgent, scarce doorbuster deals – the kind shoppers have trampled each other for in years past. Walmart will continue to offer doorbuster-type deals, but said it will take the pressure off by having more of the high-demand, low-priced sale items available. 
Retailers have been trying to advance the so-called "Christmas Creep" for years, hoping the earlier start of the holiday season will entice consumers to spend more money. Black Friday no longer takes place on one day after Thanksgiving. Stores, no longer closed for the holiday, had stretched Black Friday into a marathon four-day event. With the lower turnout expected this year, more stores have announced they will stay closed on Thanksgiving.
This year, it looks like retailers' efforts to stretch the holiday season might finally match up with consumer behavior shaped by Covid concerns. With so many people stuck at home, 47% of consumers have already begun their Christmas shopping, according to market research firm OnePoll, which surveyed people in September on behalf of Affirm. 
Black Friday has been less frenzied in stores than it had been in years past, but it was still a draw and remains one of the busiest shopping days of the year.
Still, online shopping gains market share every year, and consumer behaviors changed by Covid are expected to boost it further than usual this time around. In-store traffic is expected to drop by as much as a quarter this year compared with 2019, according to a Shoppertrak study from Sensormatic Solutions, which makes in-store products for retailers, such as anti-theft devices and Covid-prevention tools. 
Amazon's Prime Days now rival Black Friday in low-price reputation. The average consumer said they would devote more than half of their total holiday budgets, about 55%, to Amazon purchases throughout the season, according to a survey by discount site CouponFollow. Amazon moved its Prime Days to mid-October to compete with other major Black Friday kickoffs, then launched its monthlong pre-Black Friday Holiday Dash deals the next day.
Macy's has closed two of its stores, in Delaware and Colorado, to customers in order to operate as fulfillment centers during the holiday season. The department store decided to try the pilot after online sales rose 53% in the second quarter compared with the previous year. Stores would still offer curbside pickup.
The glut of packages ordered online is expected to overwhelm shipping companies, another reason consumers are eager to get their shopping wrapped up.
That was the case for Kim Johnson and her sisters in Depew.
"We already started our shopping because who knows what is going to happen?" she said.