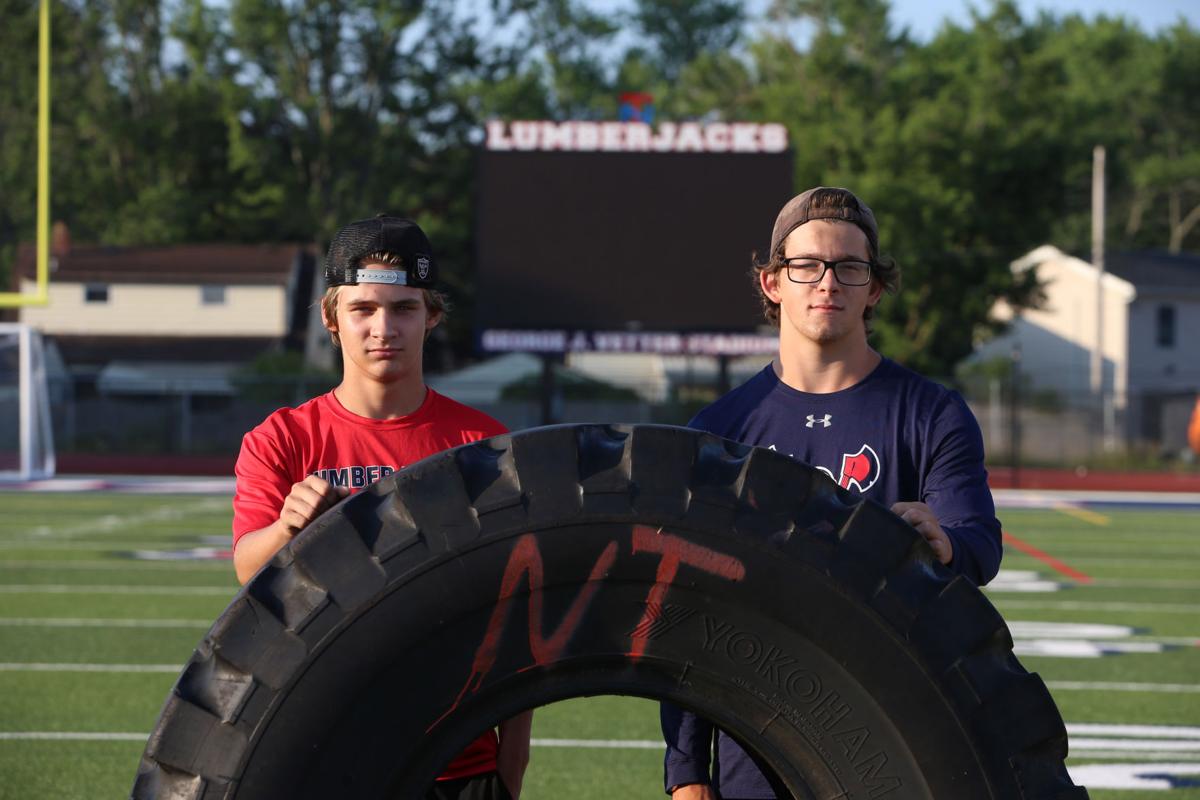 To their teenage disbelief, Anthony Swan and Simon Griskonis are being lauded as heroes. They get up on these hot days to the kind of summer duties handled by generations of teenagers before them, and they pause now and then to gently downplay the attention touched off by their split-second decision last week to help a girl being attacked at the North Tonawanda High School football field. 
As both young men emphasize, the only reason they were at the field when the tale came together is because the pandemic did not give them much choice.
If this were any other summer, Swan said, "I'd have probably been at a wrestling camp."
The adults around them, believe me, do not see it so casually. Swan and Griskonis are both three-sport athletes at North Tonawanda. They play football in the autumn and lacrosse in the spring, but the whole focus of being at the field with a small group of friends in 87-degree heat was to get ready for next winter's wrestling season.
They were preparing to muscle around a huge tire, a familiar drill, when they heard shouting. They saw a group of three or four girls chasing and striking another girl – they learned later that she was 14 – who was clearly trying to get away.
"We knew we had to stop it," said Griskonis, 15. He and Swan, 17, a soon-to-be senior and a captain of last year's wrestling team, say they did not share any spontaneous or memorable exchange. They saw the attack and reacted. They ran straight toward the girls.
When they drew close – and they both said there is no gentle way to describe this – they smelled an overwhelming, nauseating odor. It took them a few seconds to realize that someone had thrown what Swan believes was a cup filled with urine on the girl.
She had been knocked to the ground, while the attack continued. Swan helped her up as her attackers backed off. He asked if she was OK, then walked at her side. Swan made a quick decision to remain with her until they reached her home, about two blocks away.
"I felt terrible for her," he said.
Griskonis, for his part, stayed behind and told the other girls they ought to leave. They argued at first. They did not want to go.
Finally, when Griskonis did not relent, they took off.
A few minutes later, Swan returned and the teens resumed their workout.
Wrestling, as Griskonis puts it, demands "hardcore" discipline. He decided to join the team a little more than a year ago, when he was goofing around with a buddy, Jared Van Volkenburg, who was impressed enough by Griskonis' raw skill that he promised him he would love the sport.
Van Volkenburg was right. The rigor of wrestling suits Griskonis. His mother, Erin Campbell, describes him as a throwback in many ways, the kind of guy who looks forward to the fierce nature of summer workouts. After Griskonis and Swan broke up the assault, they joined a few other teammates in repetitions that involved flipping the tire, before taking on a drill that combines running the bleacher stairs with wind sprints back to the starting point. Only when they were shot did they finally go home.
They did not know, they said, that a video of the attack would make its way onto Facebook, or how the North Tonawanda police would end up charging four teens – all younger than 16 – with misdemeanor assault charges. The victim, the girl hurt and bruised in the attack, told her family about the two older boys who helped her out.
By that evening, word got out and spread fast. "My phone started blowing up," Swan said.
Griskonis is still trying to take it all in stride.
"I didn't think it was so uncommon," he said, "to break up a fight and help someone."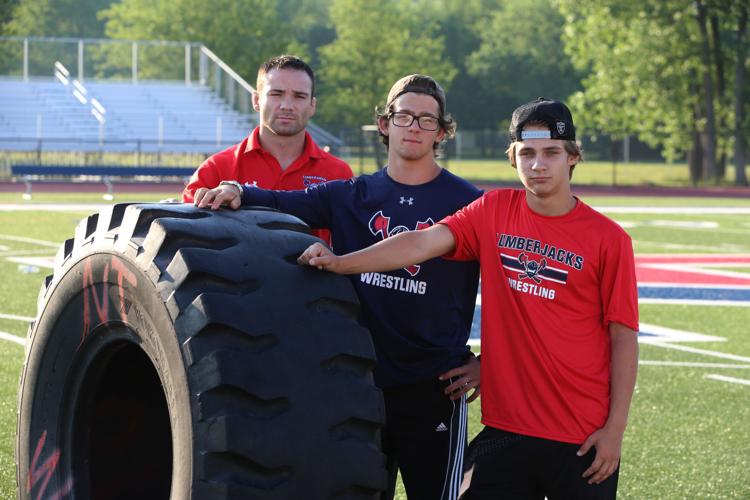 To Wally Maziarz, their wrestling coach, the story fits with what he has learned about both teens. He graduated from North Tonawanda about a decade ago with the most wrestling wins in school history, then was an All-American Greco-Roman wrestler at UB. He works now as an occupational therapist in a nursing home, and he said the philosophy behind his career – the idea of helping and motivating fragile patients – meshes with an ethic he took out of wrestling.
"You want the team to be a family atmosphere," he said. One of the fundamental elements, he said, is that all those listed on a roster – no matter how accomplished – confront their own weaknesses and vulnerabilities, which demands humility. The guarantee he wants from every athlete on his squad is a commitment to work as hard as possible, which he sees as lifting teammates as much as it lifts yourself.
"The one thing we don't tolerate," Maziarz said, "is doing or saying anything to bring each other down."
So, yes. As an educator, as a coach, he was thrilled to know a couple of team leaders responded in such a way, that they felt empathy when a kid they did not know was targeted and abused. Maziarz said he had some challenges in his own life that were not easy to overcome, and he knows some of the young people he has coached faced plenty of day-to-day obstacles of their own.
"I tell them," Maziarz said, "the most beautiful people in the world go through the greatest struggles."
He likes to think that kind of understanding moved Griskonis and Swan to help a stranger who was struck and kicked after being thrown to the ground. Kim Weishan, a first cousin of the girl targeted by the attack, started a GoFundMe account for her cousin that had raised about $8,000 by Thursday, and Weishan said the family also intends to do something, in some way, for the teens who helped her.
In a statement linked to that page, the girl's parents thanked Swan and Griskonis for displaying "such courage, love and just basic human decency." Weishan said many of those contributing to the fund recalled childhood instances when they also felt helpless and alone, and she said it is hard to fully express the family's appreciation toward the two young wrestlers.
"Sometimes," she said, "no one wants to step in." 
For their part, the two teens are doing their best to come as close as possible to a typical high school summer. Griskonis, who dreams of wrestling at UB, just started a new part-time job as a dietary aide at a nursing home. Swan – whose stepfather, John DiVirgilio, also wrestled for North Tonawanda – is drawn toward a career in mechanical engineering, and works part-time for a company that does fire and flood cleanup and restoration.
Both spoke of Maziarz as having a "huge impact" on their lives, in the words of Griskonis. They said their coach preaches a sense of wrestling as family, an ethic that requires full commitment in everything they do, and a lesson Maziarz said is meant to last long after they finish their wrestling careers.
"We talk a lot about accountability," Maziarz said. In that way, the coach and his wrestlers are already discussing what they can do as a team to remain involved with the girl they helped, though they want to keep their specific ideas a surprise.
All of it, Maziarz said, only underlines his allegiance to these kids. "I hope and pray we get a season," he said, understanding the reasons it may not come to be, but knowing one truth of this strange and difficult time.
If high school sports are supposed to teach lessons that eclipse trophies and ribbons, a couple of his 2020 wrestlers already aced the course.
Be the first to know
Get local news delivered to your inbox!