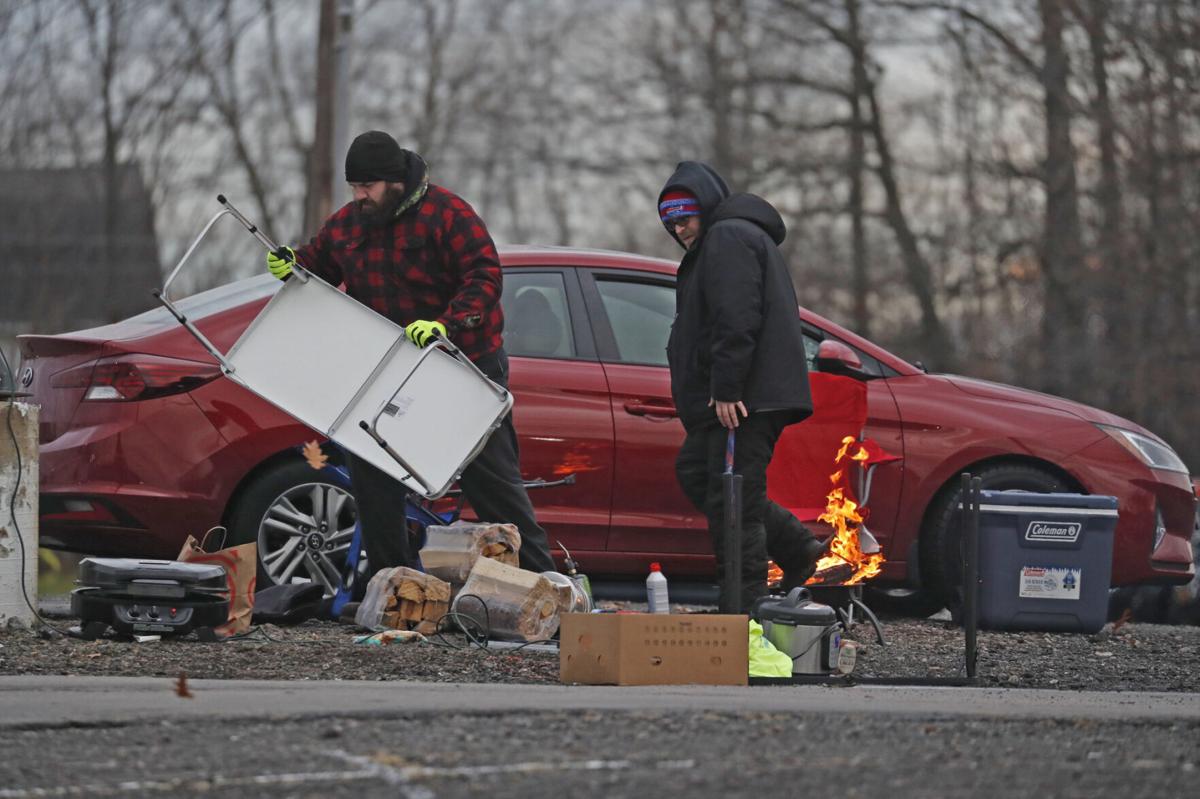 As Buffalo Bills fans head to Highmark Stadium in Orchard Park for tonight's Monday Night Football game, they will be buffeted by high winds on the roads.
Those riding to the 8:15 p.m. game in SUVs and other higher profile vehicles will likely feel the impact, according to Phillip Pandolfo, a meteorologist with the National Weather Service at the Greater Buffalo Niagara International Airport in Cheektowaga.
"The main story is going to be the winds going into tonight," Pandolfo said. 
"As far as driving conditions go, the main concern is going to be for particularly high profile vehicles, which may have a hard time with those stronger winds, especially on the I-90," he added.
It has been gusty for much of the afternoon Monday, with sustained winds between 25 to 30 mph in the Buffalo metro area.
"Winds are going to stay steady as we go through the day today and into tonight," Pandolfo said. "Wind gusts are going to pick up a little as we go into the evening, anywhere from 45 to 50 mph around 6 to 7 p.m."
Peak gusts could reach as high as 55 mph, he added.
Meanwhile, the current high temperature of 42 degrees will begin to drop between 7 and 8 p.m., with temperatures falling into the mid 30s overnight.
Not much in the way of precipitation is anticipated, however, and with the advent of any showers there could be some changeover into a few flakes here and there throughout the Buffalo metro area. Pandolfo said there's a better chance for that happening further south of the Buffalo metro area.
"Aside from the winds, though, we're mainly going to see dry conditions, with spotty showers through the afternoon today. Temperatures are going to continue to fall, though," he said.
The National Weather Service has issued a wind advisory for northern Erie County, which will remain in effect until 10 p.m.
Meanwhile, Buffalo Mayor Byron W. Brown said Monday the city's Department of Public Works, Parks & Streets has closed four waterfront sites to vehicular and pedestrian traffic because of the high winds and potential for lakeshore flooding. They include Ralph C. Wilson Jr. Centennial Park. Bird Island Pier, Broderick Park and the Erie Basin Marina.
Brown added that the dome of City Hall will shine brightly in red and blue for a second night in a row to support the Buffalo Bills in tonight's big game.