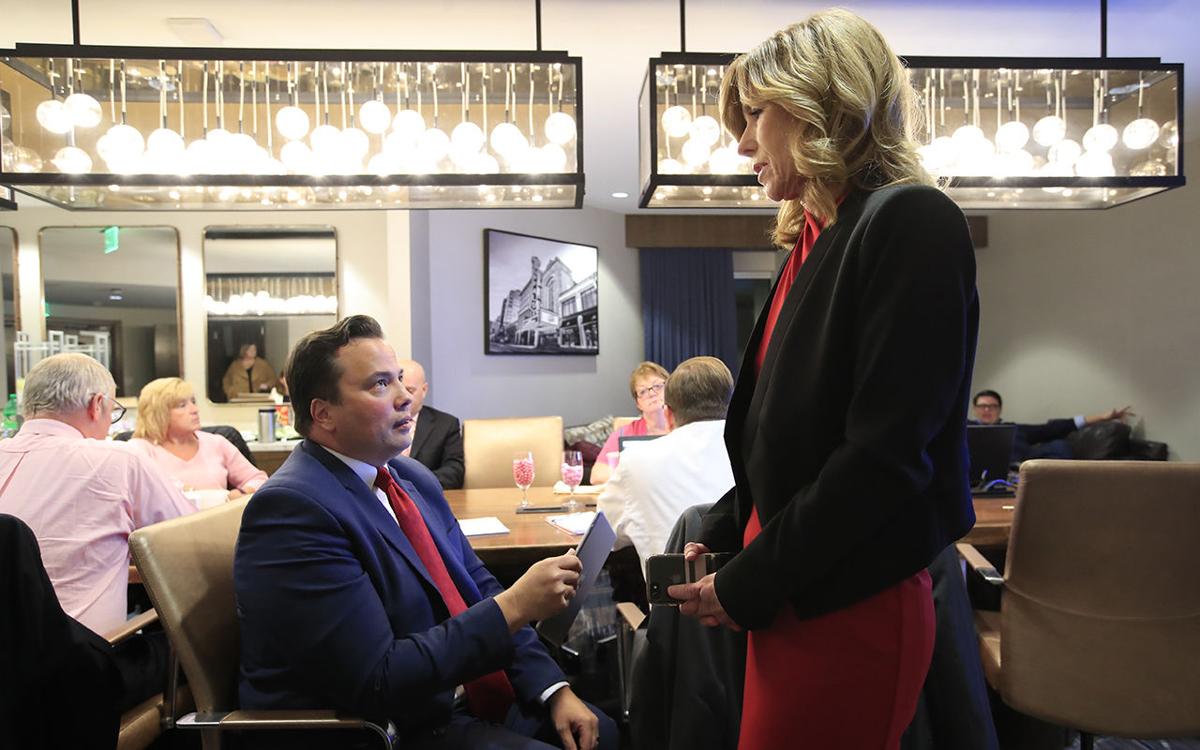 An argument over Lynne Dixon's salary has led to a lawsuit meant to determine how much control Erie County Executive Mark Poloncarz has over the spending of other independently elected county officials.
Dixon lost her bid last fall to unseat Poloncarz, a Democrat, as county executive. Afterward, the former Republican-endorsed county legislator accepted a county job in the office of Republican Comptroller Stefan Mychajliw, a longtime political nemesis of the county executive. 
She became the associate deputy comptroller for communications and community relations, and Personnel Commissioner Timothy R. Hogues initially approved her level of pay. But now the Poloncarz administration contends Dixon doesn't deserve her $63,569 salary. Not only did the county cut her pay, but Hogues demanded she refund the county more than $5,400 she received in "overpaid taxpayer funds" since January.
Mychajliw blames Poloncarz. And the comptroller names Poloncarz as the only defendant in the State Supreme Court lawsuit he filed this week.
"Voters approved the Erie County Charter at the ballot box," Mychajliw said in his only public statement. "I will defend the will of the people to maintain the independence of my office and the system of checks and balances in our government."
His lawyer, William F. Savino, said the lawsuit makes a strong argument regarding the legal limitations of Poloncarz's legal authority and makes no references to anyone's political motivations.
"This is simply a bald incursion on charter-granted authority," Savino said. "This is not a crusade over one employee."
Poloncarz spokesman Peter Anderson said elected county leaders can't just pay their employees anything they want. Pay raises must be approved by the County Legislature, as required by the charter, he said. Anderson also accused Mychajliw of hypocrisy, referring to a past challenge he made over another administrator's raise.
"We've known for a long time that the comptroller is not a good-faith partner in government, so this does not surprise anyone," Anderson said. 
Other Republican-endorsed elected officials, such as the Erie County clerk and sheriff, have had disagreements regarding Poloncarz's authority over their spending.
Savino said Mychajliw wants a judge to decide the issue. The legal battle involves two elected officials, so the County Attorney's Office has hired outside counsel to represent the comptroller and county executive in their dispute.
Mychajliw hired Dixon as secretary to his office at the start of the year, a job that paid $50,157. He proposed an office restructuring that would have raised her pay to roughly $90,000, but the County Legislature blocked that move. So instead, Mychajliw swiftly moved Dixon into an existing budgeted position that raised her salary to $63,569. 
Mychajliw gave her credit for her 10-year tenure as a county legislator and placed her at a higher pay step for the job, step 5. 
At that time, Hogues spoke with Comptrollers Office officials and approved the salary. His approval is further reflected in county payroll data. 
But in late May, Hogues told Dixon there was an error, that she should have started at a much lower step, step 1. That drops her annual salary to $52,058. Hogues then followed up last month with a letter asking Dixon to sign an agreement to pay back $5,413 in raises she received for the first half of the year, raises that he now calls unwarranted.
Hogues said if Dixon didn't agree to repay the money, her future paychecks would be garnished until the county got all the money back. 
That reduction began Thursday, after the lawsuit was filed and on the day The Buffalo News inquired about it.
Dixon echoed Mychajliw's comments about the dispute over her pay.
"This important litigation is far bigger and more important than one person," she said in a text message. "It's about the balance of power given to the taxpayer's watchdog by the people themselves."
Anderson, the spokesman for Poloncarz, cited a portion of the county charter that states that only the County Legislature can "fix the compensation of all officers and employees paid from County funds, except members of the judiciary."
The comptroller's lawsuit hinges on two main points:
The county charter states the county executive has control of county finances "except for departments overseen by independently elected officials."
The County Legislature, which has final authority over the budget, has repeatedly adopted a resolution in its budgets since 2018 that gives the county executive, comptroller, district attorney and county clerk explicit authority to fill new positions "at a variable minimum not to exceed step 5."
That resolution would give elected officials wide discretion over how much to pay a new employee. It's unclear if many county officials or legislators noticed the resolution since it was it was tucked in with a series of other minor resolutions in the back of a separate budget book regarding special funds.
Bryan Fiume, who previously served as Mychajliw's chief of staff and now works in that same role for the Legislature's Republican-supported minority caucus, said Dixon didn't get a raise. She's actually receiving less than what was budgeted and approved by the Legislature for the position.
Both sides make reference to what has happened in the past.
It is common for many former legislators who land county government jobs to start at step 1, including Deputy County Executive Maria Whyte. But that doesn't always happen, Fiume said. The Erie County Board of Elections does not follow this practice, and Kathy Konst started as a full-time county employee at step 5.
He also said while nonunion administrators are traditionally given wages that line up with the county's white-collar union wage scale, they are not bound by any union contract.
Anderson pointed to a 2013 memo in which Mychajliw argued against the County Legislature giving a 22.5% raise for a nonunion manager in the county's budget office. He added that standards exist to limit the discretion of elected officials giving out whatever raises they feel like awarding.
Savino said the lawsuit may come before a judge by the end of the month.